The M-Hero 917 from Dongfeng was finally launched in China. It is an off-road beast with BEV and EREV powertrain options and a peak power of 1,088 hp. Its electric version can run up to 505 km of a single charge. As for the EREV one, its mixed range reaches 1,032 km (CLTC). As for the starting price of the M-Hero 917, it is 637,700 yuan (87,500 USD). Let's get to know it better.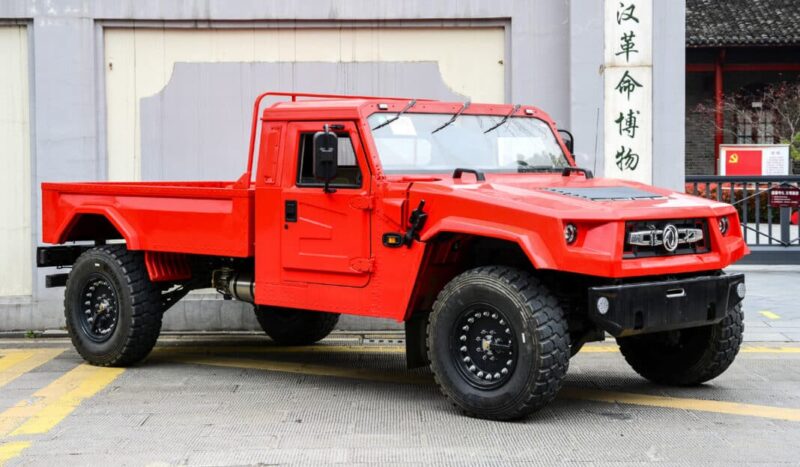 For clarity, M-Hero is a high-end off-road brand under Dongfeng. After the launch of the civilian version Warrior (猛士, Mengshi) M50 ICE pickup truck, this company realized that people have a demand for these vehicles. As a result, Dongfeng developed two branches of Warrior cars. The first one comprises ICE vehicles with such models as M50 and MS600. The second one consists of BEVs and EREVs. This branch turned into an independent brand with the international name 'M-Hero'.
What is M-Hero 917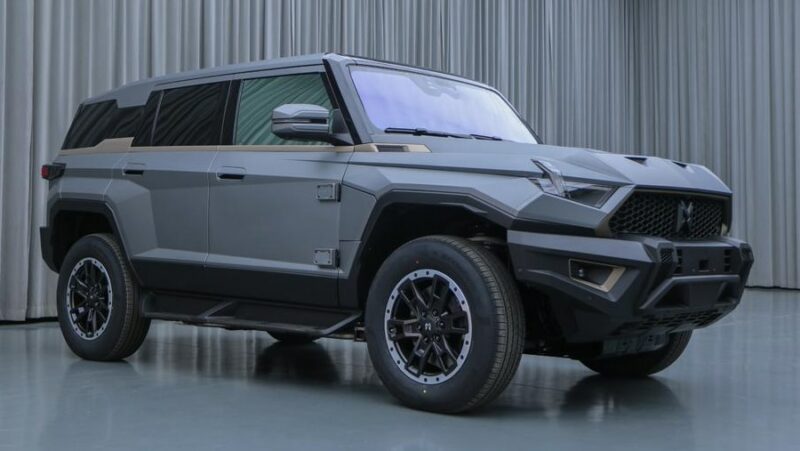 We will remind you that the M-Hero 917 was revealed in August last year. In January 2023, it got the production permission from the Chinese Government. In April 2023, the production of this beast started in China. And four months after, the sales of the M-Hero 917 started in China.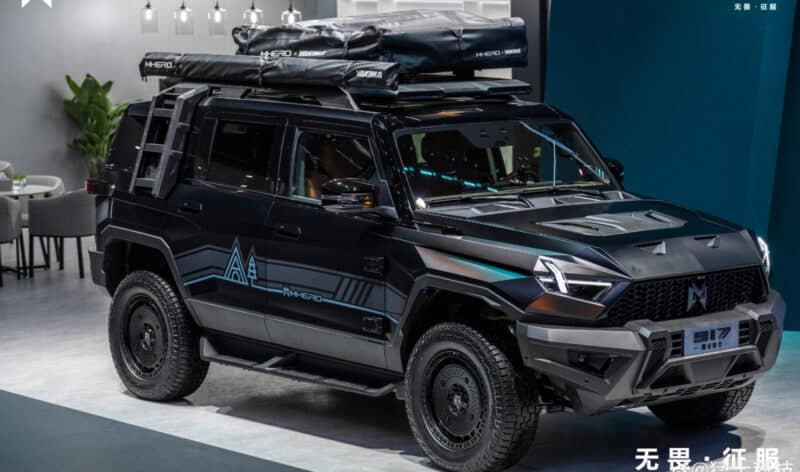 In terms of exterior design, the M-Hero 917 is a brawny SUV with huge bumpers, noticeable ground clearance, short overhangs, a high bonnet line and sharp LED lights. As for the dimensions of this beast, they are 4987/2080/1935 mm with a wheelbase of 2950 mm. For a comparison, the 917 is 70 mm longer, 149 mm wider and 34 mm lower than the Mercedes-Benz G-Class. Despite its size, the M-Hero 917 has got only five seats inside.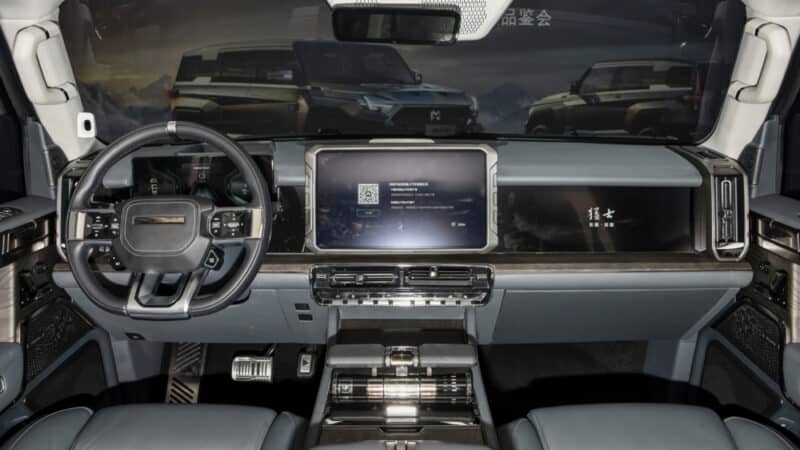 Speaking about the interior design, the M-Hero is also quite interesting. It has three screens. The first of them is an LCD instrument panel. The second is the driver's touch screen. And the third one is made for the front passenger. The M-Hero 917 has also got a wide center tunnel with a big gear shifter and a wireless phone charging pad. Moreover, its seats are optionally wrapped in Alcantara. It is a highly questionable decision for an off-roader.
M-Hero 917 powertrain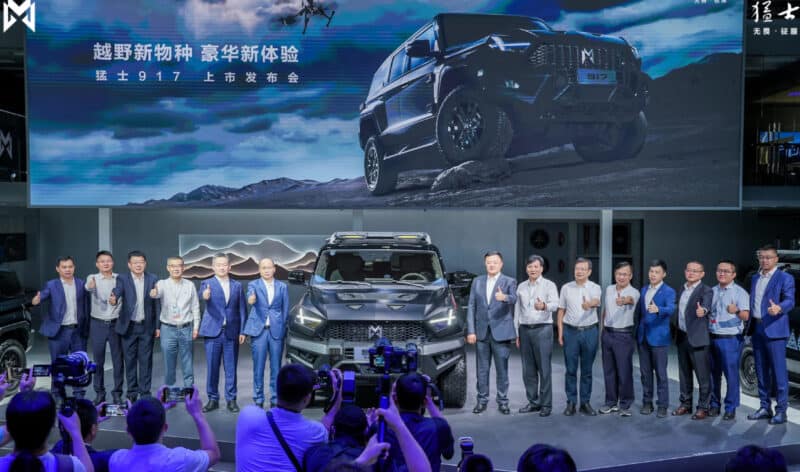 We will remind you that the M-Hero 917 stands on the Dongfeng's new MORA platform. It has got two powertrain options. The first one is BEV. It has four electric motors, just like the YangWang U8 from BYD. Its total power output reaches 800 kW (1,088 hp), good for zero-to-hundred acceleration in 4.2 seconds. These e-motors are powered by the 140-kWh ternary (NMC) battery from CATL. It is an insane capacity. However, the massive curb weight of the M-Hero 917 (3,293 kg) and its huge power output led to the maximum range of 505 km (CLTC) on a single battery charge. This number is quite low, judging by a modern standard. And this is why the M-Hero 917 has also got the EREV version.
The EREV M-Hero 917 has three electric motors for 600 kW (816 hp). As for the ICE, it is a 1.5-liter turbocharged engine for 197 hp. However, it doesn't transfer any torque to the wheels. Instead, it acts like a generator, charging the battery and providing power directly to the electric motor. Speaking about the battery, it is also ternary made by CATL. And its capacity reaches 66 kWh. As a result, the M-Hero 917's mixed range reaches 1,032 km (CLTC).
M-Hero 917 prices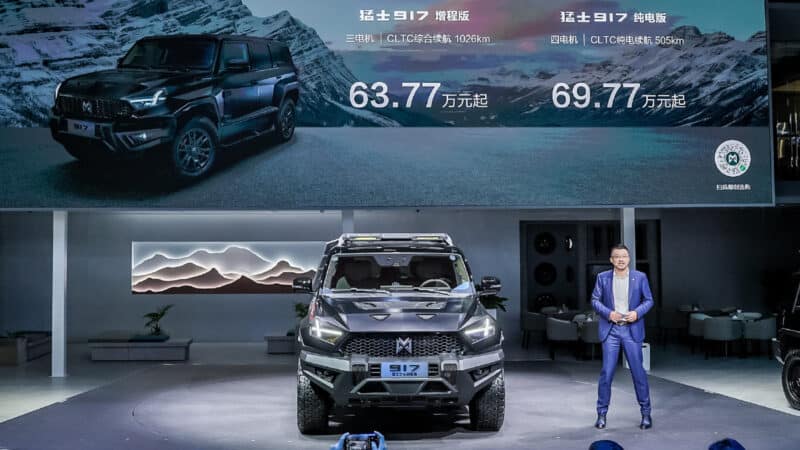 The M-Hero 917 has only two trim levels. Their functional equipment is identical, and they differ only in the powertrain type. The entry-level 917 is EREV. Its price tag reaches 637,700 yuan (87,500 USD). As for the BEV version, it costs 697,700 yuan (95,730 USD). So, the M-Hero is an expensive vehicle for sure. However, it is significantly less expensive than the BYD YangWang U8. Anyway, these cars don't look like direct competitors since the U8 is way bigger and has the third row of seats. Dongfeng wants to sell 1,500 units of the 917 in next year. Later, its annual sales will reach 4,000 units annually.
Source: M-Hero Weibo