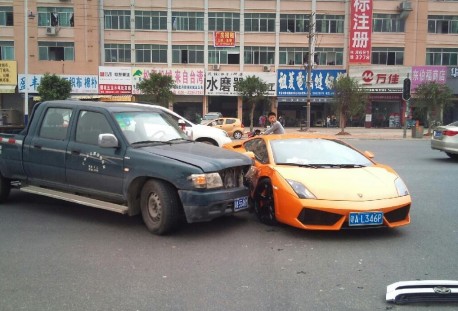 Another week, another Lamborghini crash in China. Today we go to the great city of Guangzhou in Guangdong Province, where a crappy Great Wall pickup truck of city's public service department crashed hard into the side of an orange Lamborghini Gallardo this very Friday afternoon. Fortunately, nobody got hurt and damage to the vehicles seems limited. Note Great Wall's grille laying around on the right. It fell off…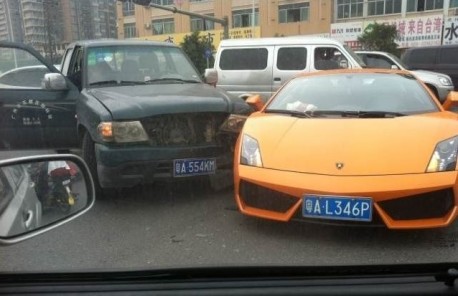 Seen from another vehicle! The pickup truck hit the Gallardo just in front of the mirror, which did not fall off. The Great Wall's bonnet seems slightly damaged on the right side. Who is to blame for the accident is yet unclear, but in any way, one public servant needs a good explanation for damaging his workhorse.
Time now for our Famous China-Lamborghini Gallardo Collection™: crash (as link above) pink & black, gold, Superleggera, crash, orange with Mac, tree-crash, matte black, license plate, pink, Balboni, LP550-2 GZ8 Edizione Limitata, : shiny green, chrome, Reventon, crash, GZ8 Edizione Limitata, shiny-blue, matte-black & orange, water melon, red wheels,  HK20, pink, matte-black, gold, pink, another pink, lime-green, in gold, one purple, another purple, Gold Edition, and a Spyder Performante.
Crash pics via: Weibo.