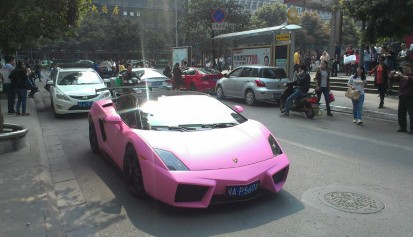 A lusty Pink Lamborghini Gallardo with a China-made Aventador body kit, seen cruising on the streets of the great city of Chengdu in Sichuan Province. Pink loox fantastic on the Gallardo, looking even better here with a contrasting black roof and black alloys.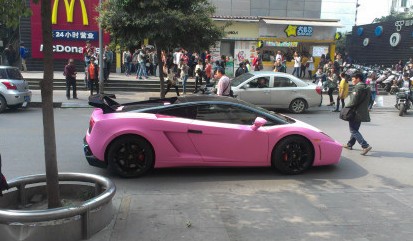 Door handle in black too. Well, why not? Huge wing and racy diffuser are part of the Aventador body kit. The Lamborghini Gallardo LP 560-4 is propelled by a 5.2 liter V10 engine, good for 560hp and 540nm. Yez, that's Pink Power!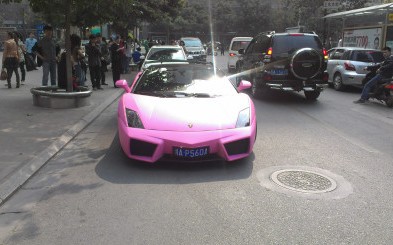 Time now for our Famous China-Lamborghini Gallardo Collection™: gold, Superleggera, crash, orange with Mac, tree-crash, matte black, license plate, pink, Balboni, LP550-2 GZ8 Edizione Limitata, : shiny green, chrome, Reventon, crash, GZ8 Edizione Limitata, shiny-blue, matte-black & orange, water melon, red wheels,  HK20, pink, matte-black, gold, pink, another pink, lime-green, in gold, one purple, another purple, Gold Edition, and a Spyder Performante.