A shiny white and slightly Bling W140 Mercedes-Benz S320 S-Class limousine with a period AMG body kit, Spotted in China in a super car shop on the Beijing Tuning Street in the east of the capital. The brilliant Benz was in perfect shape and recently imported from the United States for a wealthy Mercedes collector in China.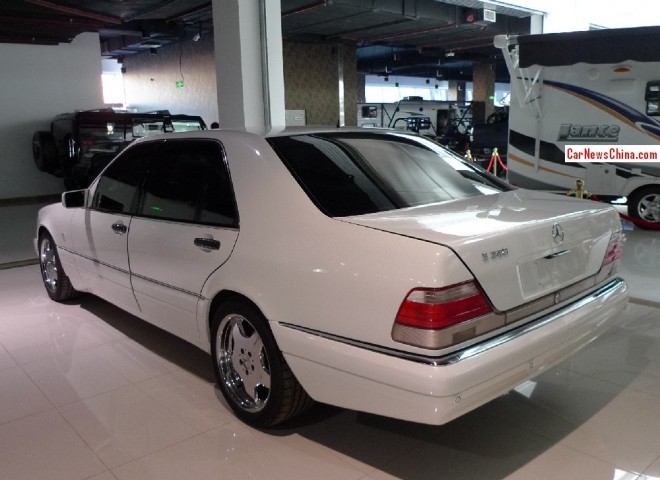 Black windows all around allowing for secret 'conversation' inside this fine porn-star style Mercedes-Benz. AMG alloys are very shiny and the rear tires are gigantic, typical for German tuning in the golden days of the early nineteen-nineties. At the time AMG was still an independent company, Mercedes-Benz only acquired AMG in 1999 and the W140 was made from 1991 until 1998. AMG so, could do whatever it wanted with the W140 S!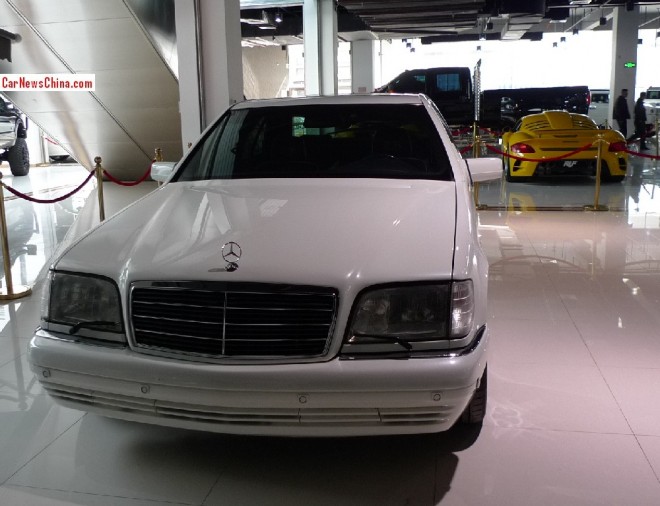 Warning! Looking at the right of the picture might cause Yellow Ass super Car Fever. The W140 S30 was powered by a 3.2 liter six-in-line with 228hp and 315nm. AMG however wasn't known for leaving engines alone, easily extracting up to 50 extra horses from the solid Mercedes power plants.
The W140 was the very first Mercedes-Benz S-Class that was officially exported to China. Time now for our Famous China-Mercedes-Benz W140 Collection™: black S500, green S280, S600 in black, Pullman S6000, S500 with W210 E, motorcade, motorcade, S500, crash, body kit, S500 in white, S600, and another S600.
---