A wondrous white McLaren 650S Spider supercar, Spotted in China in the great city of Yiwu in Zhejiang Province by YWQ0328. The brutal Brit is dressed up with all-white side air-intakes and dark black alloys. Best however is the license plate reading A·T650S, and that is the best plate we have seen on any McLaren in China.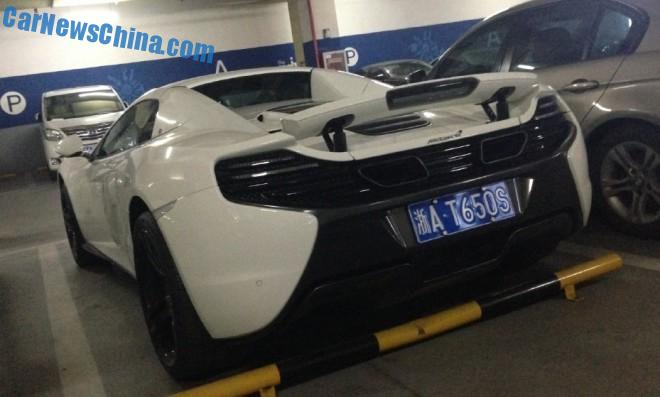 Wing is up, so she has been speeding! The 650S is powered by a manic twin-turbocharged 3.8 liter V8 engine with 650hp, hence the name, and 680nm. Top speed is 333km/h and 0-100 is gone in 3 seconds. The 650S was launched on the Chinese car market in August and the Spider goes for a hefty 4.06 million yuan or 658.000 USD.
This licensed example is the first 650S we see on the road, so for now we will do with our Famous China McLaren MP4-12C Collection™: license, with nine, Pink, BAPE, white, orange with Gallardo, more white, Bling, times four, @ the show, gray, with speedy friends, and with the wrong wheel.