Another day, another supercar crash in China. Today we have a white Ferrari 458 Italia that crashed near Dongzhimen in central Beijing. The Ferrari apparently hit a barrier in the center of the road after the driver lost control of the vehicle after pulling up at a traffic light. Trying to impress the babe, we bet. The 458 is fitted with razor sharp Forgiato alloys with a red rim. and with a matching all-red interior.
The photos were taken a while after the accident happened, with the tow truck show the tow already on the scene. The front of the Ferrari seems very badly damaged, the body work cracked in two and the bonnet looks like a wuzzy bird.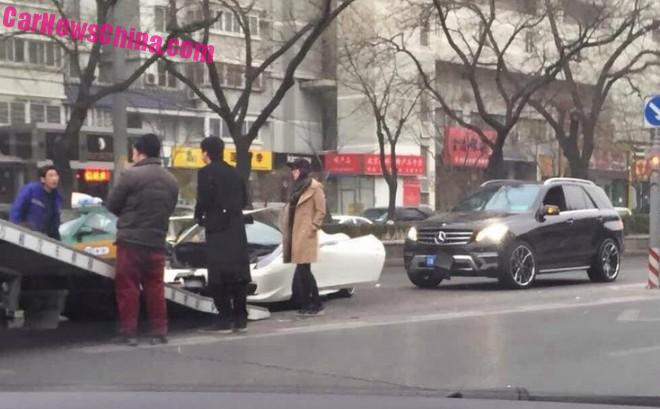 The driver, wearing a long black coat, and his duly impressed babe, wearing a beige coat an a black hat, were fortunately unharmed. On the right a tuned-up Mercedes-Benz M-Class with a partly covered license plate. Not sure what it is doing there. Probably a friend. Or were the Ferrari and Benz holding a street race there..?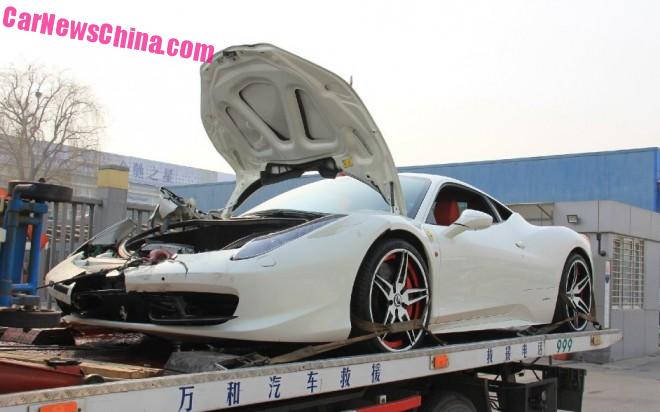 We have also received photos of the 458 arriving at the Ferrari-Maserati dealer near the Goldenport race track in Beijing (this great place). This is going to be a massive repair bill. A new 458 Italia goes for 3.88 million yuan ($630.000) and repairs are famously-Ferrari expensive.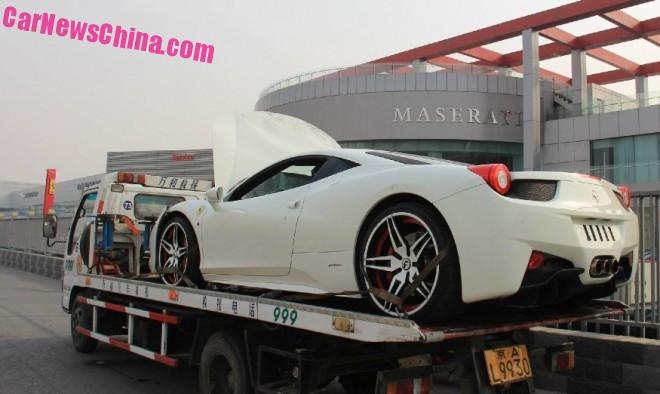 No damage on the back.
Time now for our Famous China-Ferrari Crash Collection™: 430 goes to swim, F12 hits the trees, F430 hits the highway, 458 in Shenzhen, 458 in tunnel, hard 458, FF hits a truck, F12berlinetta hits MPV, FF again, 458 & California hit a highway, 458 Spider in a hedge, 458 gets horse-kicked, Ferrari 612 hits pickup truck,  Ferrari Enzo hits a barrier, 458 hits a barrier, Ferrari FF on fire, and a Ferrari California on fire. Yez, China loves Ferrari!