A fabulous Ferrari F430 Scuderia Spider 16M supercar, Spotted in China on a famous parking lot close to the Goldenport race track in Beijing. The good Ferrari is wrapped in a stealthy matte black wrap, and further sped up with an all-red interior (here hiding under protective-plastic sheets), darkened headlights, and matte gray five-twin spoke alloys with red brakes.
The 16M Scuderia Spider was a special based on the Ferrari F430 Scuderia Berlinetta, celebrating Ferrari's 16th Constructor's World Championship in Formula 1 Racing. Only 499 examples were made in the 2009 model year, making the 16M one of the rarest Ferrari supercars of modern times.
Power comes from a souped up variant of the 4.3 liter V8 with an output of 503hp and 470nm. Weight was down 80 kilo compared with the base F430 Spider. All was good for a 315km/h top speed and a 0-100 of 3.7 seconds.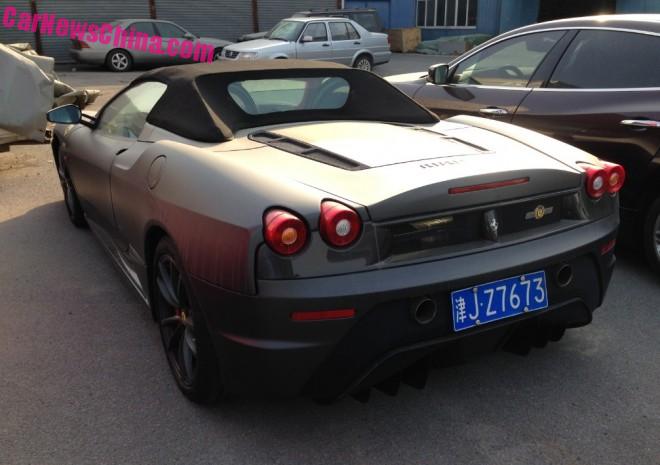 The poor vehicle was covered in dust from top to toe, and urgently in need of a good clean-up. License plates are from the great city of Tianjin, some 150 kilometer to the south-east of Beijing.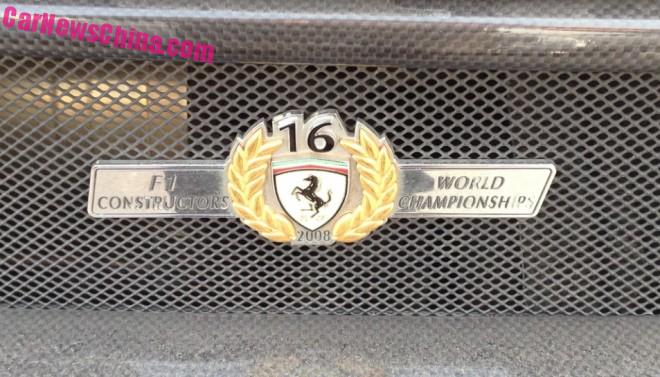 The badge. The 16th constructors title was won in 2008, with Raikkonen and Massa behind the wheels.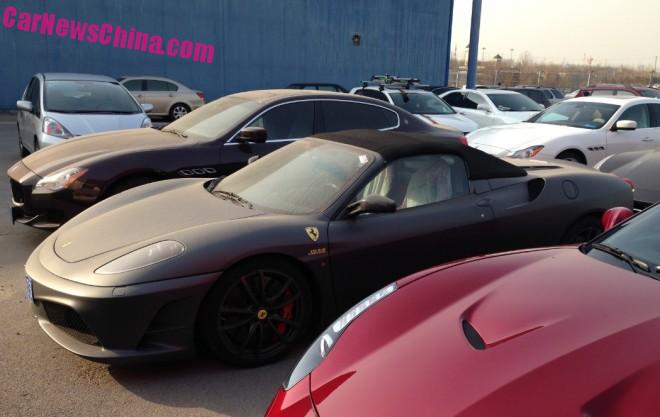 The parking lot was full with Italian beauty. The lot lies next to a Ferrari and Maserati dealer and they use the place to store vehicles for maintenance.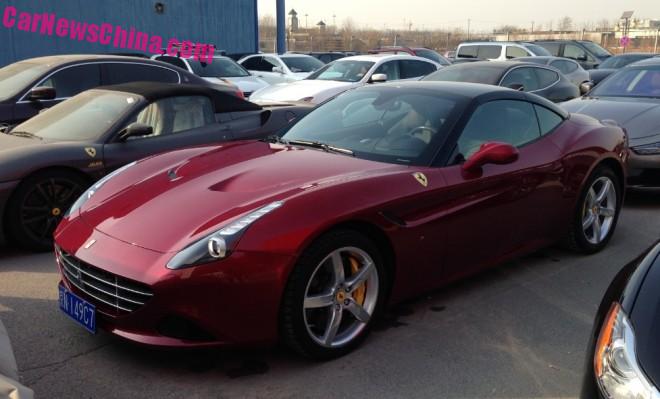 A very tasty Ferrari California T, painted in dark red with a black roof, and standing on shiny five-spoke alloys with yellow brakes.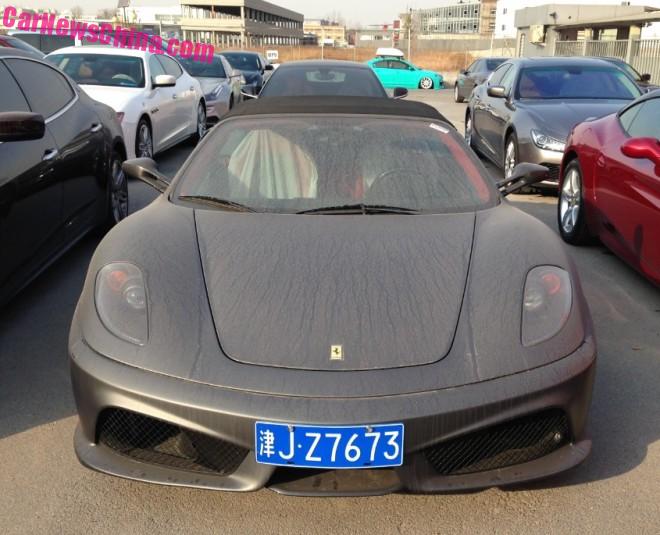 Dust patterns look very speedy on a Ferrari. Note low-riding turquoise Mazda 3 sedan in the background.
Time now for our Famous China-Ferrari F430 Collection™: boat, crash, Scuderia, double, shiny mint green, pink, with hottie, license (P430Y), license (FF430), black as the night (in Shenzhen too!), with FF, matte blue, matte black, with girls, matte black Scuderia, shiny red, golden alloys,   F430 Novitec Rosso, Spider 16M, matte-black-silver,  red, a red, matte-black and a Novitec Rosso 707.