Dutch Dealer's's association published a monthly report of insurance registrations for May. 33,135 cars were registered, up 41.6% from the same month last year.
Among them, Geely's brand Lynk&Co registered 681 units of its 01 PHEV SUV, -2.58% down from 699 units the previous month. The second spot goes to SAIC's MG, which registered 560 cars, 261% up from last month, more than tripling its sales. That includes 248 MG 4 Electric (Mulan in China), 228 MG ZS, and 75 units of MG 5.
The third spot goes to another brand under the Geely Group, Volvo-linked Polestar, registered 309, up 56%. Their only car on sale is Polestar 2 EV.
Chinese auto and battery behemoth BYD follows Polestar with 66 registrations, 44% down MoM, and a relatively unknown startup (even in China), Aiways, which registered 41 vehicles, double from 20 cars the previous month. They sell only one car in Europe – U5 electric SUV. Aiways recently faced some financial troubles in China, but for us, at CarNewsChina, they are a true underdog as their U5 and U6 are good lookers with a fair enough price-quality ratio.
Nio registered 23 vehicles in the Netherlands in May, slightly up from 17 in April. That includes 6 units of EL7 SUV (ES7 in China), 13 units of ET5 sedan (their cheapest car), and 4 units of ET7 premium sedan. Nio's European headquarter is in Amsterdam, and the company operates four battery swap stations in the country. The Hefei-based startup also opened Nio House (a community place with a showroom) in Rotterdam in March, with a second in Amsterdam to be opened later in 2023. Nio entered the Dutch market in October 2022.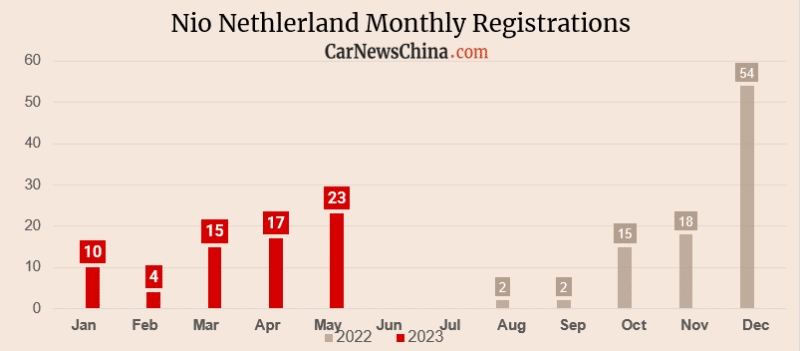 Moreover, Xpeng sold 0 cars, and Tesla sold 1,267 EVs, 1,047 being Model Y SUVs.
Editor's comment
BYD still can't get traction in the Netherlands, despite Atto 3 getting great reviews; it seems the 'China' factor might play a role in it as the Shenzhen-based company is getting lots of headlines highlighting it as a Chinese flagship automaker and sentiment towards Middle Kingdom's brands is not great recently in the Netherlands.
Former British brand MG is doing great, on the other hand. Finally, a breakthrough company was waiting for – MG4 has excellent reviews, most mentioning the price-quality ratio. Lynk&Co is just fine with their only PHEV, and sales are flat; waiting for more models as in China, they offer 02, 03, 05, 06, 08, and 09. Polestar is not doing badly with their new 2. Xpeng is a disaster, and it seems the European relaunch didn't help.
Nio is fighting hard; ET5 sales took off a bit, and the company is building swap stations and Nio Houses, getting awards and headlines. However, it shows how difficult the EU market is for a new premium brand with conservative customers. We will watch how the ET5 Touring kombi will help its sales – it should launch on June 15.
Moreover, Volvo registered 1,971 vehicles in the Netherlands and is also owned by Geely Group, but we don't include it in the statistic as most of those cars are not China-made but come from Eu plants. On the other hand, Polestar, which 02 has been produced at Geely's Taizhou plant since 2020, and Lynk&Co, which 01 PHEV SUV, comes from Geely's Ningbo plant; these are China-made Chinese-owned brands. Let us know what you think – should Volvo be included, or their European heritage is so strong it shouldn't be considered? Let us know in the comments.