A very rare and very raw BMW M3 Carbon Edition, seen on the Beijing Tuning Street in the east of the capital. The M3 Carbon Edition was a China-only limited edition based on the E92 BMW M3 coupe. The Carbon Edition debuted in May 2011 for 1.23 million yuan or 189.000 U.S. dollar, only 111 examples were made and all went to China.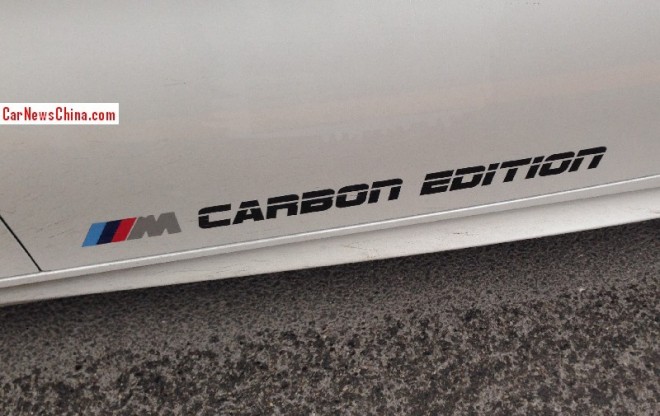 The M3 Carbon Edition came with a shipload of carbon fiber: the roof, the spoilers in the front bumper, the side skirts, the wing on the back, and some more inside. More coolness came from black racing stripes on the bonnet, a black stripe over the whole side, a black grille, black 10-spoke alloys, 'M Carbon Edition' stickers on the doors, 'M Carbon Edition' badges on the door sills, an 'M Carbon Edition' badge on the dashboard (on the passenger's side), and the vehicle was painted in a special pearl metallic paint. Power was unchanged 420hp and 400nm.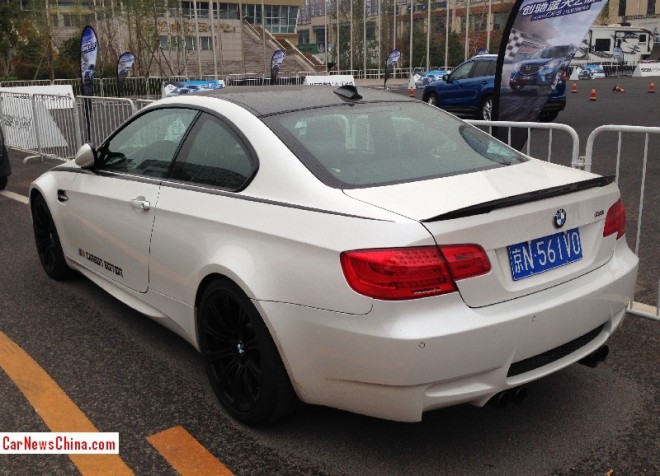 It sure all loox great, but using carbon to reduce weight and adding stickers & badges that add weight makes no sense. Special edition for cool, not for racing car. The m3 Carbon Edition was the second China-only special M3. The first was the crazy M3 Tiger Edition, which came in orange only for 183.000 USD with 250 cars.
The specials were cashing in on the incredible popularity of the E92 BMW M3 in China. Time now for out giant and Extremely® Famous China-BMW M3 Collection™: double wing, licensed E93 Convertible (522M3), E46, matte dark blue, shiny green, with hot redhead, with friends at the karaoke bar, Bling, license (M3246), body kit,  license (908M3), mint green, baby blue, E46 Convertible, Bling Convertible, shiny blue, matte black, and completely mad.