Nasty super car crash in China. A matte black Lamborghini Aventador with orange brake pads hit an electric tricycle on a road in the great city of Xuchang in Henan Province. The Lamborghini suffered a damaged left-front headlight. The electric tricycle, seen here on the right with a green soft top, was damaged beyond repair.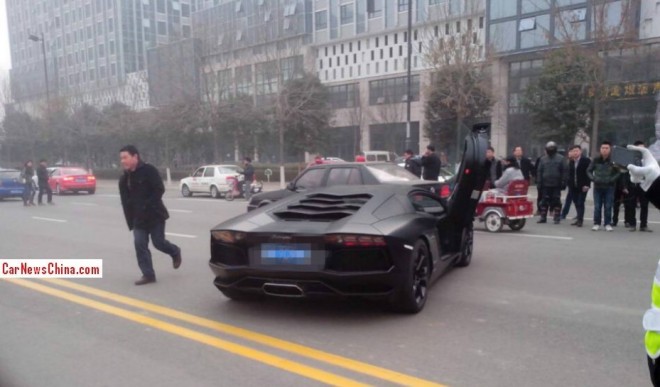 The driver of the Lamborghini was unhurt. The driver of the tricycle was lightly injured. Initial investigations by police appears to show that the tricycle was to blame for the accident. If so, the driver will have to pay up a lot of money. The Aventador costs 7.38 million yuan or 1.2 million USD in China, and headlight won't come cheap.
But there are a few questions: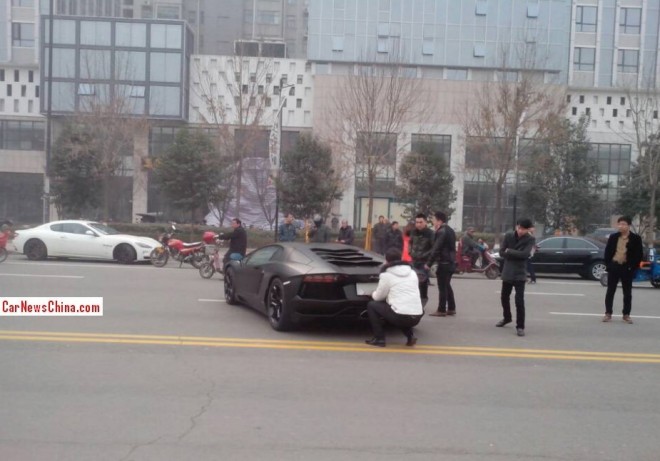 The photos above show the Aventador with its license plate blurred out by the original Chinese source. But this photo, taken a few minutes earlier, shows the owner of the Lamborghini removing some kinda metal plate covering the license plate, indicating the license plate was hidden at the moment of the crash. Furthermore, the photo shows a very speedy white Maserati GarnTurismo, and that is likely not a coincidence. Was the Lambo involved in an illegal street race with the Maserati and did the tricycle end up in the middle..? The police investigates.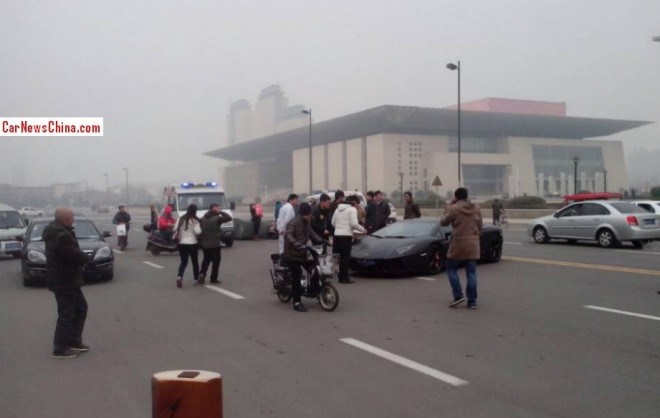 Air doesn't look too clean in Xuchang, and a Lamborghini 6.5 liter V12 with 700hp and 690nm won't help much.
Time now, for our Famous China-Lamborghini Aventador Collection™: Pink, DMC LP-900 Roadster, DMC LP-900 Limited Edition, matte lime Roadster, shiny gold, DMC LP900, crash, sinking, yellow roadster, police & the replica, with 458, green-blue black,  shiny-lime green, black in Beijing, with Roller, Anniversario Edition, baby blue, Arsenal, white, shiny blue, with Lambo-friends, DMC LP900, crash, blue & orange, matte black,   strange alloys, with monk, too many, matte-black, with horny babes, in mustard yellow (scroll down), and impounded.
---