A very smurf Hamann Guardian EVO, Spotted in China in the great city of Xi'an in Shaanxi Province by Reader Mark, thank you for the pictures! The Hamann Guardian EVO is a super SUV based on the Porsche Cayenne Turbo. The Guardian comes with a hefty body kit that adds a lot of weight, but the V8 engine can deal with that as it is tuned up to a shattering 550hp and 770nm, good for a 300km/h top speed and a 0-100 in 4.6 seconds.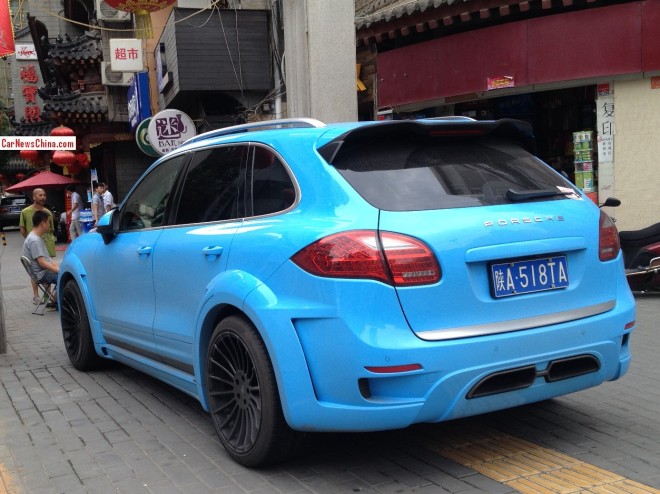 This particular example is painted in a brilliant smurf-baby blue, and further dressed up with black windows, black B and C pillars, and giant 22 inch wheels with matte gray multispoke alloys. Design of the exhaust pipes a true feast for the eye.
The Porsche Cayenne is the most popular luxury SUV in China and the most popular Porsche in China. Time thus, for our Famous China-Porsche Cayenne Collection™: matte black, TechArt Magnun, Mansory, shiny purple, Mansory Turbo, shiny green, gold, shiny blue, Mansory 958, canary yellow, Luma CLR 558 GT, TechArt Magnum, baby blue, Hamann Guardian, a fish, pink, body kit, police car, matte black, broken with semi-naked girls, very pretty, Hamann Guardian,  stretched, pink, in gold, another stretched, in orange, with dog-pee, and French.