The BMW M4, BMW M4 Convertible, and BMW M3 have been launched on the Chinese car market, aiming at wealthy car buyers with a need for Bimmer speed. BMW keeps things simple and each car comes only with the top trim level and just one price. The M4 costs 1.02 million yuan or $166.000 and the M4 Convertible goes for 1.13 million yuan or $184.000.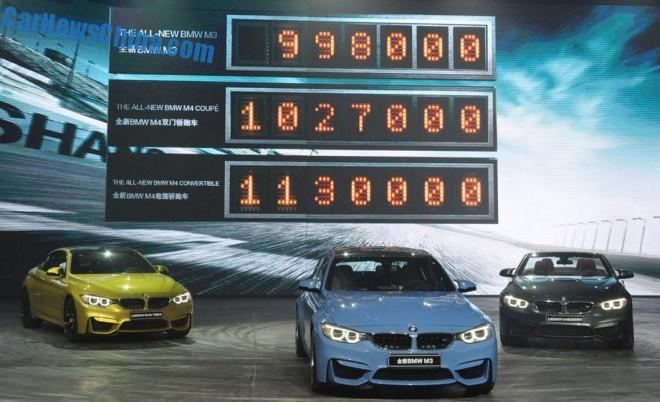 The addition of the Convertible is a first for BMW. The old M3 cabriolet was not available in China. Convertibles are in general not very popular due to the air pollution, traffic jams, and noise. BMW apparently decided to give it a shot. They don't try really hard however. The M4 Coupe and M3 have arrived at various BMW dealers throughout China but the Convertible is yet nowhere to be seen. All M's are powered by a twin-turbo six-cylinder petrol engine with an output of 431hp and 550nm, mated to a 6-speed manual or a 7-speed DCT.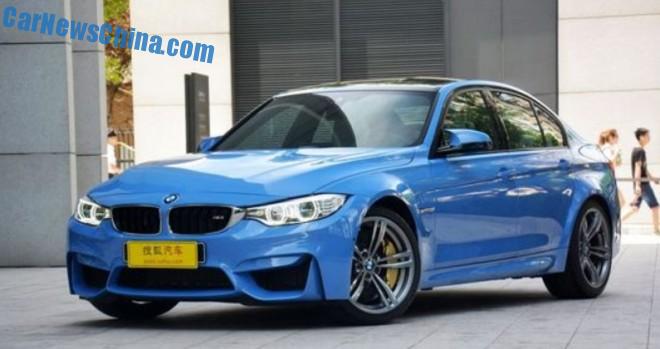 The M3 goes for 998.000 yuan or $162.000, looking very good here in baby blue with yellow brakes.
The new M4 and M3 have big shoes to fill as the E92 M3 was incredible popular. So popular indeed that we have a Extremely® Famous China BMW M3 Collection™: shiny Pink, license (YM399), Carbon Edition, double wing, licensed E93 Convertible (522M3), E46, matte dark blue, shiny green, with hot redhead, with friends at the karaoke bar, Bling, license (M3246), body kit,  license (908M3), mint green, baby blue, E46 Convertible, Bling Convertible, shiny blue, matte black, and completely mad.