A manic Mercedes-Benz C63 AMG Coupe supercar, Spotted in China in the Dongba area in far east Beijing. The beastly Benz is wrapped in a matte gray wrap; a rather special color, changing tone depending on direction, and standing radiant in the late winter light. The coup' is further styled up with a rim-less black grille, darkened headlights, darkened windows, a black-carbon bonnet, black mirrors, and racy ten-spoke matte black alloys with fiery red brakes.
The Mercedes-Benz W204 C-Class Coupe was manufactured from 2011 until 2015. The mighty C63 AMG version is powered by a stonkin' 6.2 liter V8 with 460hp and 600nm, good for an unrestricted 280km/h top speed and a 0-100 in 4.5 seconds. Speedy matte gray Benz! Nut expensive. When new in 2014 price for the Coupe in China started at a staggering 1.38 million yuan.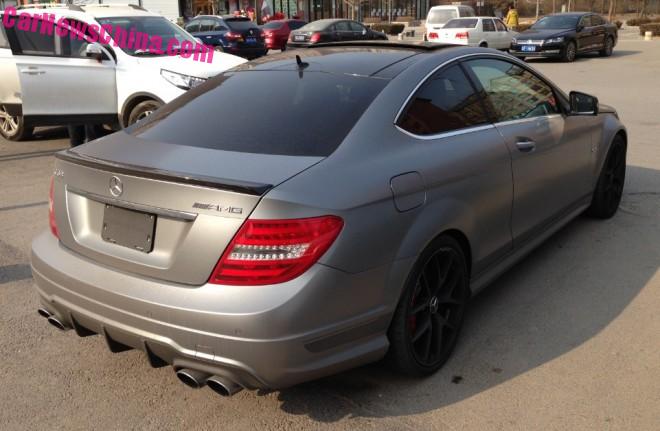 Shark fin antenna, rear spoiler, and rear window all in black. Extra shiny chrome around the side windows. Diffuser in carbon fiber. Note the small square-shaped area for the license plate, indicating this particular Benz is gray marked example imported dealer-to-dealer from the United States.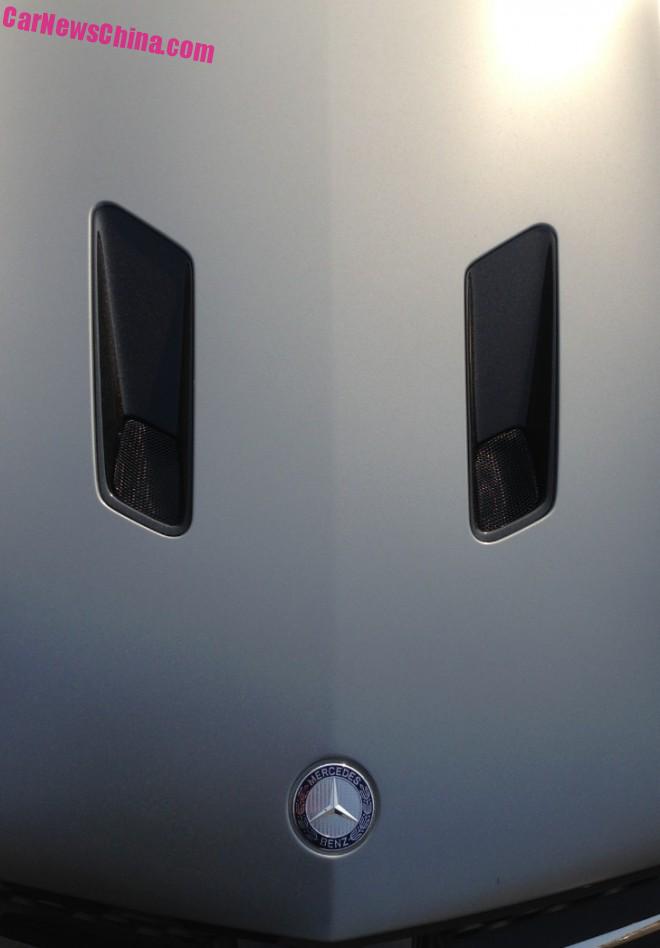 Now that is a bonnet. Twin air vents are functional and impressive.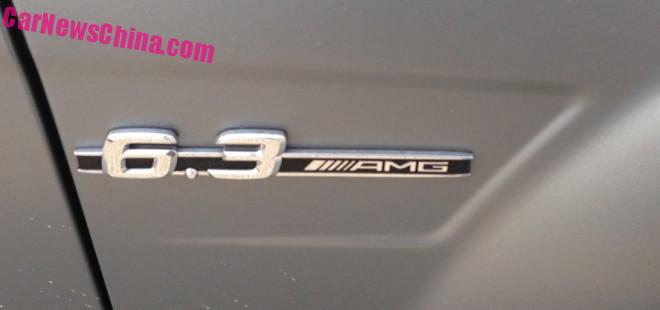 The 6.3 AMG badge on the front fender, saying 'fast'.
Time now for our Famous China-Mercedes-Benz C63 AMG Collection™: red Black, glowing, black Black, license (6MG63), shiny grille, license & alloys, license (8L563),  light-matte yellow, shiny purple, purple with babe, license, black with a license, matte black, Bling, in purple, in matte-purple, Wald Black Bison, Renntech C74 and in pink.