A mighty  W140 Mercedes-Benz S600 Pullman Limousine, Spotted in China in the great city of Shanghai by Reader Antoine Chalendard, thank you for the pictures! The S600 Pullman was a super stretched variant of the 1991-1998 Mercedes-Benz 600 SEL sedan.
Official factory photo.
The luxurious S600 Pullman Limousine debuted in 1995 and was manufactured on order in small numbers until 1999. The Pullman was stretched to 6213mm, exactly one meter longer than the SEL. The extension was positioned between the front and rear doors. Buyers could choose between a captain-seat or a four-seat configuration, and they could also spec a fully armored body. Engine was unchanged; a massive 6.0 liter 'M120′ V12 with an output of 402hp and 580nm.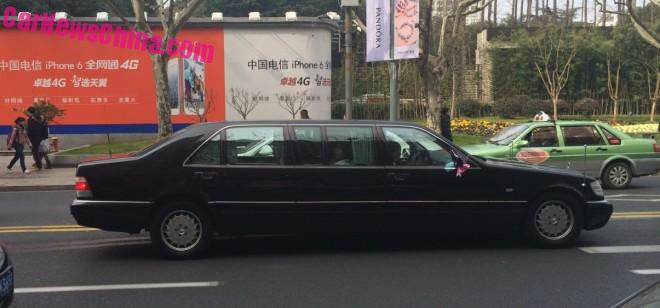 Most of the limousines went to head-of-states and other misty powerful people. Note flagpoles at the front; likely an ex-government vehicle. Today quite a few have ended up in China where they mostly serve as wedding cars. This Shanghai example has Pink ribbons on the mirrors, indicating a wedding going on. Back in 2013 we met a rather extreme '6000 SEL Pullman' in Beijing.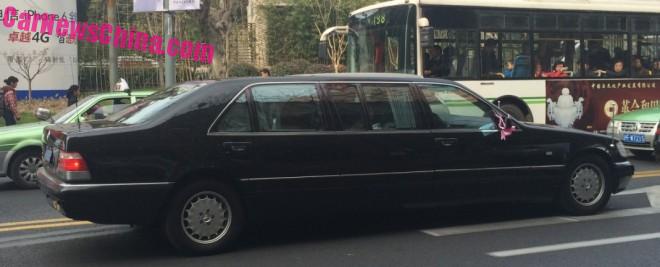 The Pullman seems to be in a very good shape. Original wheel covers very cool.
Time now for our Famous W140 Mercedes-Benz S600 China Collection™: S500, truck market, S320, S600 on the market, perfect S600, the best S600, Pullman S6000, S500 with W210 E, motorcade, motorcade, S500, crash, body kit, S500 in white, S600, and another S600.