A very racy Volkswagen Scirocco R sporty car, Spotted in China on the Beijing Tuning Street in east Beijing. The speedy Volkswagen is wrapped in an eye soothing froggy green wrap, and further Volkse'd up with a badass body kit, race locks on the bonnet, air vents on the bonnet, darkened windows, carbon winglets on each side of the front bumper, and differing alloys front and rear.
At the front five-tripe spoke gray, at the back multispoke black. Fake air vents on the front fender following the wheel arch behind the front wheel. The wrap is of top quality, neatly covering the bumpers, mirrors, and door handles, and that indeed is the Holy Trinity we love to see!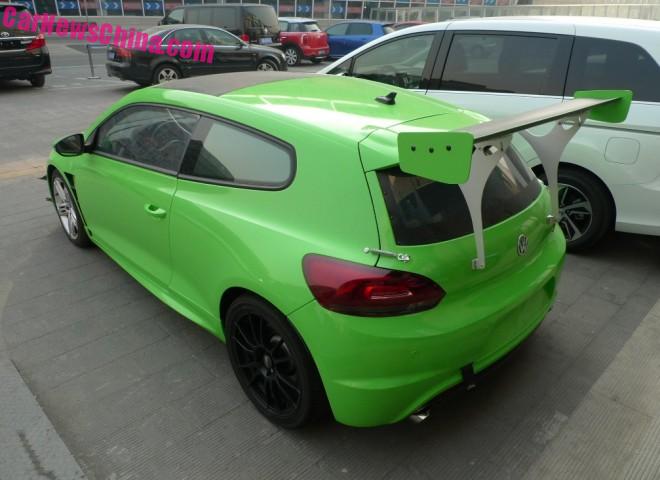 Sun roof and shark fin antenna. The giant rear spoiler is a masterpiece. On top attached to the standard roof-wing and below attached to the rear door. The pillars of the spoiler are in light gray, which doesn't really match with any other color on the car. Strips around the side windows are completely black, and so is the rear window.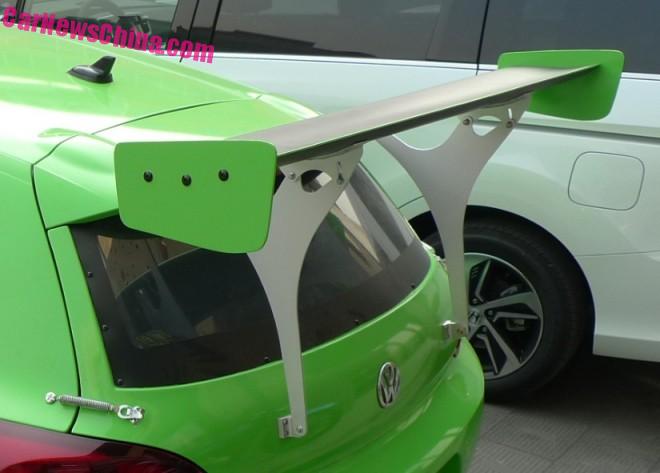 A closer look. Wing is fully adjustable.
The Volkswagen Scirocco is imported into China and a rather popular speedy car. Price starts at 239.800 yuan and ends at 466.800 yuan. The R is the fastest version powered by a hefty 2.0 turbo with 250hp and 330nm, but we bet this particular example has a few horses more!
Time now, for our Famous China-Volkswagen Scirocco Collection™: froggy green, race car, Pinky Porsche, big wing, low rider, Audi, matte black lowrider, white black, body kit, purple, low-pink rider, only bodykit, pink, an AMG and orange.