A very sleek Volkswagen Scirocco sporty car, Spotted in China in the Dongba area in far east Beijing. It was one of four cars of members of the Scirocco BJ Auto Fan Club, who were apparently meeting in one of the nearby buildings. Sadly, I couldn't figure out where exactly, otherwise I could have joined the party for a beer or two.
The first Scirocco was wrapped in a matte brown-gray wrap, and further sexed up with a black roof, black windows, darkened headlights, black Volkswagen badges, a black wing on the window, and super wide tires with multispoke black alloys. Oddly, the exhaust pipe was bog standard.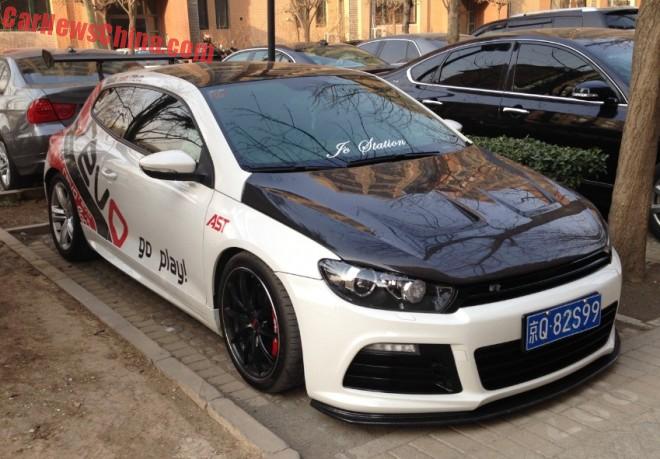 Moving on the Scirocco number two. A wild one this is; painted in white with a black bonnet, lowered to just above the road, darkened headlights, Volkswagen badge removed, speedy stickers on the sides, a giant wing at the back (similar to) and fuzzy wheels: a standard alloy at the rear and a racy black alloy with a red brake up front.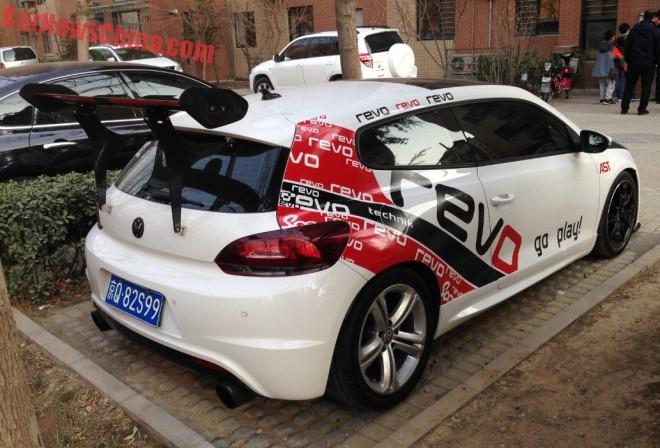 That wing is huge!, bolted on the rear door. Two giant exhaust pipes at each side of the bumper. The stickers rear 'Revo technik go play', likely inspired by the tuning company Revo Technik of England..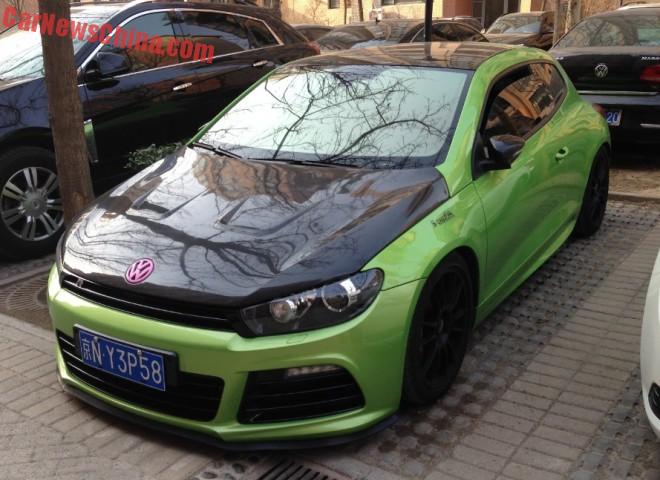 Car number three is interesting. Painted in froggy green with a black bonnet and a black roof, dressed up much further with a lowered suspension, a black front lip, darkened headlights, darkened windows, black mirrors, and large tires with completely black multispoke alloys. Best however is the Pink Volkswagen logo.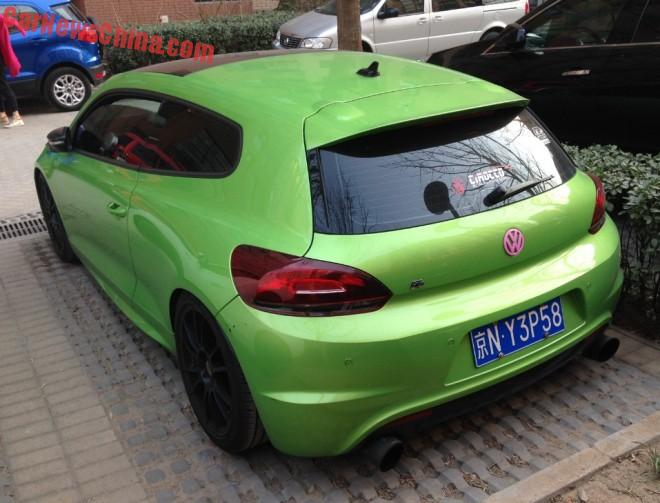 Black antenna and a black rear window. Taillights darkened. Badge in Pink again and giant exhaust pipes.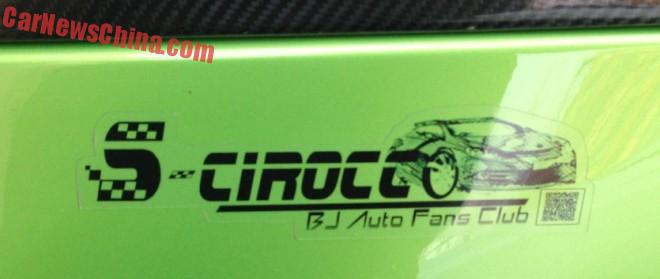 The Volkswagen Scirocco is imported into China and a rather popular speedy car. Price starts at 239.800 yuan and ends at 466.800 yuan. Time now, for our Famous China-Volkswagen Scirocco Collection™: racy green frog, froggy green, race car, Pinky Porsche, big wing, low rider, Audi, matte black lowrider, white black, body kit, purple, low-pink rider, only bodykit, pink, an AMG and orange.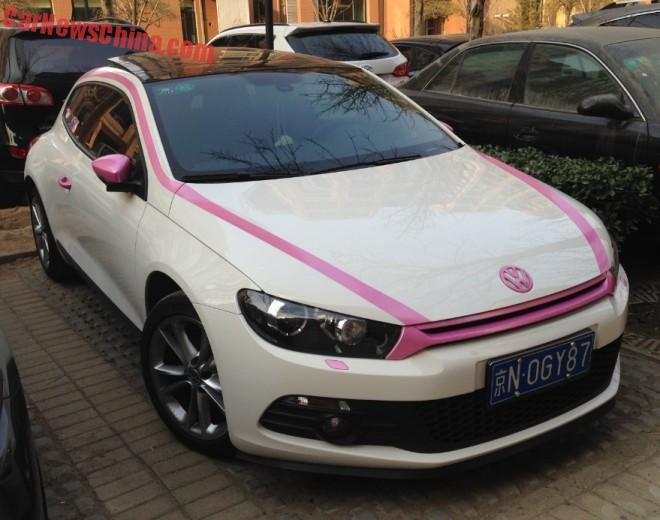 This fine example was painted in white and prettied up with Pink; on the grille, bonnet, headlight sprayers, badge, A-pillar, side of the roof, mirrors, and on the doorhandles. Said headlights are darkened, windows are black, and the roof is black again. Alloys are standard Volkswagen.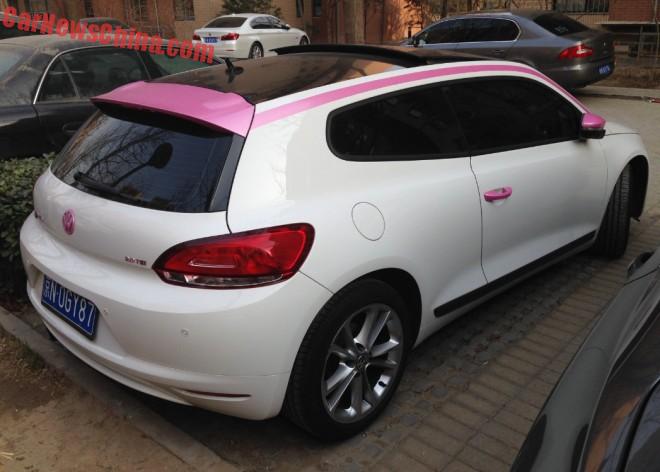 Rear window couldn't be more black and Pink wing a nice touch. Volkswagen badge in Pink again, but that was not all:
Yeah!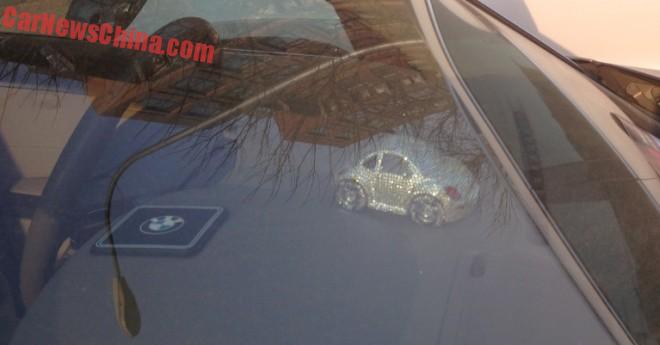 On toppa dash: a blingbling air refreshener shaped like a Beetle, and a magnetic pad with a BMW badge on it.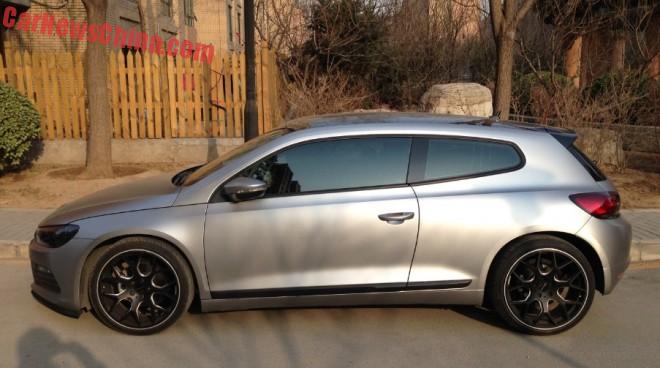 Ending with one more from the beginning.