A tall Chinese woman crashed a red McLaren MP4-12C supercar in the great city of Suzhou in Jiangsu Province. The woman can be seen here playing with her pad, wearing a Pink dress, and standing on high heeled shoes. Yellow taxi had no part in the incident, it was just there at that moment.
The McLaren was making a u-turn under a highway when it completely cut off a red Citroen sedan, which subsequently ended up in the left-side of the Mac. The woman told police that her car 'suddenly accelerated' when it excited the corner, pulling to the left at the same time. Well, driving a 600hp monster with high heeled shoes can't be easy…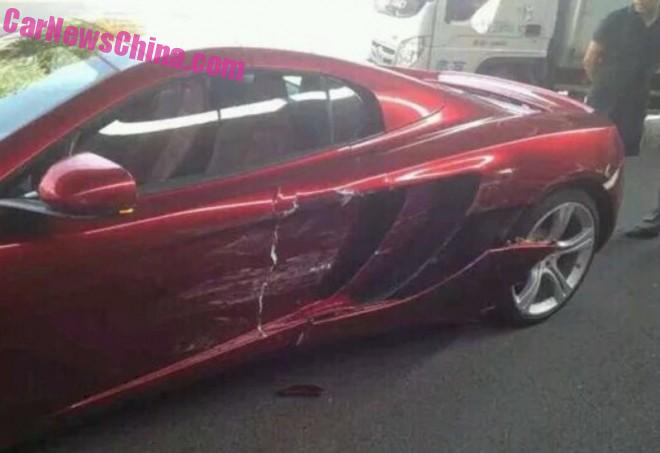 The damage is severe. Door and air vents are broken and need to be replaced. This is going to be a big repair bill for our little missy. When new price of the MP4-12C started at 3.38 million yuan or 551.000 USD. Power comes from a twin-turbocharged 3.8 liter V8 with 620hp and 600nm, in the Spider good for a 329km/h top speed and a 0-100 in 3.3 seconds. High heel that!
Time now, for our Famous China McLaren MP4-12C Collection™: shiny purple, 650S Spider with a license, license, with nine, Pink, BAPE, white, orange with Gallardo, more white, Bling, times four, @ the show, gray, with speedy friends, and with the wrong wheel.