A very flashy McLaren MP4-12C supercar, Spotted in China in the great city of Shenzhen by A-Qiang. The good Macca was wrapped in an eye murdering shiny purple wrap and was sexed up even further with shiny-dark gray wrapping on the bonnet and shoulder line and mirrors, darkened windows, darkened headlights, and speedy matte gray five-spoke alloys.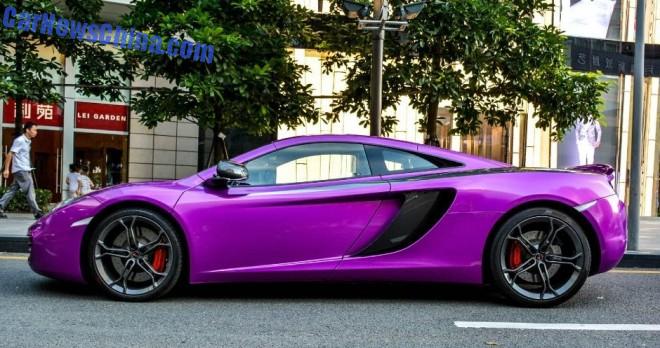 Air intake partly black. Gray brakes with red claws. The wrap appears to be of top quality and is neatly applied over the bumpers. The mirrors are in shiny-dark gray as mentioned, and the MP4 doesn't have any doorhandles to wrap around.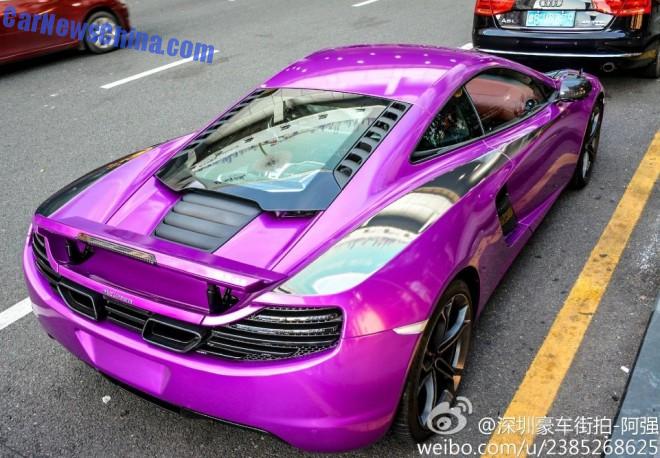 Shiny dark-gray wrap over shoulder is wrapped on top of shiny purple wrap. The ensuing effect is not as impressive as it would have been if both wrapped were applied simultaneously, and directly on the body.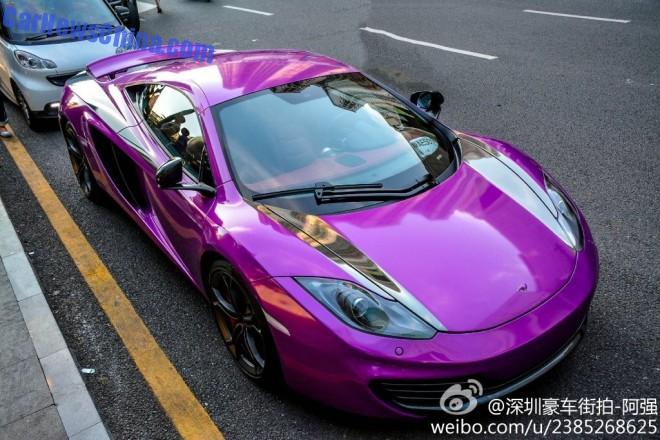 No matter that, this McLaren still looks mad. Power comes from a twin-turbocharged 3.8 liter V8 with 620hp and 600nm, in the Spider good for a 329km/h top speed and a 0-100 in 3.3 seconds. Speedy purple monster! When new price started at 3.38 million yuan or 551.000 USD.
Time now, for our Famous China McLaren MP4-12C Collection™: 650S Spider with a license, license, with nine, Pink, BAPE, white, orange with Gallardo, more white, Bling, times four, @ the show, gray, with speedy friends, and with the wrong wheel.
Click or Die: