The 2023 Shanghai Auto Show is one of the most eagerly anticipated auto shows in recent memory.
After a long hiatus due to Covid, China's tier-1 auto shows are back with a bang. The sheer number of pre-launch events and announcements already indicates that this will be one hell of a show.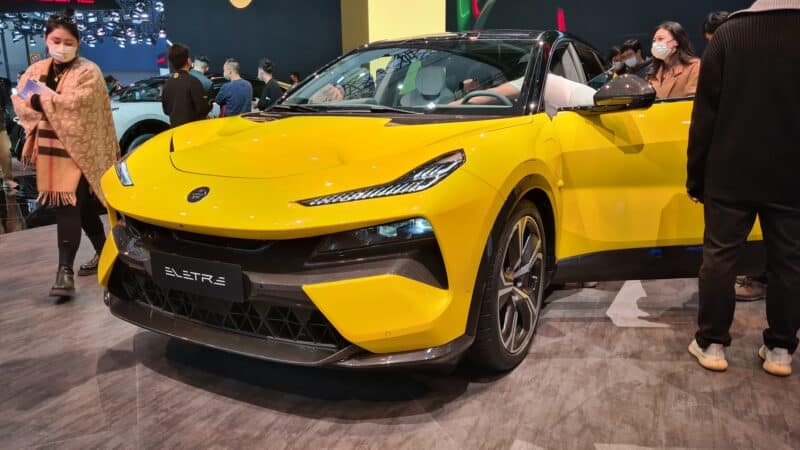 Another major factor is the country's opening up. China's car industry is already unrecognizable from that which foreign journalists last witnessed in 2019. Prepare for a lot of gaping eyes and sensational headlines.
So what can China's last major auto show, held in Guangzhou earlier this year, tell us about what to expect in Shanghai?
The Big Four
Of the brands that brought new metal to Guangzhou, it was the new energy start-ups that predictably led the way, but it was a mixed showing from the big four.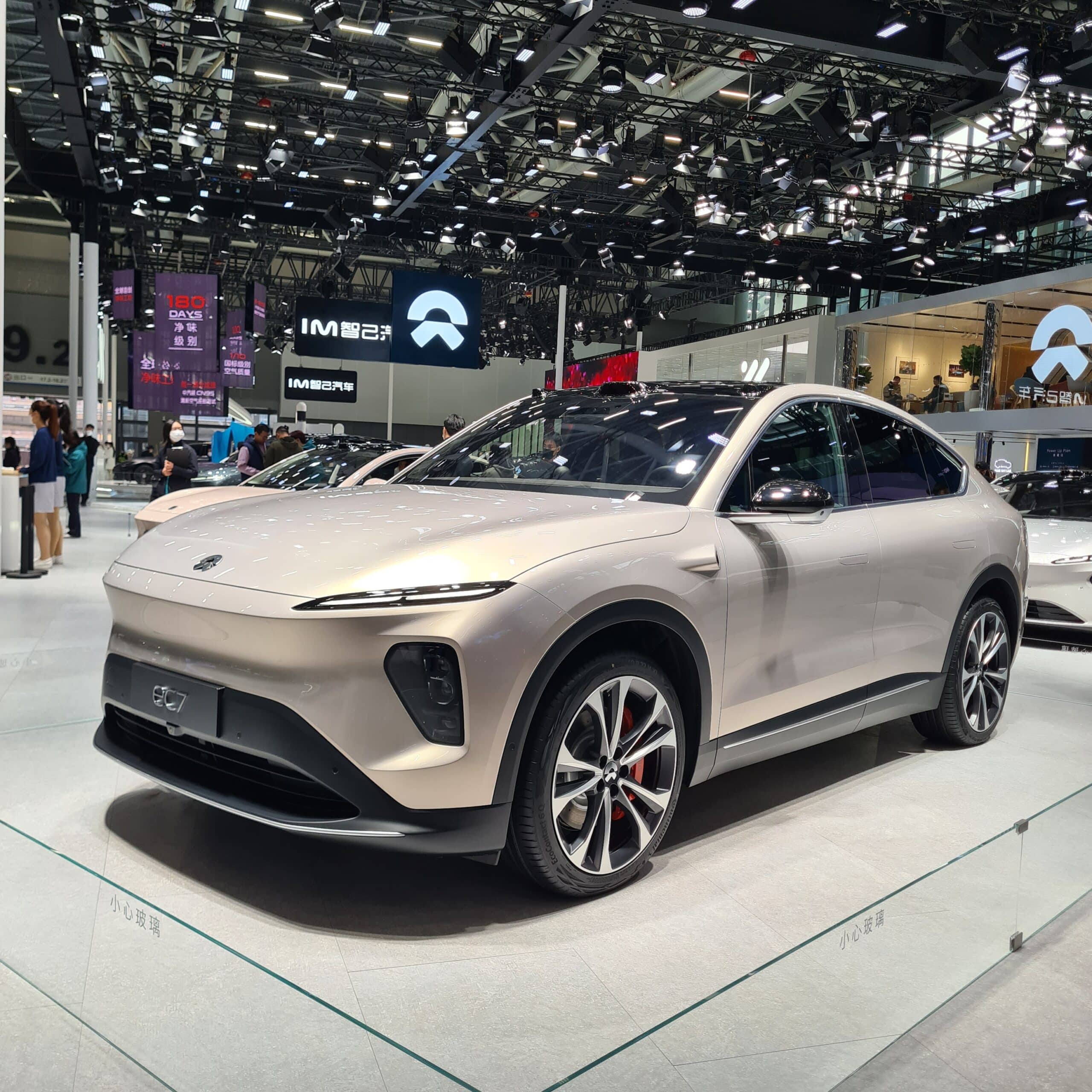 NIO, coming into the show on the back of a bumpy year for production, were in typically impressive form in Guangzhou, debuting their flagship ES8 replacement for the first time alongside the all-new EC7. But already some cracks have appeared in NIO's armour with the news that the ET7, launched only last year, is already getting a refresh. NIO don't typically do launches at shows but expects updated versions of the ET7 and ES6 to be on show, plus the ET5 Shooting Brake, a car almost certainly created for European audiences.
---
Read also:
Test Drive | Small but Mighty: Nio ET5 Stuns with Top-Notch Performance
---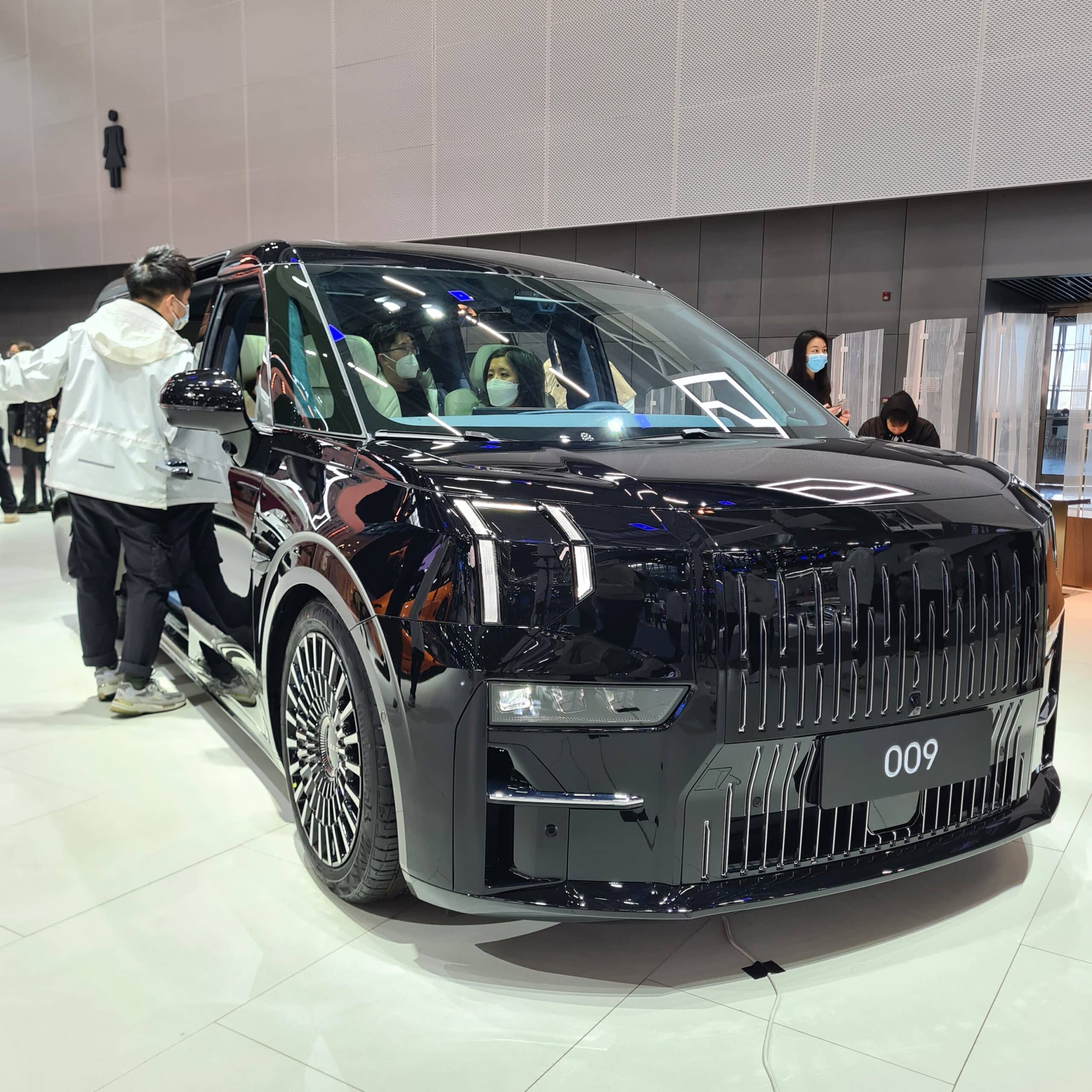 After a stellar year of growth for their 001 model, and fairly recent start of 009 sales, Zeekr are expected to go stratospheric in 2023 and their stand in Shanghai will be all about the X, launched the week before the show. If photos of the brand's dealers the day after launch are anything to go by, the Zeekr stand will be a frenzied clamour of both media and public, one seeking a first look at what is coming to Europe at the end of this year, and the others keen to size up what is already looking like being the most impressive small car to launch this year. If the stand was busy in Guangzhou, expect at least triple that in Shanghai.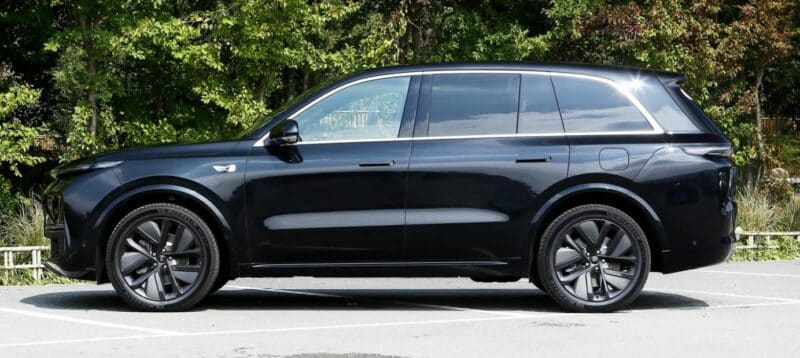 Li Auto showed off their L8 SUV for the first time in Guangzhou and have since launched the smaller L7, but without even a hint at a future outside of China just yet, it'll be interesting to see what the brand chooses to show at the first major international-attended event in some time. Their upcoming MPV can't be far off but even that wouldn't excite European audiences, so perhaps something smaller, an L6 or L5? This is their chance to make a statement, could there yet be a surprise?
In Guangzhou, on home turf, the only big four brand to show no new metal was XPeng. Their start to 2023 has also been unusually muted, but the swoopy G6 SUV will be unveiled in Shanghai and that could crank up the excitement once again if the price is right. Expect the brand to keep focus 100% on the new car rather than surprise.
The EV Second Division
Amongst the less well-known NEV start-ups, there was more value to be found.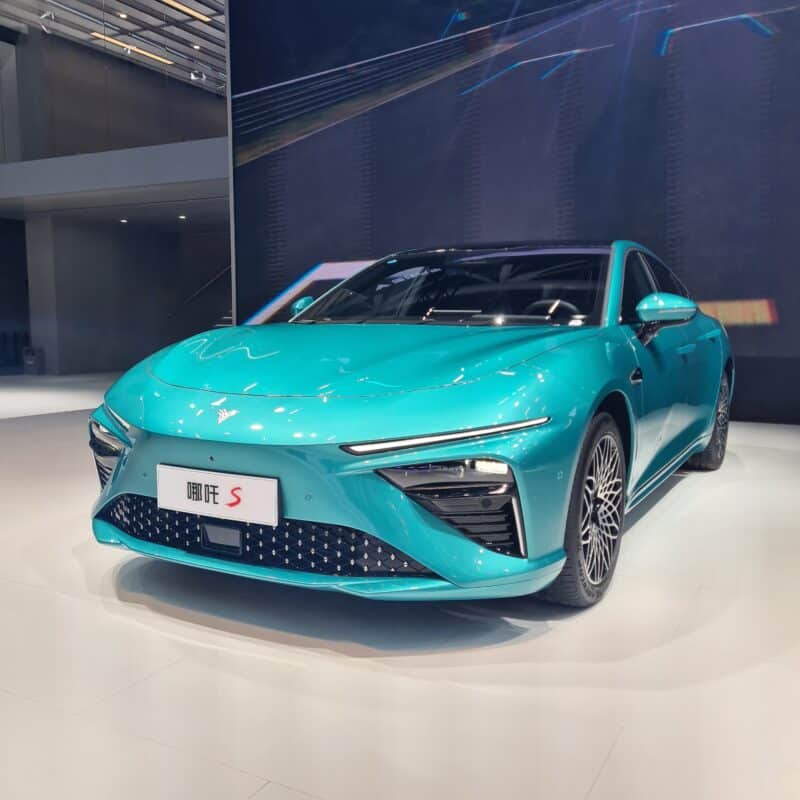 Shanghai-based Neta, whose progress in the art of car making is almost visible in real-time, proudly displayed their Model 3-rivalling S in Guangzhou, but their king this time around will be the first electric Coupe and China's first non-SUV Coupe model in some time. The brand is still quite modest and not too well known outside of China, but this is their chance to earn a few headlines they're not used to getting.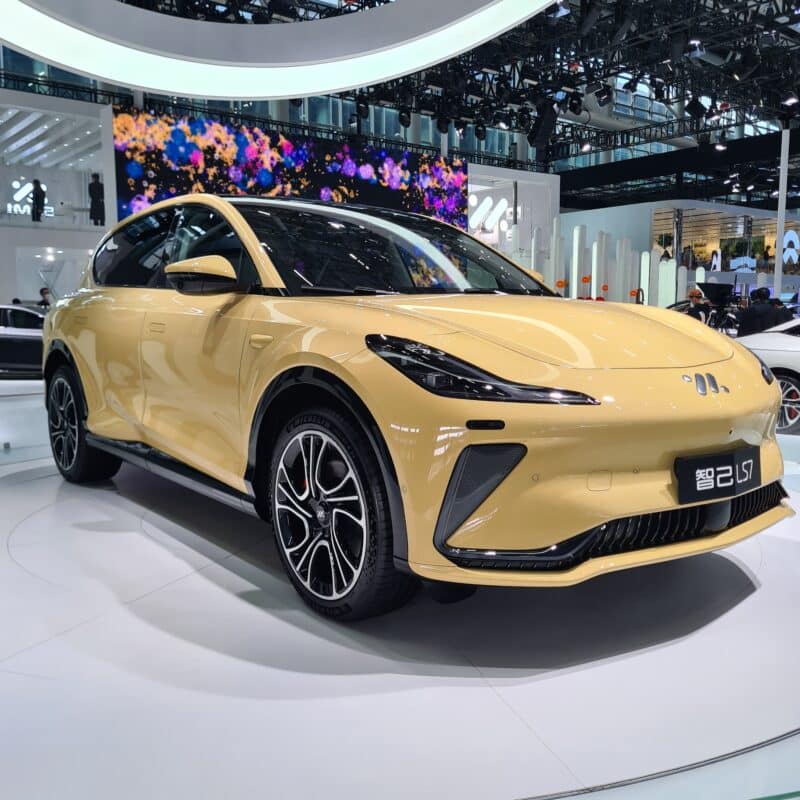 SAIC-owned IM doubled their range with the rollout of their new LS7 SUV in Guangzhou but we suspect Shanghai will come a bit too soon for a new launch at Shanghai. We could be wrong, there have been sightings of a coupe version of the LS7, even by this writer, but the brand is only making very steady progress and sales are poor, so we may be waiting a bit longer yet.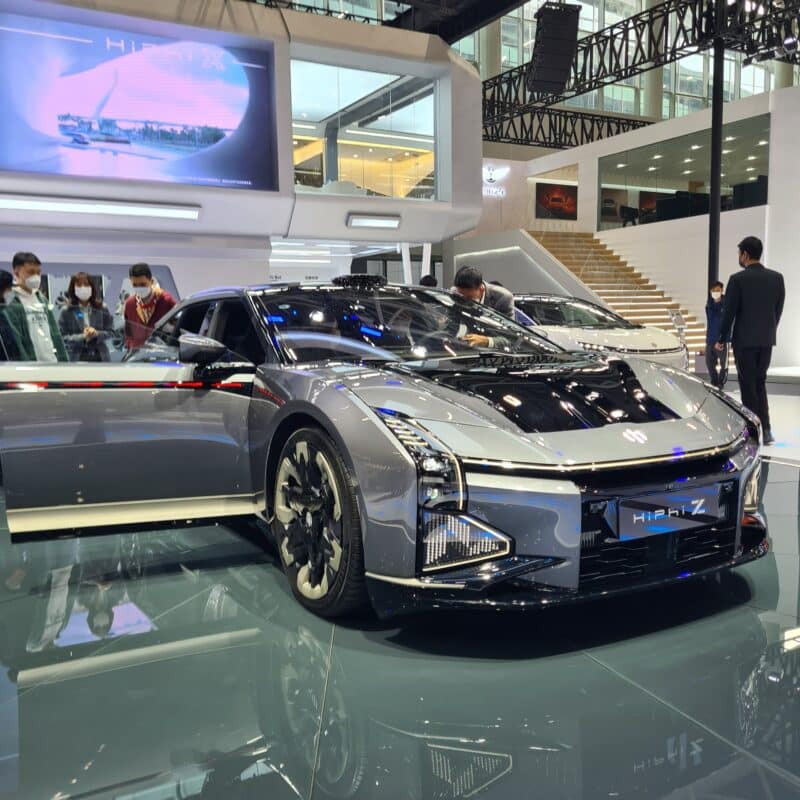 One brand never afraid to make a statement is HiPhi and theirs will be a stand undoubtedly popular again, as it was in Guangzhou. We already know the Y mid-size SUV will be launched in Shanghai, complete with more fancy gullwing suicide doors, and as an engineer in Guangzhou told us, this is the model most built for Europe, being more affordable than the X and Z. They're also on the path to European sales, so they'll be keen to shine in front of this audience.
---
Read also:
Taking the HiPhi Z for a spin: China's electrifying GT sets its sights on the Porsche Taycan
---
Rising Stars
Away from the more established NEV brands, a new wave of homegrown hopefuls is starting to take shape.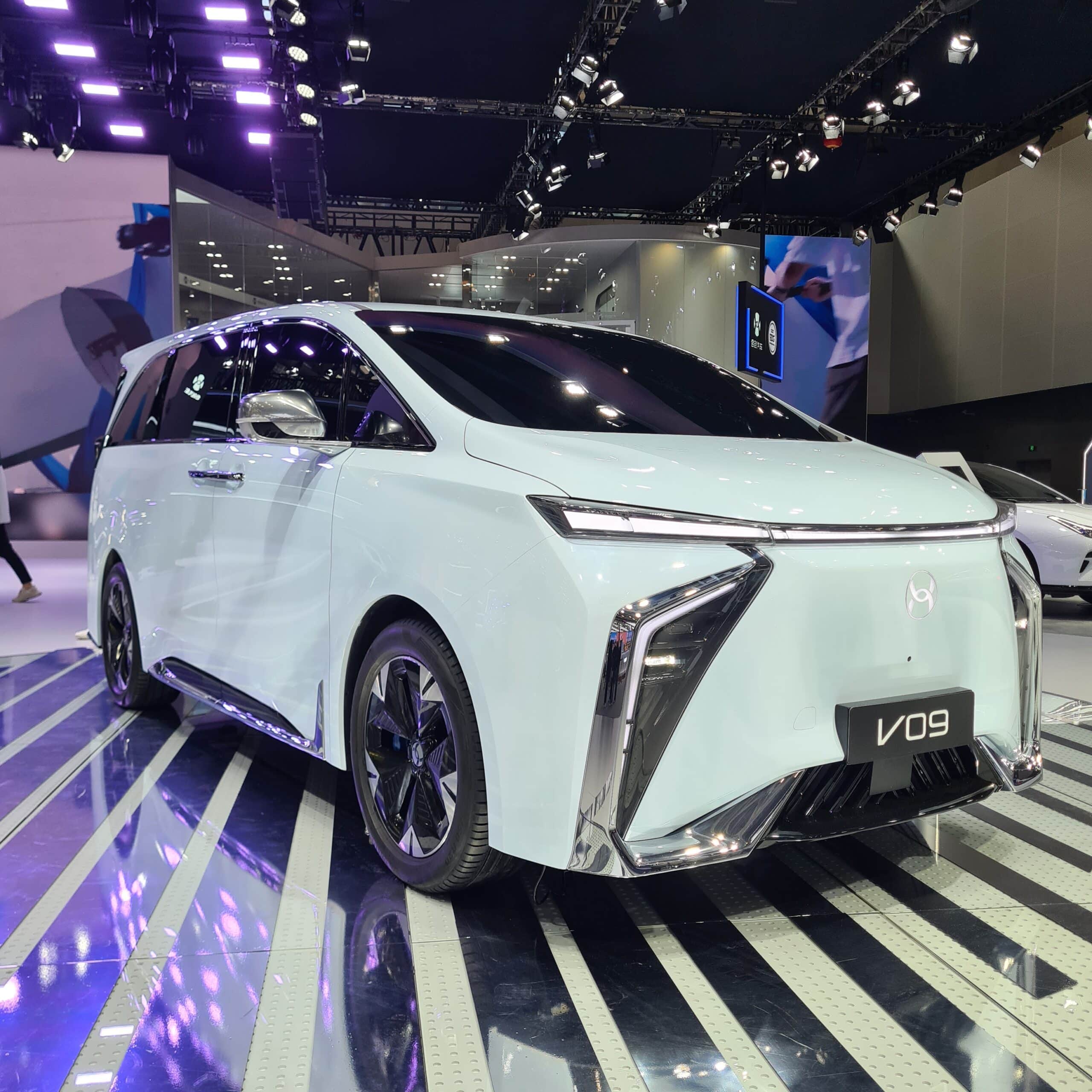 One brand that hasn't yet made much of an impact is Hycan, a joint venture founded by NIO and GAC that flies very much under the radar in China's EV scene. Their concept V09 MPV (one of very few concepts launched at Guangshow) is not so shy. However, with sales not exactly flying in China, and no suggestions of global expansion, it's hard to imagine the brand making a big noise in Shanghai, except for perhaps a production-ready version of the V09, especially now that GAC have shown their all-electric M8-based MPV, the M9, meaning Hycan will not be stealing the limelight. Let's see.
Another NEV brand from inside the SAIC stable is Rising (or Feifan in Chinese), whose first model, the rather attractive R7 mid-size coupe SUV, boasts battery-swapping ability like that seen on NIOs. Already since Guangzhou the brand have launched the F7 full-size sedan, an incredibly compelling package given the ridiculously low price it's being marketed at, starting at just 145,000RMB with the battery lease option. With this, the brand probably has enough on its plate already, and not very impressive sales yet, so it would be a surprise to see a new model here, but never say never in China.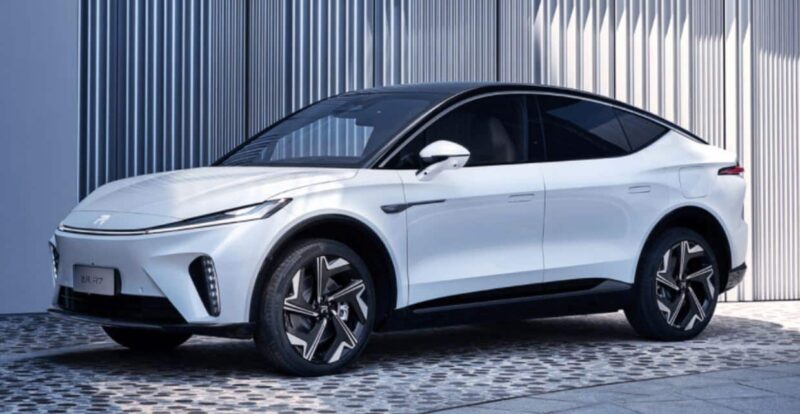 Jidu, the joint venture from Geely and China's leading autonomous car platform, Baidu, unveiled their sedan ROBO-02 in Guangzhou but there has been very little from them since. As the car is also SEA-based, perhaps they're being held back for the Zeekr X to settle in, but this author has seen a lot of the ROBO-01 testing in Shanghai recently and maybe it's time to open sales books. We may hopefully get a look inside the ROBO-02 at Shanghai, but don't expect a new car.
Crowded House
If it wasn't already obvious by now, the only direction in the Chinese marketplace is EV, with a bit of PHEV/EREV for good measure.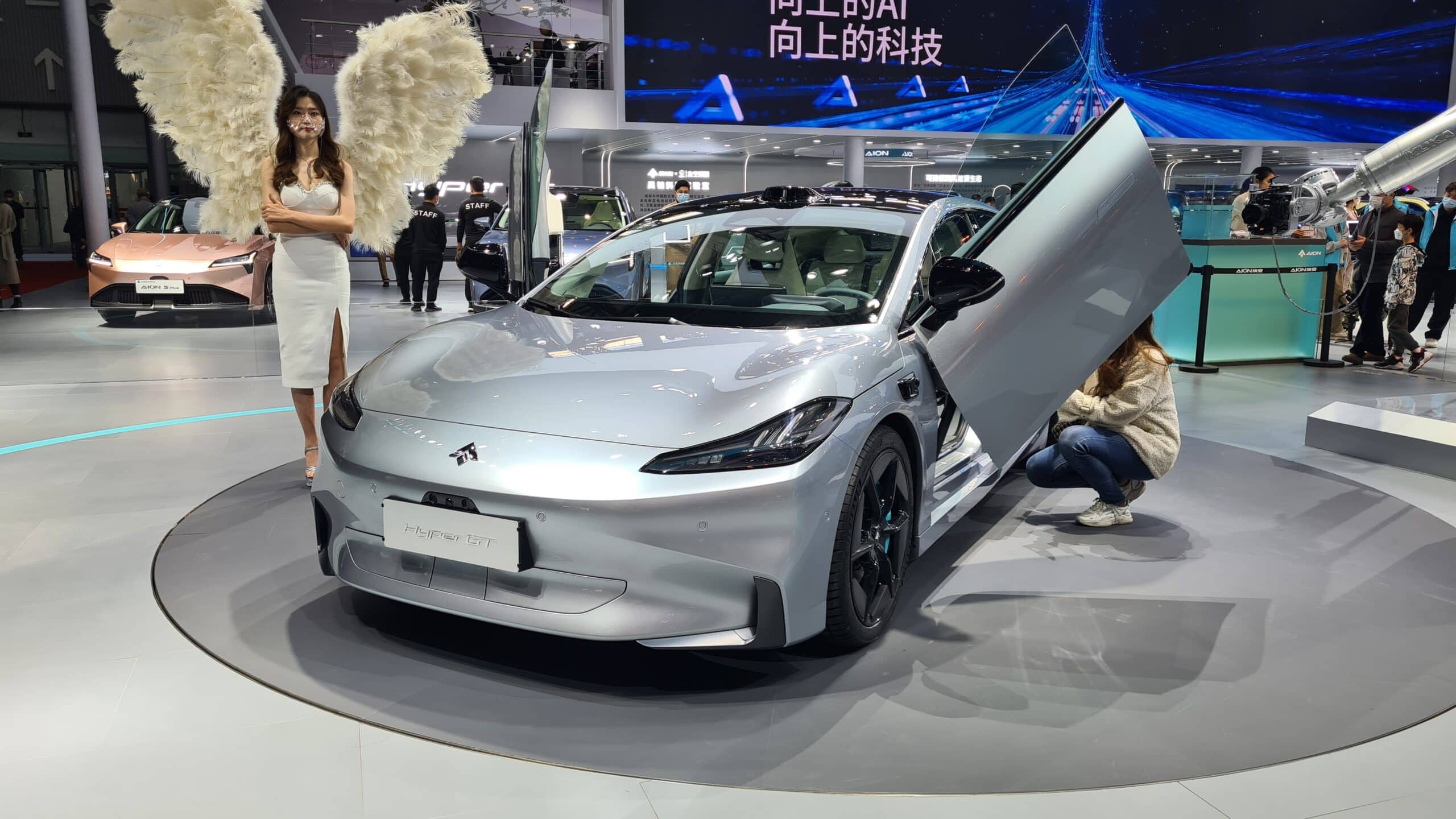 One brand turning up the heat here is AION, spun out of GAC as a standalone brand for EVs. Their predominantly ride-hailing oriented range consistently ranks second or third in China's NEV sales charts, but the brand is now looking toward private buyers too. The Hyper GT was unveiled in Guangzhou and will be likely made more accessible to the public in Shanghai, but will there be another new model on the way? There's serious momentum behind them and their designer is keen on dazzling concepts so it may be time for another bold statement and maybe a surprise reveal of a new SUV to replace the V or LX. Expect it to be very aero-conscious and lightning fast.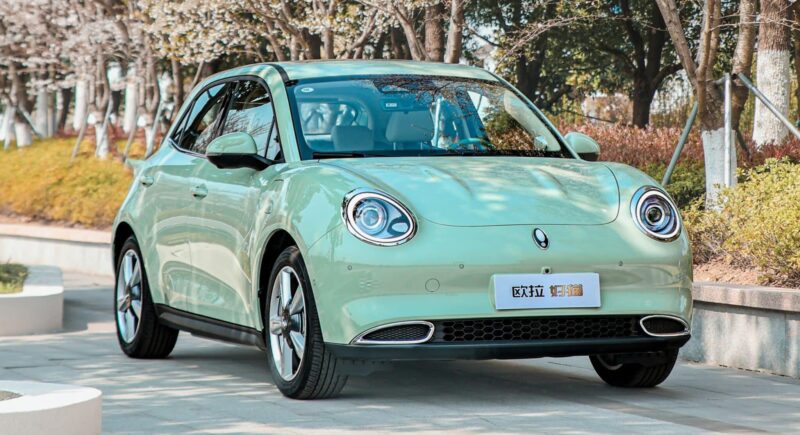 Ora, too, are on a streak and making waves in Europe with their doe-eyed Good Cat (or Funky Cat). In Guangzhou, it was the Lightning Cat that took centre stage, but we'd expect something new to enter the line-up in Shanghai, especially since sales already started in Europe. The SUV route seems covered by Great Wall's other brands so maybe we won't get one of those, but if not then what? Probably the production-ready version of the Beetle-wannabe Punk Cat will get its debut and maybe a concept.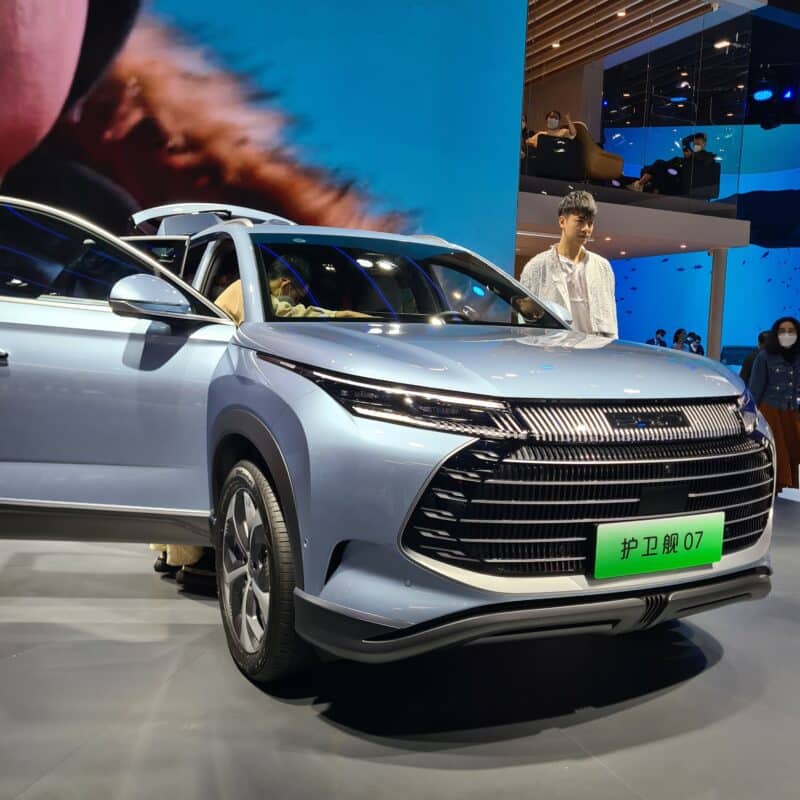 BYD have torn up the rulebook in the past 12 months but Guangzhou was a fairly sedate affair for them, only launching the Frigate 07 hybrid. We already know the Seagull compact EV is coming in Shanghai, and rumours also suggest an all-electric SUV, perhaps a jacked-up Han, could be shown in Shanghai too. We're also set to see the show launch of the Yangwang U8 and U9, and the big reveal of another high-end model from the new 'F' brand. This stand will be heaving, no doubt.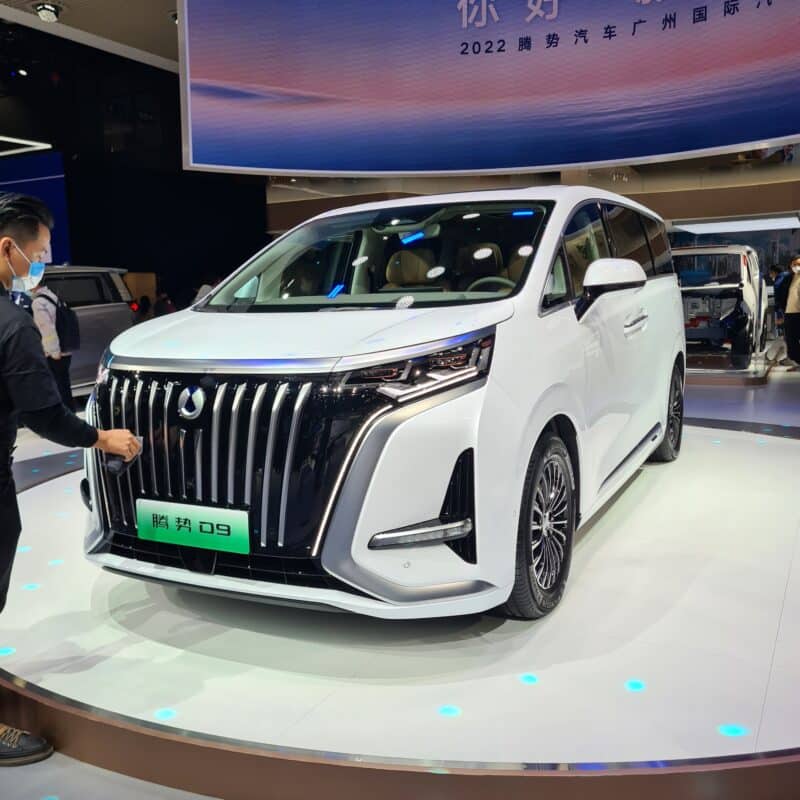 Next door, Denza stuck to their D9 MPV in Guangzhou and it's a roaring sales success from anecdotal evidence on the streets, but the N7 and N8 have been shown in the short 3 months since Guangzhou so they will be the new stars in Shanghai.
AITO, now being quietly rebranded as Huawei, kept it simple in Guangzhou but it won't stay that way for long. Patent images of an M9 have been seen so if anything, that's the route they'll likely take in Shanghai. Just don't expect it to look exciting.
As for BAIC subsidiary Arcfox, they'll be there with the show debut of the Kaola baby-friendly MPV-esque car. We won't lie, it's an odd and very niche market to pursue, much like Arcfox's current range. They're going to need a success here because nobody is talking about them and few are buying them.
New Faces
As anyone who watches the Chinese auto market knows, the conveyor belt of new entrants rolls endlessly, and so it proved in Guangzhou, but yet more will likely debut in Shanghai.
One brand we have seen previously but that still hasn't come to market is Great Wall's SAR. The utterly mental Mecha Dragon is a fascinatingly eclectic mash-up of cars like the Ferrari F40 and something out of Robocop and it was again shown at Guangzhou. Will we finally see a production version in Shanghai. We hope so, because but it boasts a 400kW (544hp) twin-motor electric drivetrain and a 0-100kph time of just 3 seconds.
Also vaguely familiar is Livan, another Geely brand spawned out of Lifan and Maple Leaf. They're also in the battery swapping game and their RL9 SUV looks like a real bargain, although most attention was on their coupe SUV Concept L which looks pretty smart. Shanghai will likely see a debut for a production version of this, and maybe a new concept. Maybe.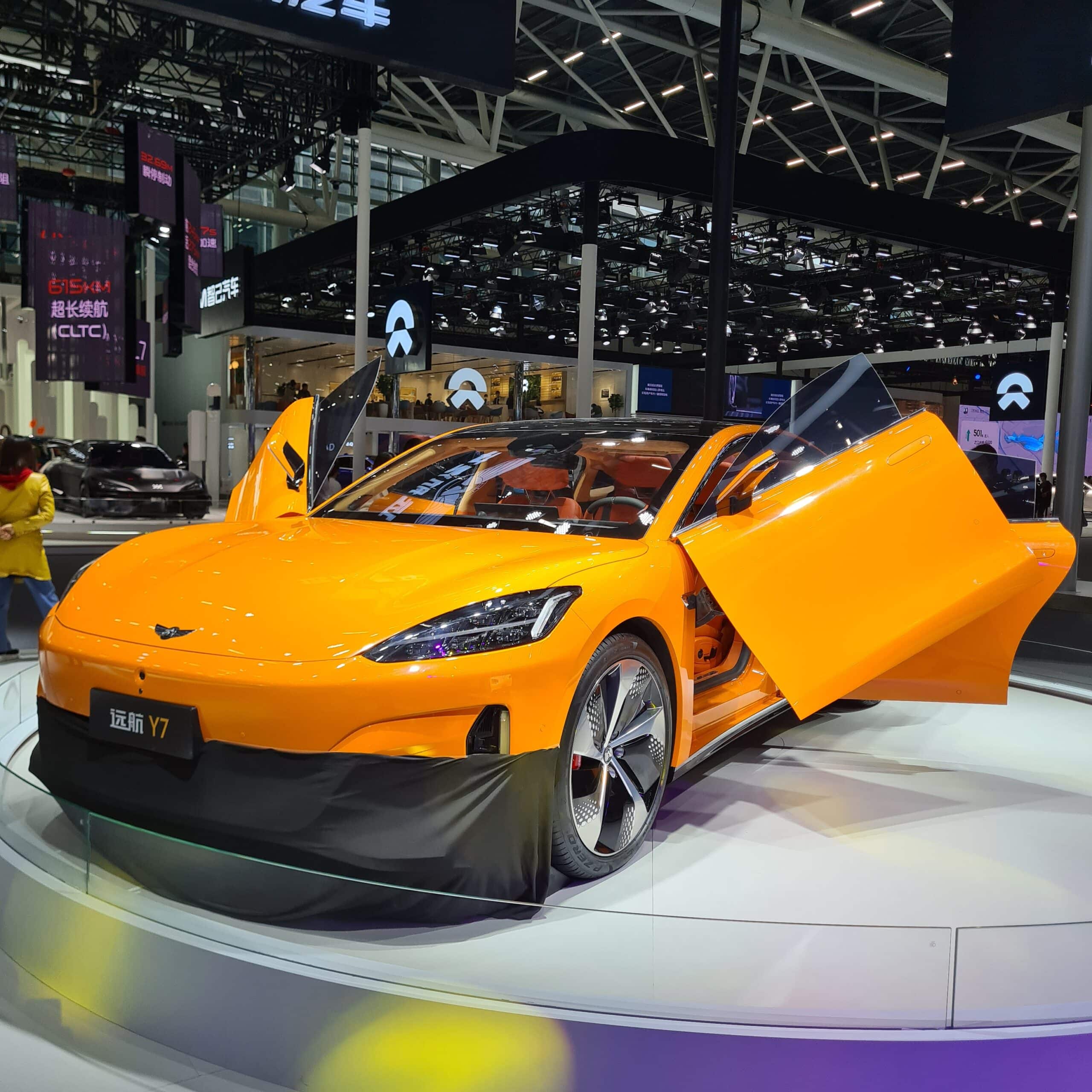 The sight of the Yuanhang stand in Guangzhou was very much a 'who the hell is this?' moment for most who visited, but the brand isn't entirely new. They're part of the Dayun brand, a cheap electric car maker from Shanxi, and have shown four models so far. We're not expecting a fifth in Shanghai if anything the best we can hope for is an official start of sales, and it's now or never to make any sort of impact in one hell of a crowded space.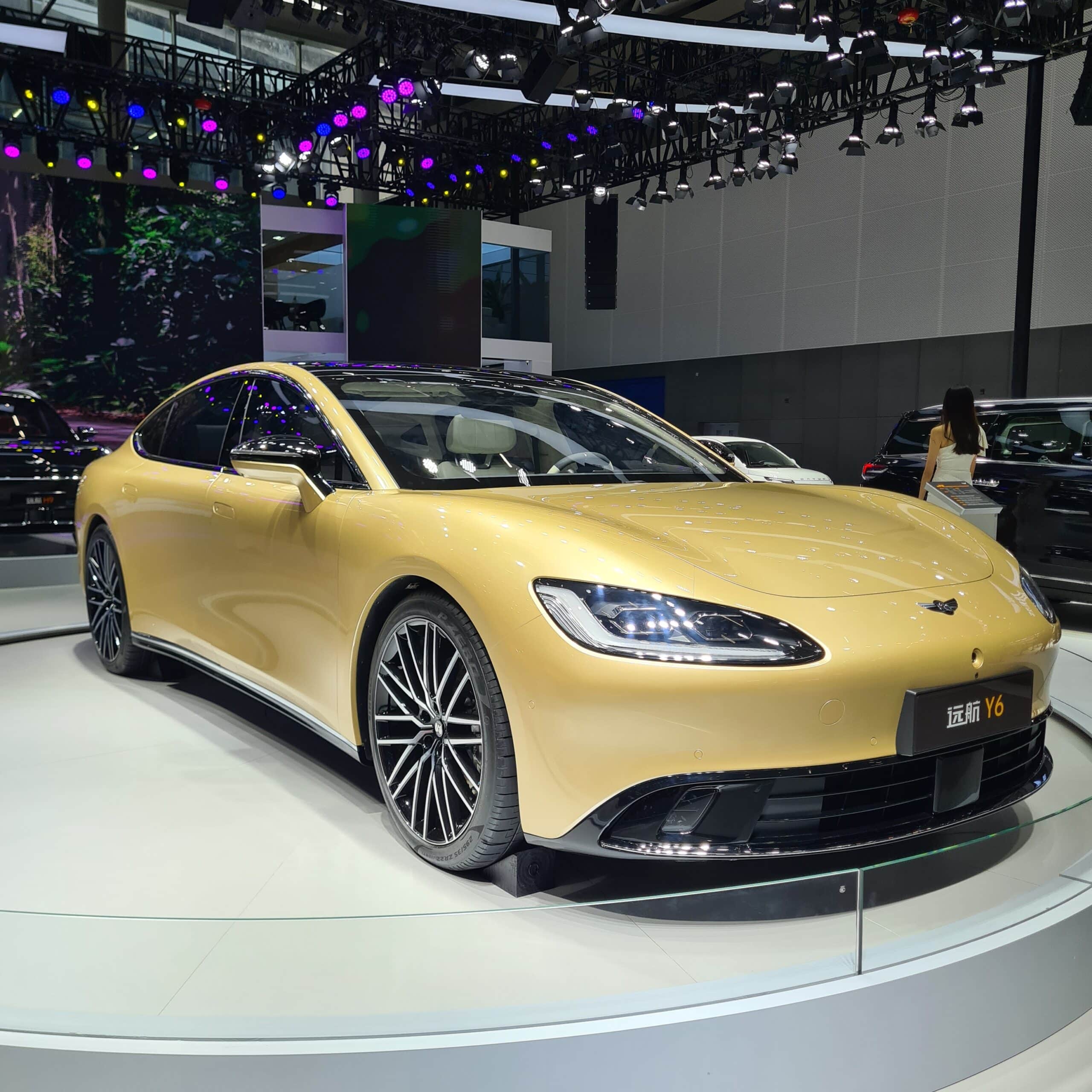 A total newcomer to the Guangzhou show was IAT who demoed their monster T-Mad pick-up. Sporting a 1+2+3 seating arrangement, the T-Mad looks as crazy as it sounds and makes a Cybertruck look vaguely ordinary. At almost 5.9-metres long, it truly is a beast. We'll keep our eye out for anything new in Shanghai.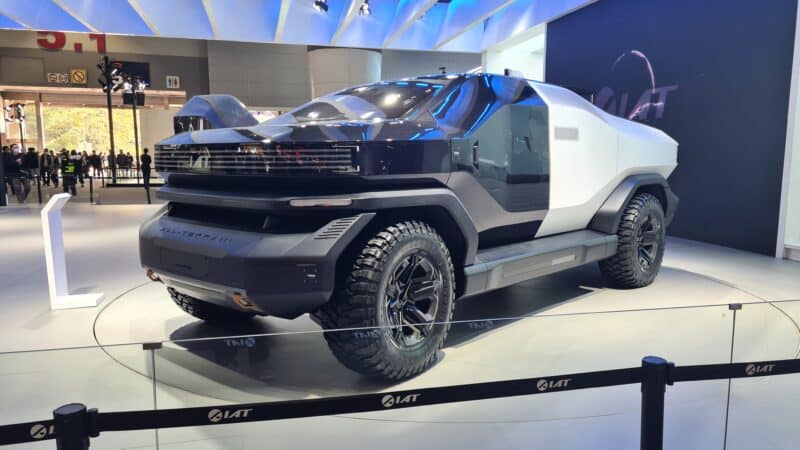 The SUV Crowd
SUVs are so popular in China that some brands focus solely on making them, although none have yet gone electric.
That's one issue not bothering the latest Geely offshoot brand, Radar, whose RD6 had a moderate stand but decent interest. China's outdoor adventure industry is really taking off and cars like the Radar are looking to tap into it. They were in Guangzhou but there are rumours they won't be in Shanghai. Working on something special maybe?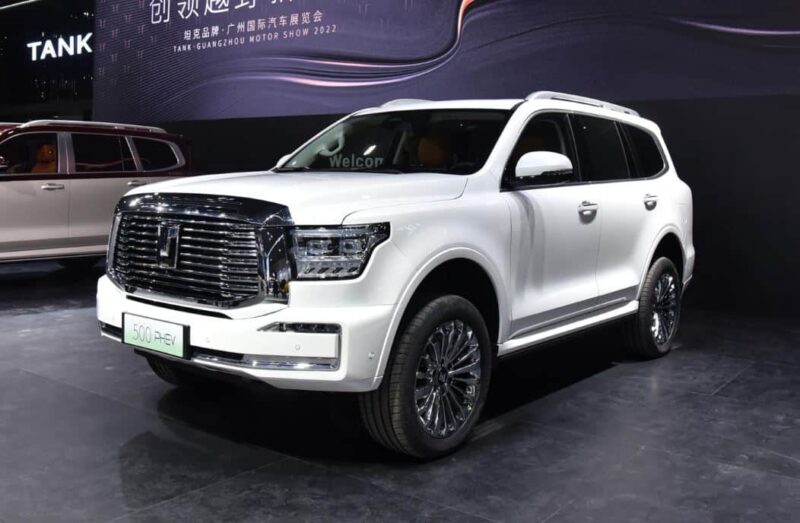 Smashing the SUV game currently (as evidenced by the large numbers of 300s in Xinjiang's mountains) is Tank, a young Great Wall Motors brand. Their large SUV, the Land Cruiser-alike 500, already launched in 2022, and a PHEV option was shown in Guangzhou. MIIT filings have shown a 400 model is on the way, so expect its debut here.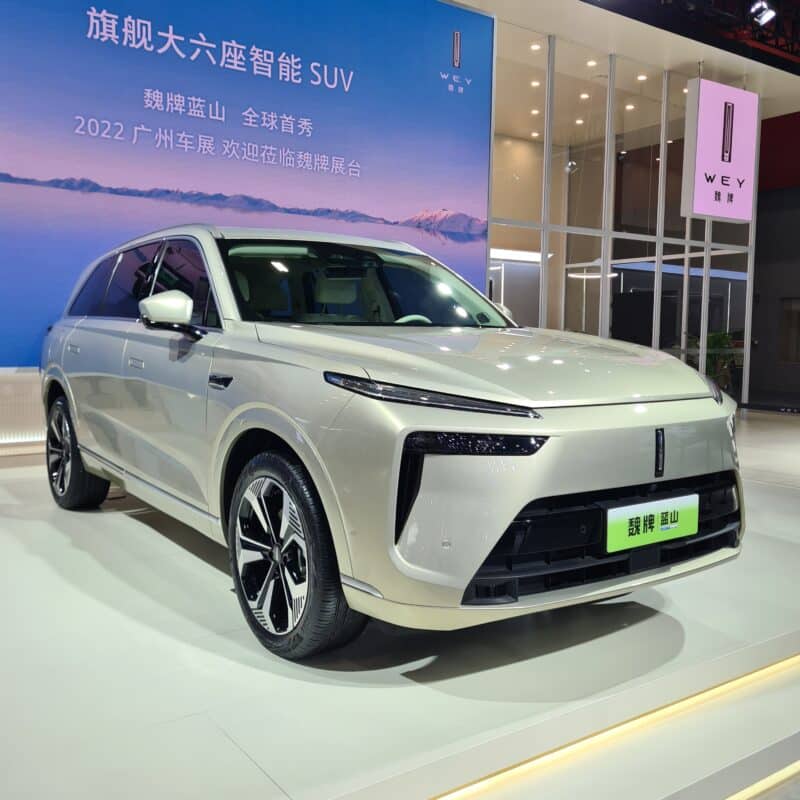 Another Great Wall brand, Wey, brought their Lanshan SUV to Guangzhou but didn't show the inside. We think the public will finally get a look inside, plus there are sightings of a concept on the way too, as well as a new MPV based on the QM-9 from Hongqi. Could be a busy one.
Yet another Great Wall SUV brand, Haval, looks increasingly distant from the new EV wave but still resonates enough with more rural buyers to stay relevant. Their H6 DHT-PHEV is as close you're currently going to get to an electric Haval, but PHEVs are all the rage in China so it should do well. Probably a concept of some form and maybe a new reveal for Shanghai.
Jetour, a subsidiary of Chery, are about as anonymous as they come, but their new X-1 PHEV hopes to change all that. Looking like the product of a late-night drunken fling between a Changan UNI-V and a Lamborghini Urus, the X-1 also sports Huawei's L3 autonomous tech, and it debuted in Guangzhou. Will they bring something else in Shanghai? Probably. It'll be an SUV, it'll likely be a hybrid, it'll likely be overlooked.
Fresh Meat on Old Faces
Of course, the Chinese automotive scene was already pretty stacked long before NEVs came along and the stalwarts are very much still in business.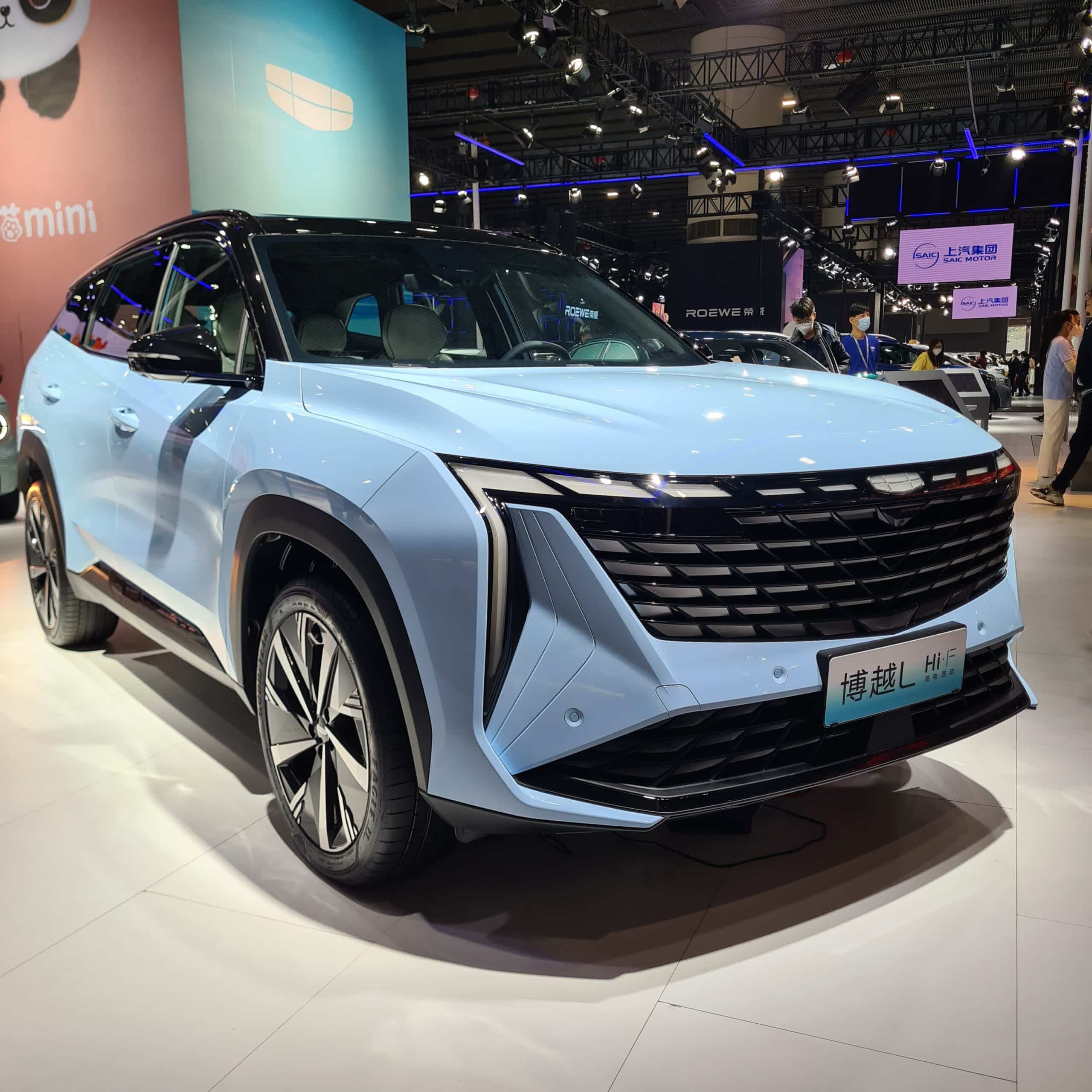 Geely, of course, are busy confusing everyone with new brands left, right and centre, and their new Galaxy sub-brand is next up (see what we said about new brands?). The L7 SUV looks a pretty good car but it'll need an audience as mainstream brands seem to be losing steam in China. Will it take a chunk of out Lynk&Co perhaps? Who knows. We suspect this will be all from Geely, maybe with the sedan Galaxy concept too, but can anyone predict what's up their sleeve?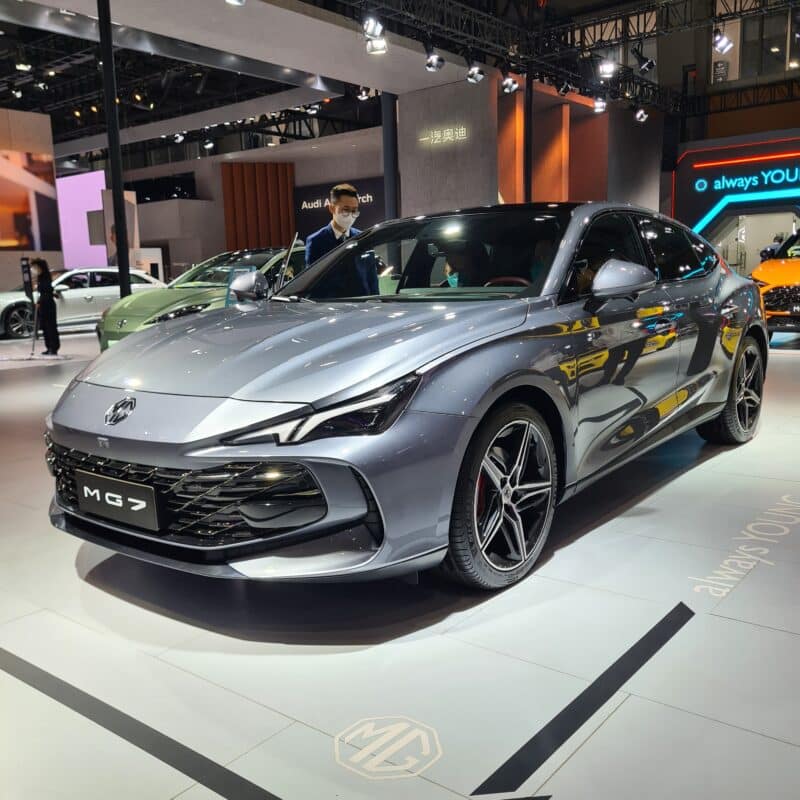 MG debuted their MG7 in Guangzhou, a kind of mid-size sedan with a very coupe-like appearance, but the headline here will be the Cyberster roadster. Going back to their roots with a modern electric drivetrain is the collaboration we have all been waiting for and the foreign media will be lapping it up.
Lynk & Co have almost been lost in the fervour surrounding Zeekr but the brand keeps on flying the hybrid flag for the Geely Group and their new 08 SUV is going live at Shanghai. It looks the part and is a welcome shot in the arm for the Geely/Volvo tie-up.
Chery came to Guangzhou without a single EV so we're expecting a lot from them in Shanghai. They may bring a concept, they will certainly wheel out the Omoda 5 to the foreign press who are expecting it in Europe next year, but what else is anybody's guess? Anything is better than what they showed in Guangzhou.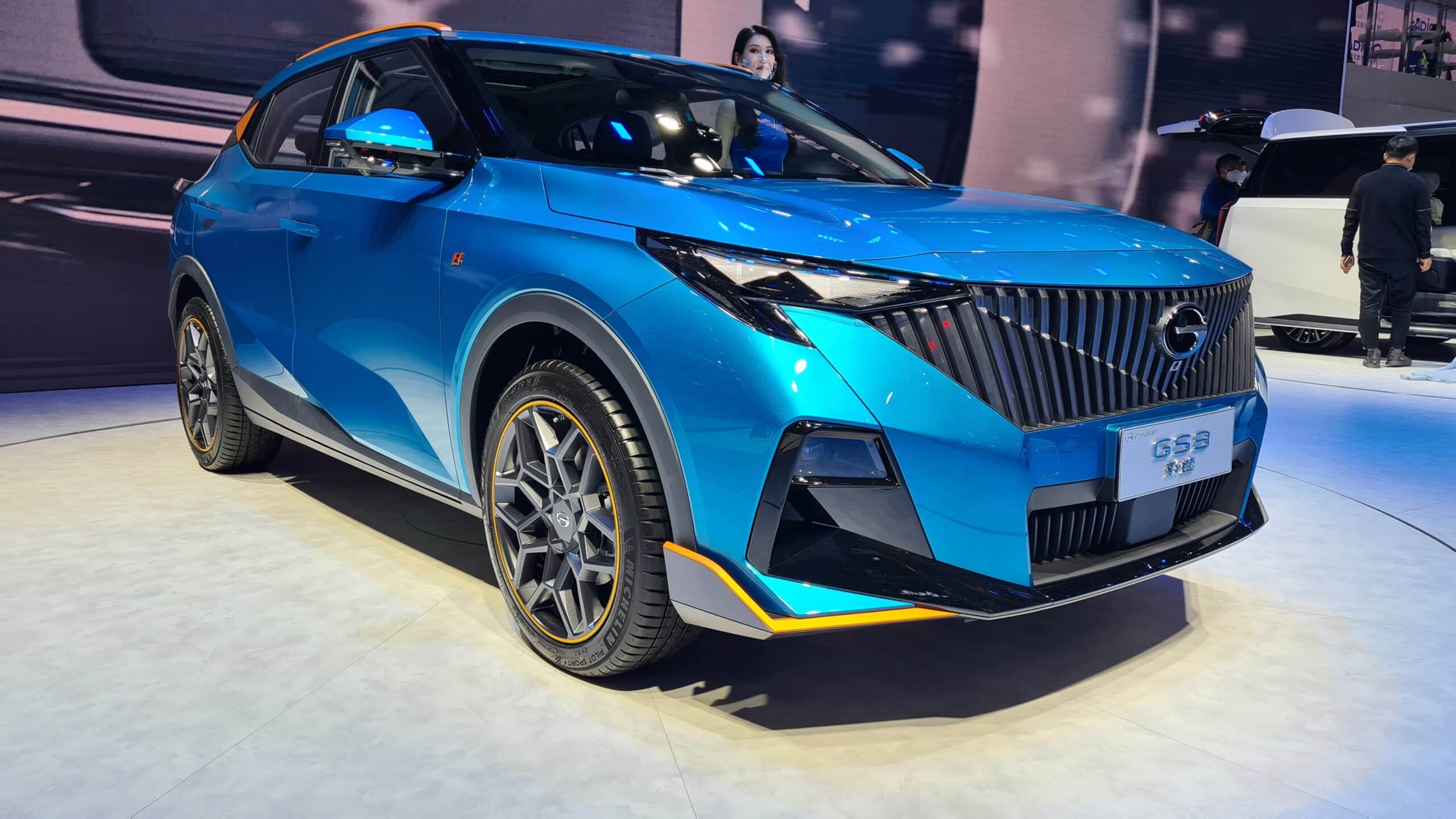 GAC had an enormous hall in Guangzhou on home turf and we can't see past the brand unveiling something new here, along with a concept. With a decent portion of the line-up recently refreshed, it's maybe time for a new sedan with the diamond-cut form language, like a GA6 or an updated G6 MPV.
State-owned Brands Moving Slowly
Say it quietly, but China's state-owned enterprises have appeared a bit slower on the uptake when it comes to going electric, with SAIC perhaps the only exception.
Aside from MG, IM, and Rising, the Shanghai-based maker also produces Roewe, whose electric sedans and SUVs are commonplace among ride-hailing services in Shanghai, but despite their numbers on the road, in Guangzhou their stand was only missing tumbleweed to complete the look. One suspects they're happy mass-producing cars for exactly that purpose, but it might be time to up the game of the ie5 or bring something new altogether. Anyone's guess.
Changan too were fairly muted in Guangzhou so we're hoping for a shot in the arm at Shanghai. We do know their new electric brand is going to launch their first car in Shanghai, but what about Changhan themselves? The BenBen looks like it needs a boost so we can hope for something on that front, but it's again hard to predict. Shenlan will be bringing the new S7 SUV though which will be key for the brand, so perhaps this will be enough.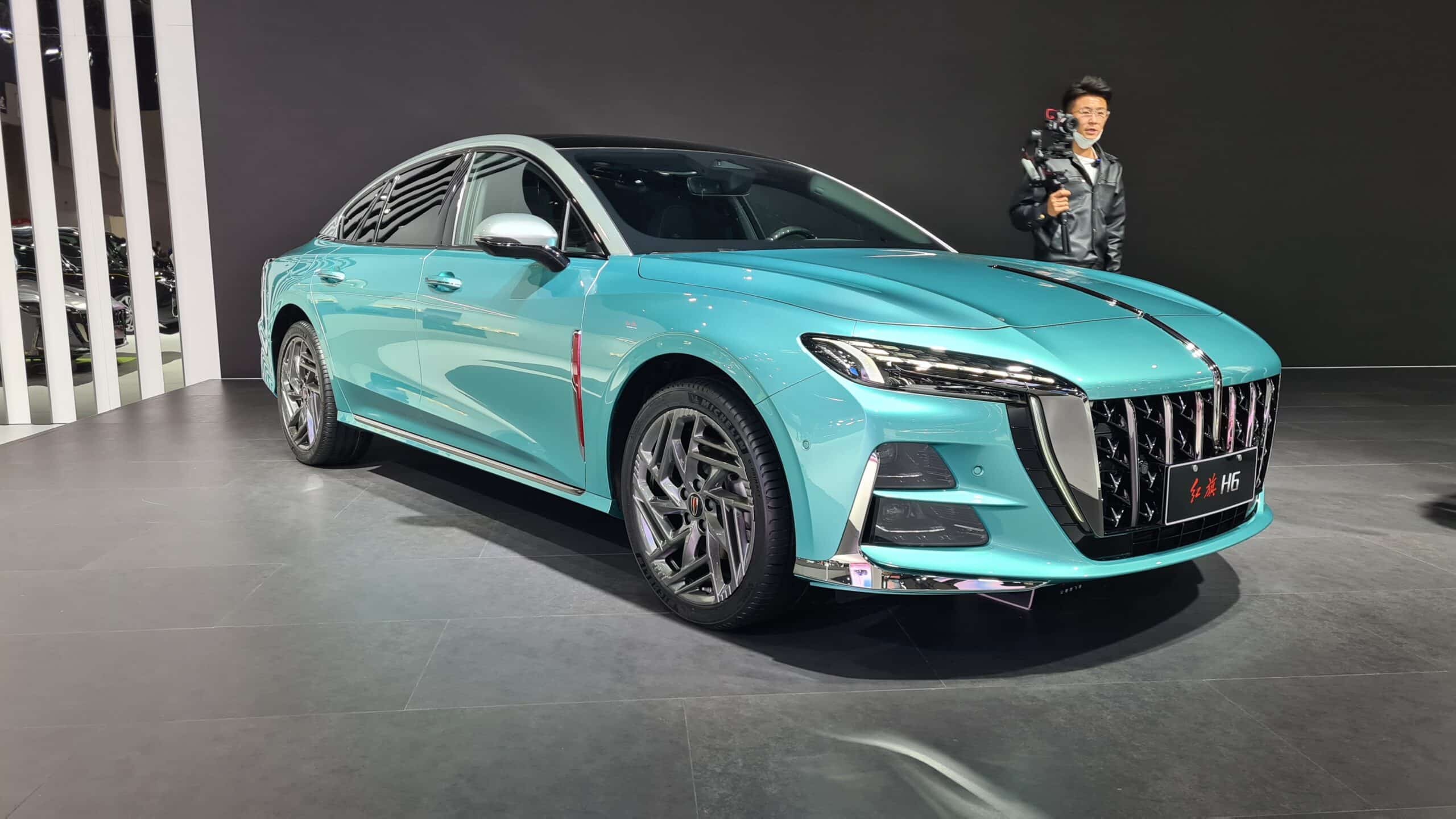 Hongqi, too, have been leisurely in their approach to the EV wave, although announcements made since Guangzhou show that is set to change. Nevertheless, their Guangzhou stand was a raft of activity, with the new H6 sedan looking like a regal Passat CC for the wealthy landowner. Impossible to predict at the best of times, we suspect this will be the show to really push some EV credentials so let's pin some hopes on that.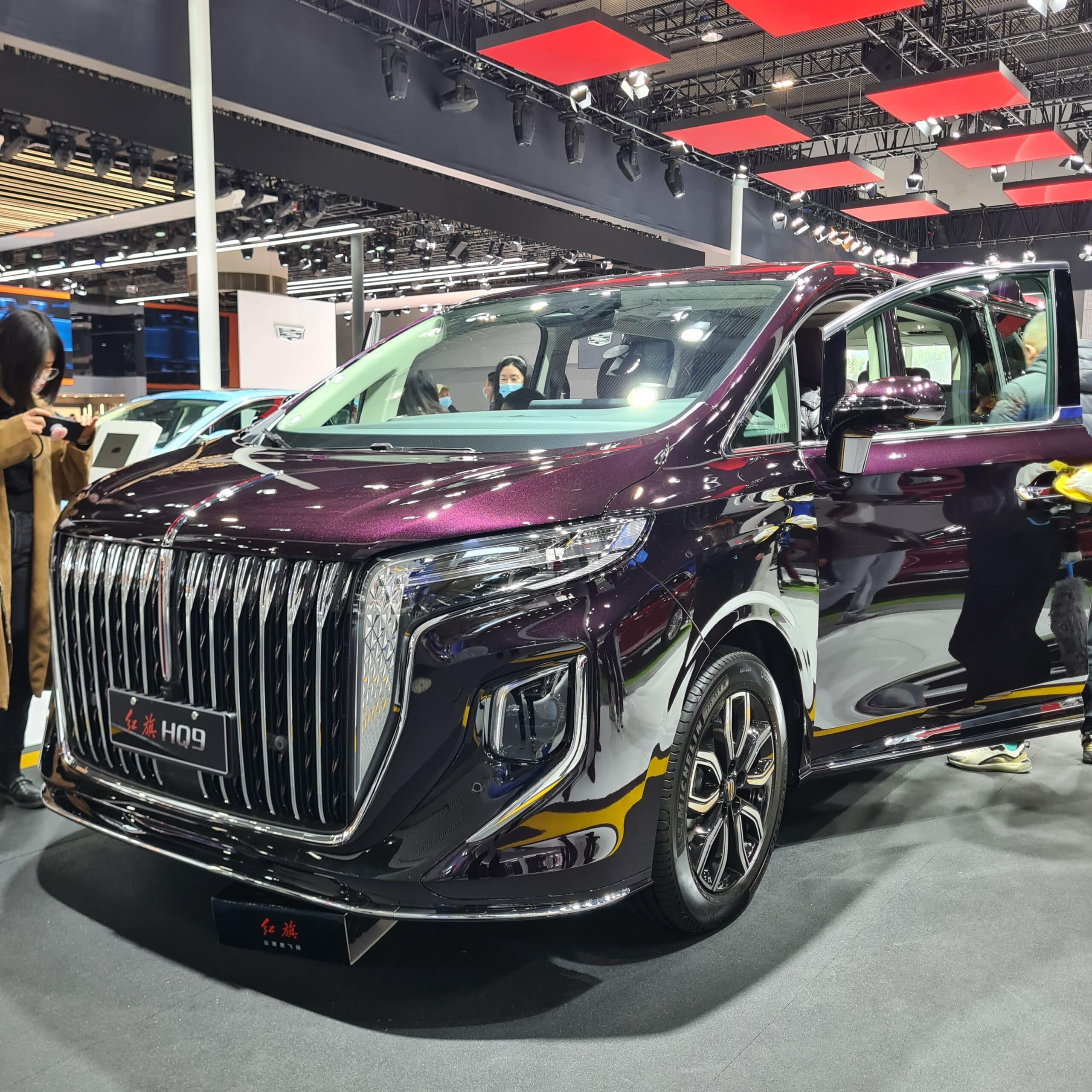 And what of Dongfeng? They're basically treading water it seems, though sub-brand Venucia brought promise of an electric future with their Ve concept. Enthusiasts will be looking for signs of a pulse in Shanghai and maybe they'll get one. Their Mengshi brand, however, will definitely be in Shanghai, so it seems all their other brands are busy, just not Dongfeng.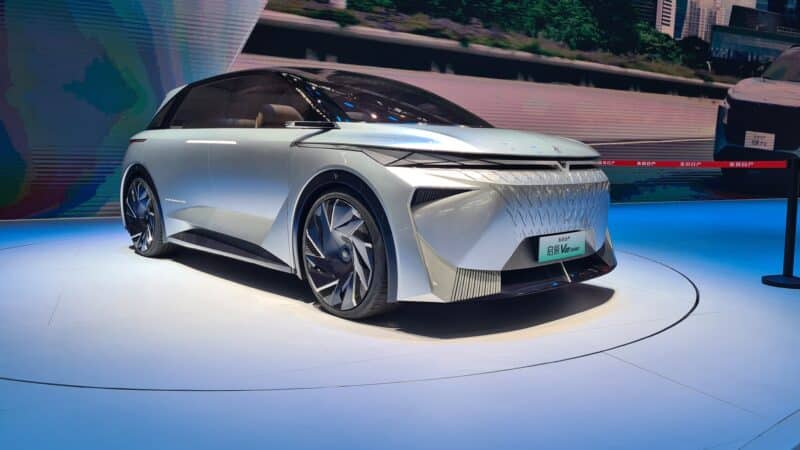 Foreign Brands Treading Water
There's no denying that foreign brands in China are facing stiffer competition than they've been used to in past years, but they're not done trying.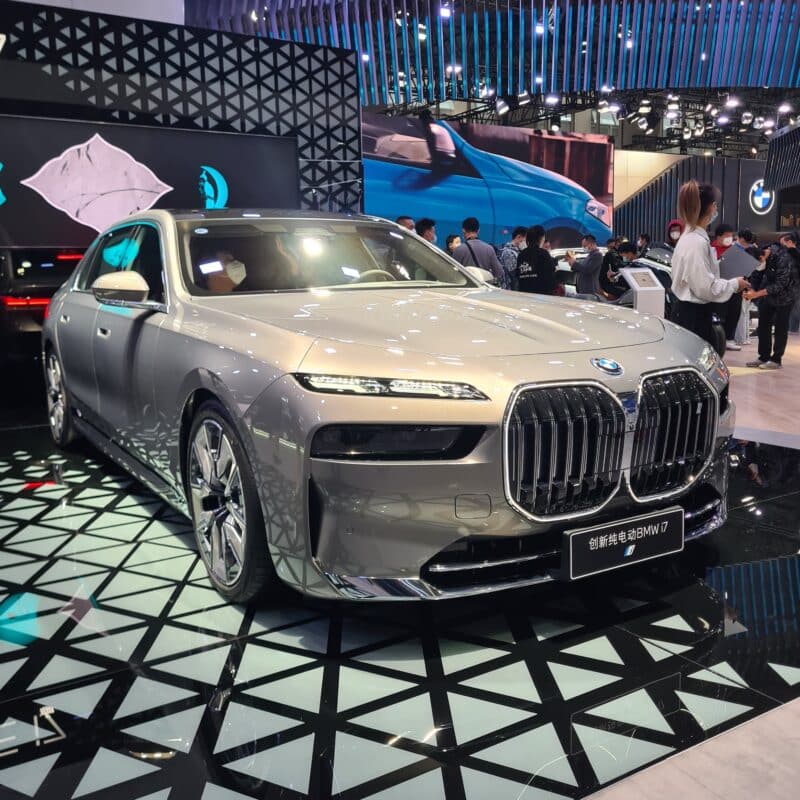 The most popular stand was probably BMW's, which starred the iX and the new i7 and 7-Series. BMW led the way among the ABB contingent in 2022 and their stand was absolutely packed in Guangzhou, despite what the EV crowd on Twitter might have you believe. Sure, their EVs are too expensive to appeal locally, but appetite remains strong for their ICE cars. No hints at anything new here though.
Audi also came equipped with not one but two stands, although one appeared much more popular than the other for some reason. They may take the chance to launch a new EV in Shanghai. As for Mercedes-Benz, they didn't even bring a stand to Guangzhou, instead placing a couple of models on the BAIC stand, their production partner in China. That will be different at Shanghai without a doubt, and they may even take the chance to launch their new E-Class, a key car in the region.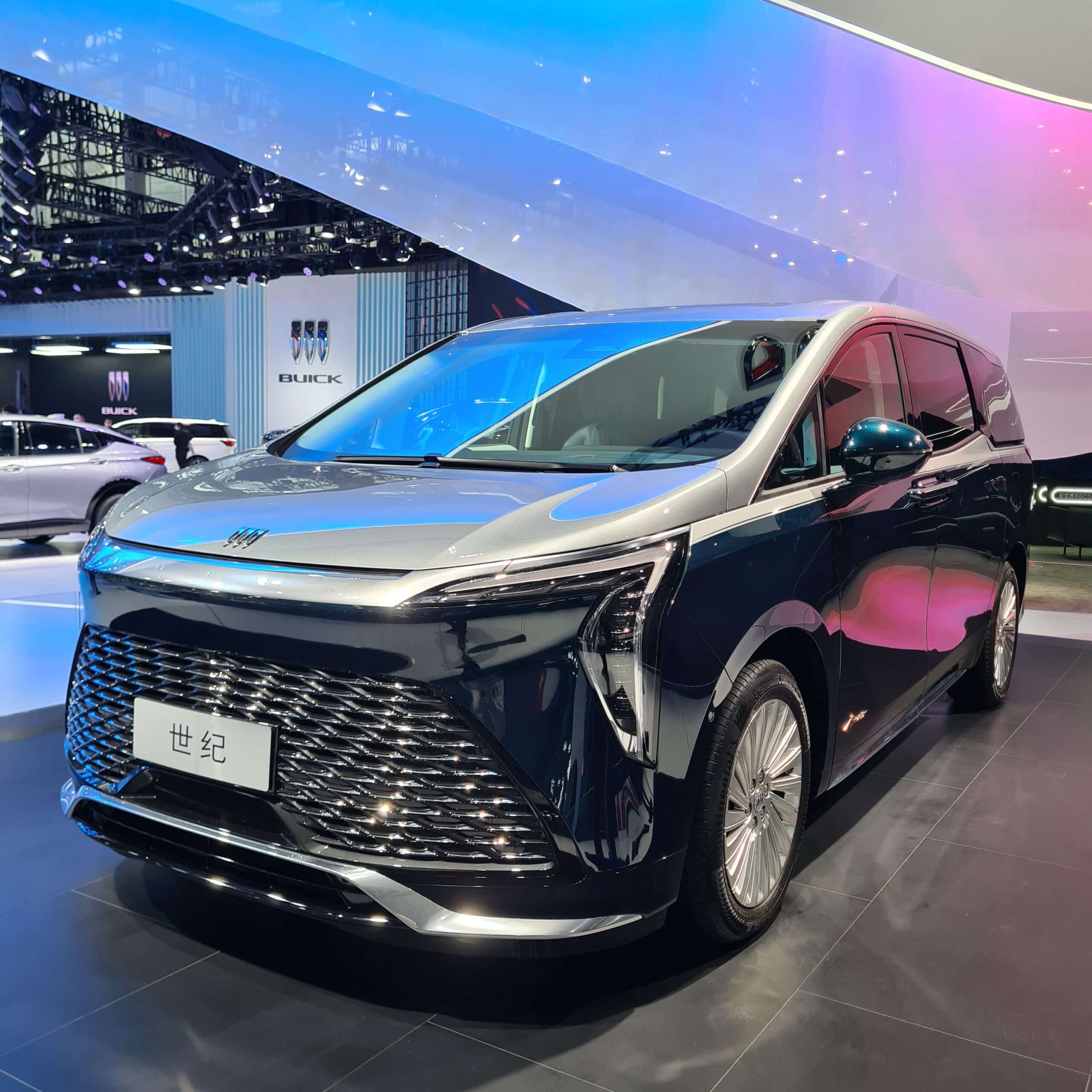 American brands have also seen sales plummet in recent years, but Buick, Lincoln, and Cadillac are at least making a fist of it. Buick brought the update for the all-conquering GL8 MPV, the CENTURY MPV, to Guangzhou and will probably bring the production version of the Envision to Shanghai. Cadillac's Lyriq is expensive and rare in China, so maybe it's time for them to bring something more affordable in Shanghai if they have any ambitions of still selling in China.
---
Read also:
Test Drive | Lincoln Zephyr: China's Sleek Sedan Revival
---
And what of the Japanese and Korean brands? Honda peddled the ICE-adapted e:NS1 electric SUV without success in Guangzhou, and Nissan brought the ARIYA. Can only see a muted show for both in Shanghai unless they've got a burst of adrenaline in them we haven't seen. Toyota brought a pair of Crown variants to Guangzhou but their bZ3 sedan, a BYD collaboration, honestly didn't feel up to the task. They don't care about EVs, so expect a big stand with nothing exciting.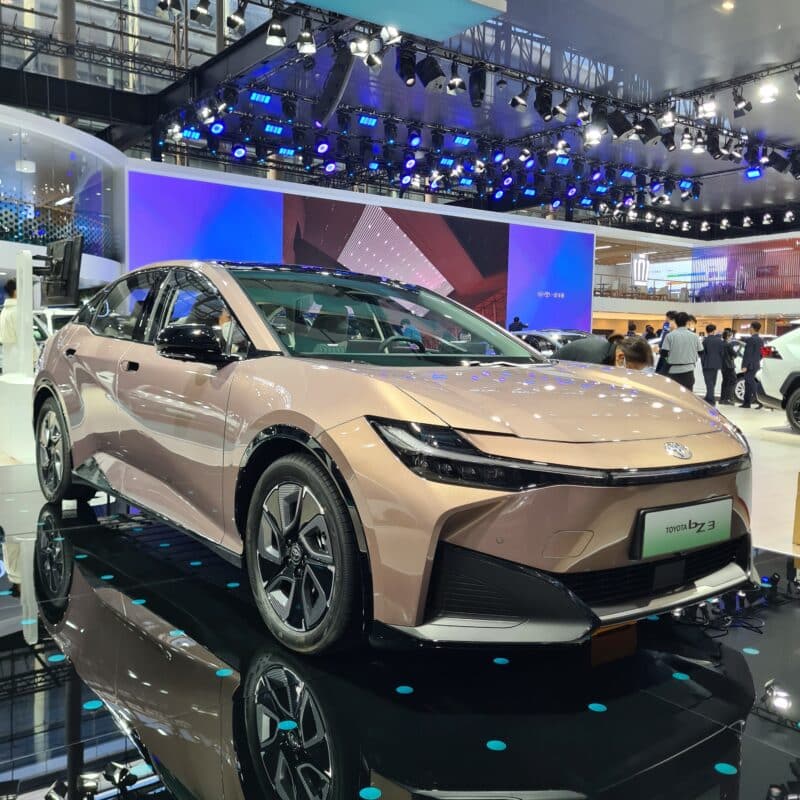 Genesis, Kia, and Hyundai all turned up to Guangzhou, but with no GV60, EV6 GT, or IONIQ 5. But wait, that's set to change. The GV60 has been put on sale in China and the EV6 GT is being displayed in Xi'an, Kia's only store selling EVs. So are the Koreans ready to shove a whole load of resources into China with what's still a fairly unfriendly market for them? They've never lacked ambition before.
The Absentees
Given the stop-start build-up to the Guangzhou show, it was inevitable that some brands might opt to focus marketing efforts elsewhere or not take the risk of the show being canceled again. This will not be the case in Shanghai.
Voyah have recently put their third model, the Zhuiguang, on sale in China, so it's maybe time for a fourth model to debut in production form.
Wuling weren't in Guangzhou, in fact, they rarely do shows at all, but Shanghai is enormous so they should be there, and it may be a good time to bring their next car, the one a bit bigger than the Bingo. Baojun, too, are due some new metal.
Leapmotor weren't in Guangzhou and, honestly, we fear for their future. They likely will be in Shanghai, if there's anything left of them, but if not consider it the first chime of the death knell. We'll be watching.
We also missed AVATR in Guangzhou, the brand focusing instead on deliveries of their 011 SUV. Actually, it appears to be going quite well for them. We're told there are no new products coming in Shanghai, which would be a shame, but we can't imagine they'll leave without giving us something to talk about if not to see.
Predictions
On top of those made above, we're predicting quite an incredible clamour from the foreign media. Headlines will likely talk of the incredible leaps China's automotive brands have made in four years, and they won't be wrong. There will be more than enough concern for Europe's brands to go around.
Will we see Xiaomi going live with their new model, or at least a concept? Quite possibly. It would be a decent opportunity to make some noise, even if it will be like screaming in a nightclub, but it's possible.
What about another new brand we haven't heard of? Never count it out in China. It seems that money for launching new brands is never in short supply, even if it doesn't hang around long enough to make a production car, but brands will keep on trying.
And what of Weltmeister, Evergrande, and Niutron, just three of the brands to be hitting the skids in a big way. Honestly, don't expect to see any of them. Weltmeister are all but gone, Evergrande was always a liability and likely don't have the funds for a show, and Niutron are cutting expenses big time, Shanghai will be too much for them. Whatever happens, it's going to be a fascinating show.
Summary
Want to check out how the entire show looked? Find our full walkthrough of every hall in the video below.
Mark Rainford is one of the leading English language authorities in the Chinese auto industry. You can follow him on Twitter.