A very happy Lamborghini Gallardo, Spotted in China in the great city of Putian in Fujian Province. The speedy Lamborghini is painted in a kinda shiny baby blue, and the vehicle is sexed up much further by shiny blue ninja weapon wheels. In front of the Gallardo a giant Ford F-150 Raptor, with a bumper higher than Lambo's nose.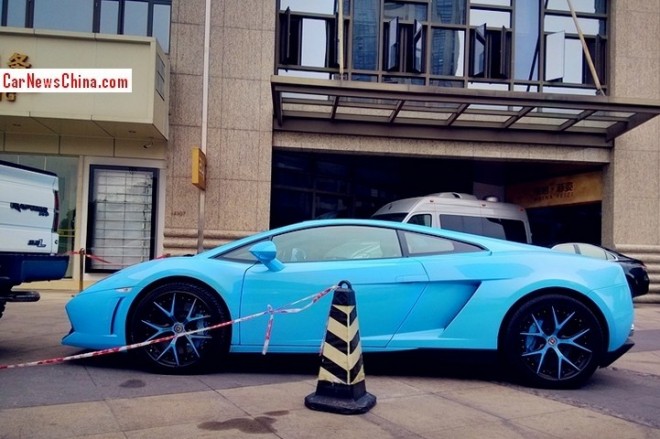 Brake claws are in baby blue as well for the maximum blue effect. The tires are so black they almost seem painted so. The Gallardo is protected by a traffic cone, so we cannot touch it. The Lamborghini Gallardo was and is one of the utmost popular super cars in China. The new and extremely expensive Huracan is expected to arrive in late April, but will it ever be able to pass the Gallardo in the popularity contest? We, will see.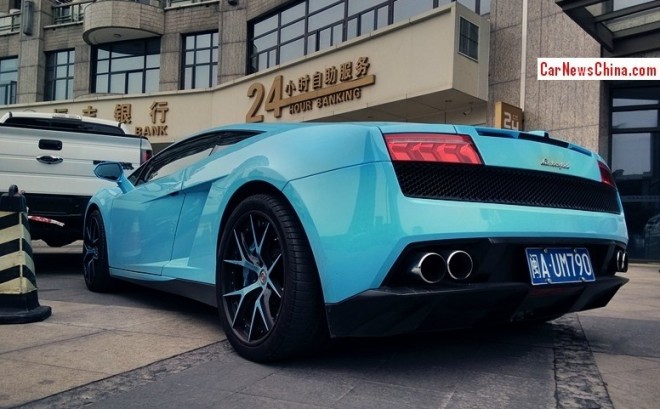 Time now, for  our Extremely Famous® China-Lamborghini Gallardo Collection™: matte purple and shiny green, with FF, crash, galaxy, baby blue, with hottie, crash, Sesto Elemento R/C, orange, yellow, crash, orange with Mac, tree-crash, matte black, license plate, pink, Balboni, LP550-2 GZ8 Edizione Limitata, shiny green, chrome, Reventon, crash, GZ8 Edizione Limitata, shiny-blue, matte-black & orange, water melon, red wheels,  HK20, pink, matte-black, gold, pink, another pink, lime-green, in gold, one purple, another purple, Gold Edition, and a Spyder Performante.
---