A white Ferrari FF and an orange Lamborghini Gallardo Superlggera, two speedy super cars Spotted in China very near to the Sanlitun embassy district in Beijing. The Ferrari FF is brand new and is slightly sexed up by tinted windows and fantastico 5-spoke alloys with red brake pads.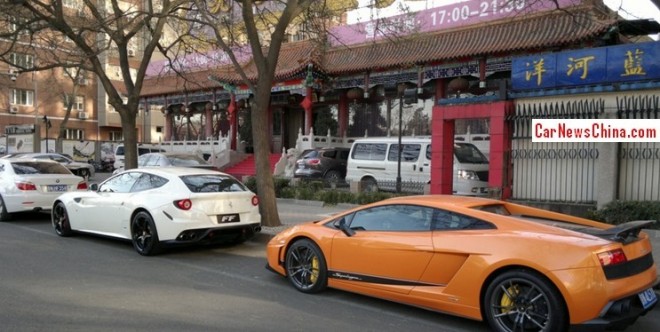 The Lamborghini Gallardo Superleggera stands on very racy tires with matte gray duel-five spokes and yellow brake pads. We like diversity more than we like chocolate cookies, but yellow just doesn't go too well with orange. Brake pads should have been orange, or black.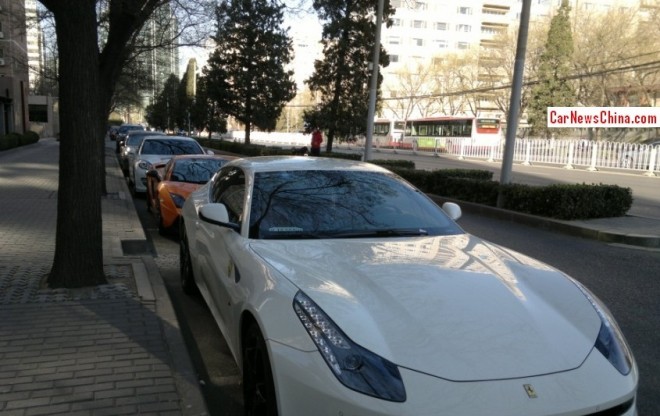 The Ferrari FF seems a giant cookie factory compared with tiny Gallardo. Note Porsche Panamera in the background. This indeed, is a money street. Price for the FF starts at 5.3 million yuan or 852.000 USD. Lotta money, but 6.3 liter V12 with 651hp and 683nm, good for a 335km/h top speed and 0-100 in 3.7 seconds.  The Ferrari FF is relatively rare in China. Still, we have a small collection: crash, with F430, silver, with F12, with Lambo, crashed, and burning.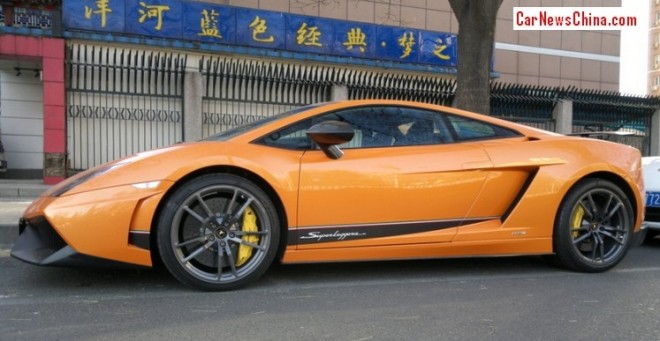 Check again those yellow brake pads not-matching orange body work. An orange Superleggera usually comes with orange brake pads. Why did the owner of this particular car spec his pads in yellow? The  Lamborghini Gallardo LP 570-4 Superleggera is powered by a 5.2 liter V10 with 562hp and 510nm, good for a 325km/h top speed and a 0-100 in 3.8 seconds. When new the Superleggera went for 4.9 million yuan or 804.000 USD.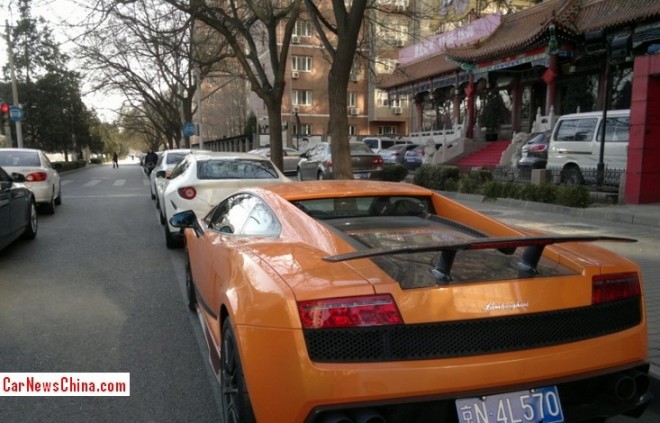 License plate! Time now, for  our Extremely Famous® China-Lamborghini Gallardo Collection™ : crash, galaxy, baby blue, with hottie, crash, Sesto Elemento R/C, orange, yellow, crash, orange with Mac, tree-crash, matte black, license plate, pink, Balboni, LP550-2 GZ8 Edizione Limitata, shiny green, chrome, Reventon, crash, GZ8 Edizione Limitata, shiny-blue, matte-black & orange, water melon, red wheels,  HK20, pink, matte-black, gold, pink, another pink, lime-green, in gold, one purple, another purple, Gold Edition, and a Spyder Performante.