Supercar madness in Shanghai, Spotted in China in the great city of Shanghai by the absolute manic fanatic reader Maximillian, thank you very much for the photos! Max' has shipped us some highlights of his endless collection, starting here with a Porsche 918 Spyder and a Bentley Mulsanne.
Same cars, elsewhere and reversed. The Porsche and Bentley apparently belong to the same owner. When new, price of the Porsche 918 started at 13.388 million yuan for the base car and 14.63 million for the Weissach. That is 2.19 million and 2.39 million USD. Expensive but exclusive. Only 50 of a total run of 918 cars were allocated to China, and all have sold out.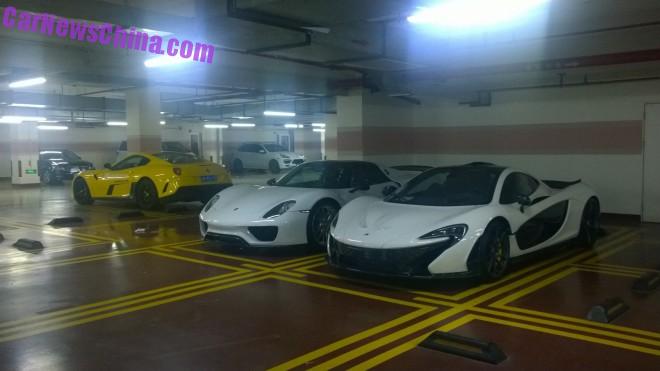 Moving down below with a yellow Ferrari 599, a white Porsche 918 Spyder, and a white McLaren P1. When new, the McLaren P1 went for 12.6 million yuan or 2.02 million USD, cheaper than the 918 indeed!
This white car in Shanghai is the eighth P1 in China we know about: black in Hangzhou, white in Guangzhou, another white in Shanghai, black & yellow in Guangzhou, yellow in Guangzhou, purple in Guangzhou, one completely mad (more) in Guangzhou, and one lime green in Shanghai.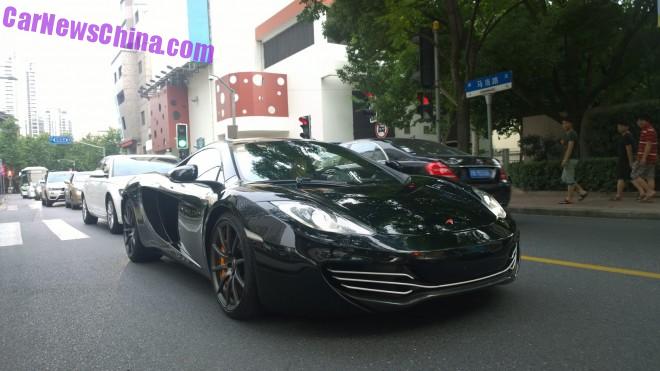 A McLaren MP4-12C in black with matte gray alloys, yellow brake calipers, and silver chromed detailing in the grille.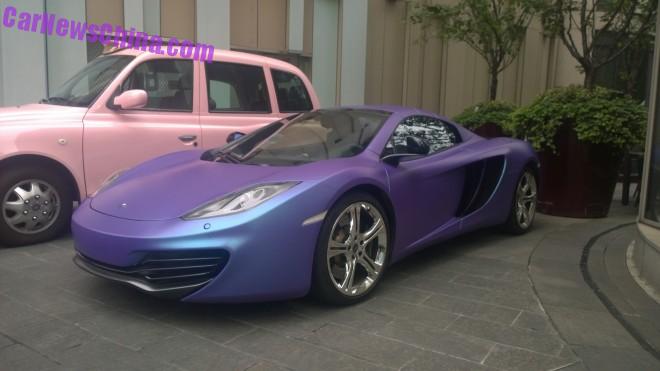 An incredible cool Pink Geely Englon TX4 taxi with a McLaren MP4-12C wrapped in matte purple, with darkened windows and brilliantly Bling five-spoke alloys.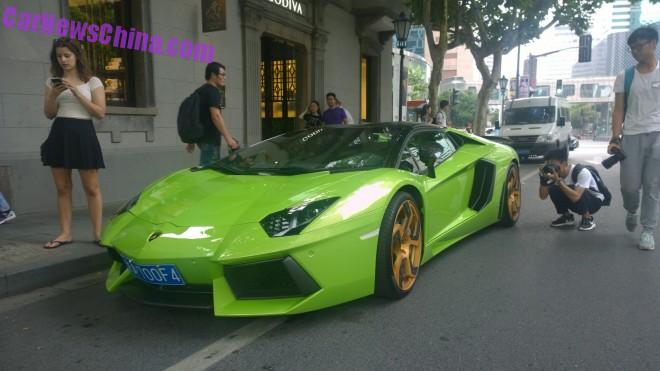 Moving on to Lamborghini with a superstar Aventador painted in lime green, with a black roof and fitted with matte gold alloys.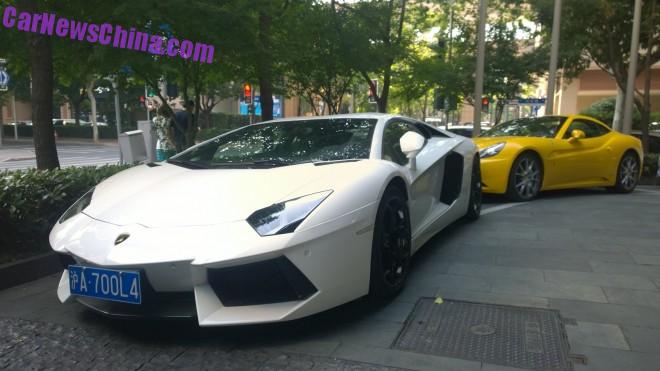 A white Aventador with a A·700L4 license plate, followed by a red Ferrari California.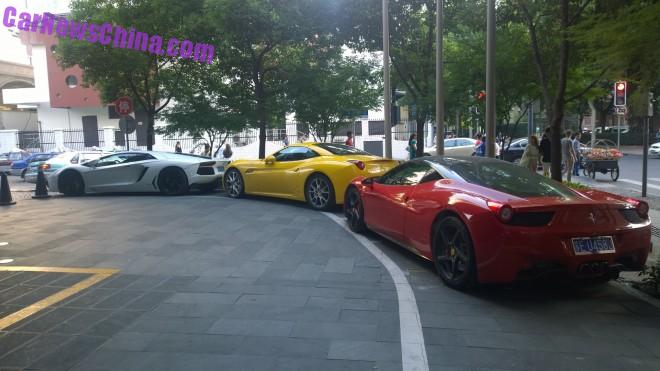 Last in line is a Ferrari 458 with a license plate reading E·U458J.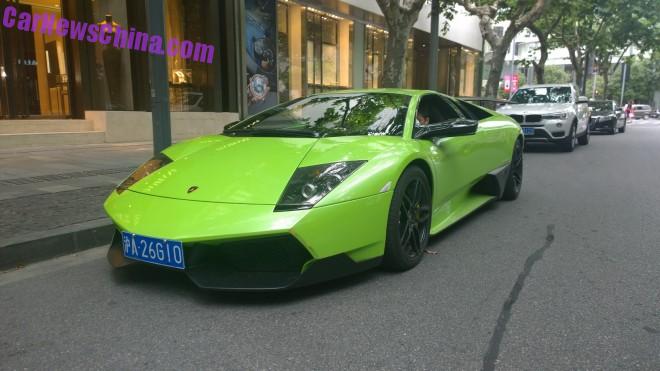 A lime green Murcielago SV on matte black wheels.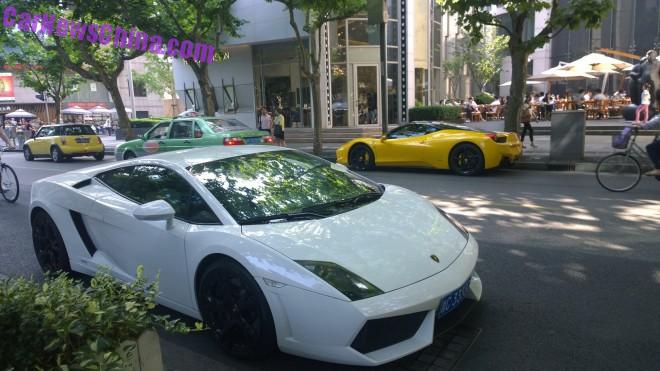 More bull with a white Gallardo watching a yellow horse.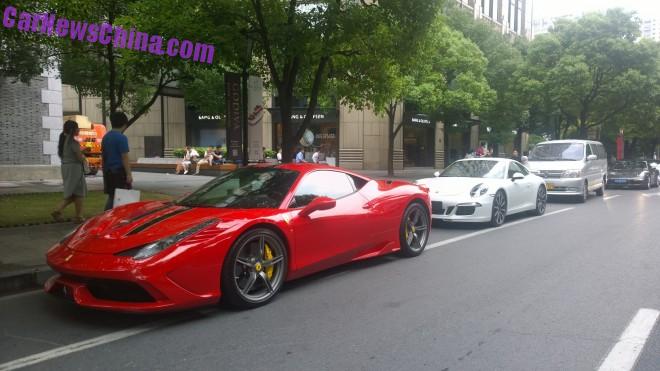 A fiery red 458 Speciale with a 997 Porsche 911 GT3.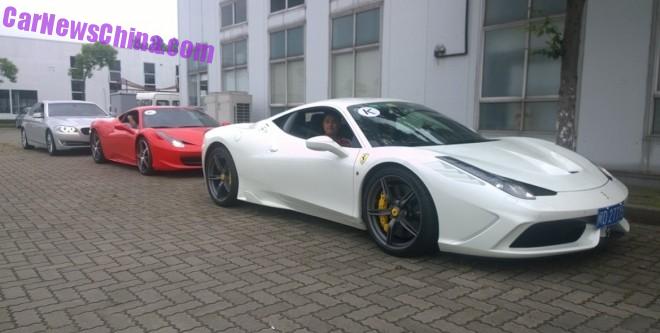 A white Speciale with a red Spyder.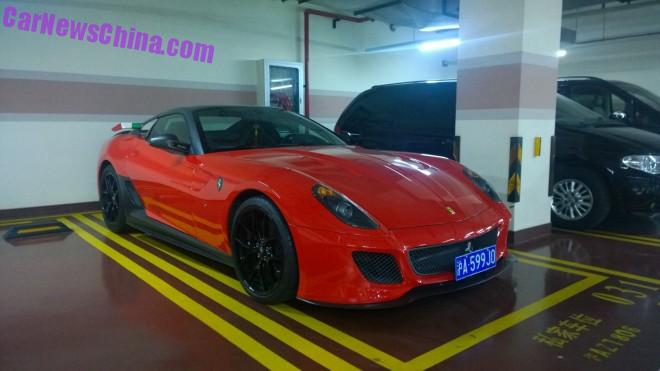 A brilliant Ferrari 599 GTO with a gray roof, shiny black alloys, a rear wing with the colors of the Italian flag, and a license plate reading A·599JO.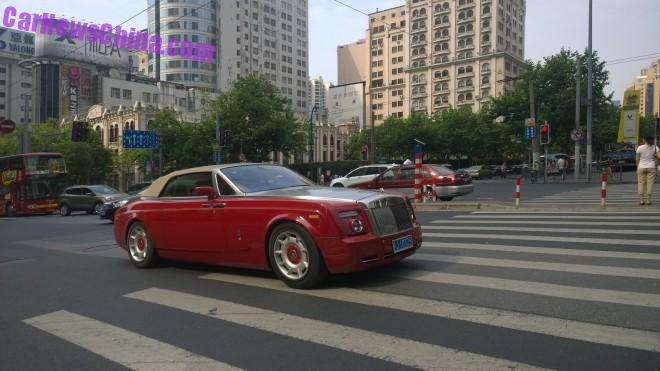 A stylish Rolls-Royce Phantom Drophead Coupe in red, matching perfectly with the Santana taxi in the background.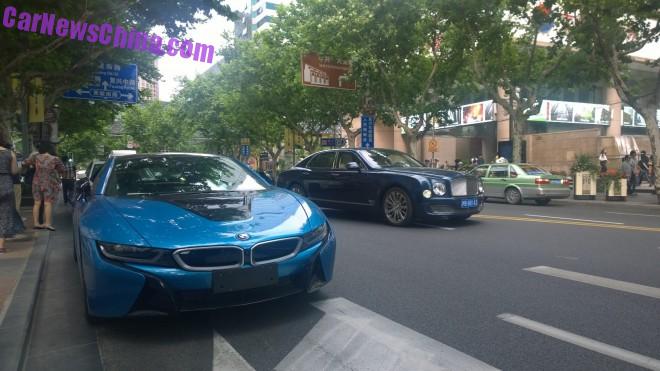 And we end with a bit of green; a parked blue BMW i8 being passed by a decidedly un-green Bentley Mulsanne. More from Maximillion soon!, we hope…