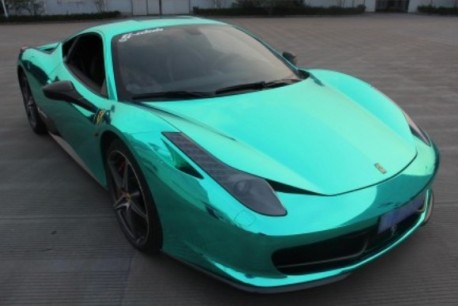 Monday morning in Beijing, a bear with a beard is roasting chicken in my head. Time so for Bling! Here we have a Ferrari 458 Italia wrapped in shiny-metallic green, pleasing the eye to the limit. This is the very first time I see a wrap this color applied on any car, let alone an Italian racemachine.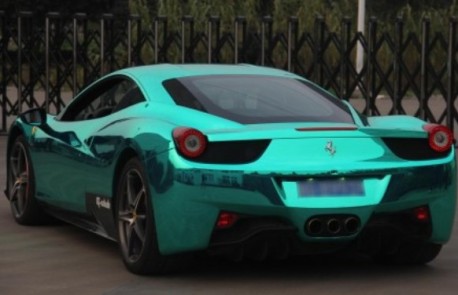 Wrap seems of high quality and neatly covers the bumpers, but the mirrors were forgotten. Alloys are very standard too, it is however not easy to find a color to contrast that green! Matte black would do, or matte red maybe.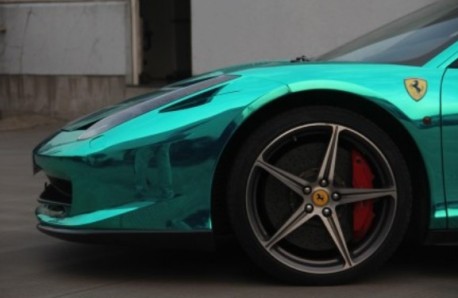 When you look in the mirror you see… white trousers. Some other special Ferrari 458 supercars we met in China: China Limited Edition 2, on a truck, matte purple, blue Spider, bling, crashed, China Limited Edition, shiny red & matte black, baby blue, crashed, pink (scroll down), China Limited Edition debut,  purple, with horse, crashed, pink, silver, some silver & some white, and with a friend.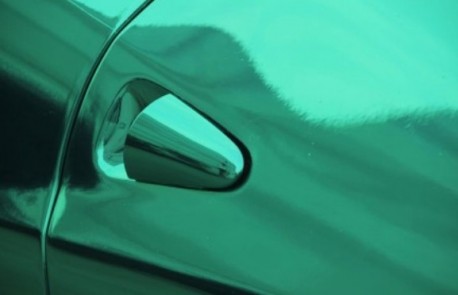 Shame about the mirrors but this door handle is a true work of wrapping art.