A very angry and very flashy Lamborghini Murcielago, seen on the Beijing Tuning Street in the east of the capital, parked next to a black Lamborghini Gallardo Spyder. The LP 640 is painted in bright green and much further sexed up by extra carbon fiber parts, giant racy tires with 5-spoke alloys and red brake pads, and a big wing on the back.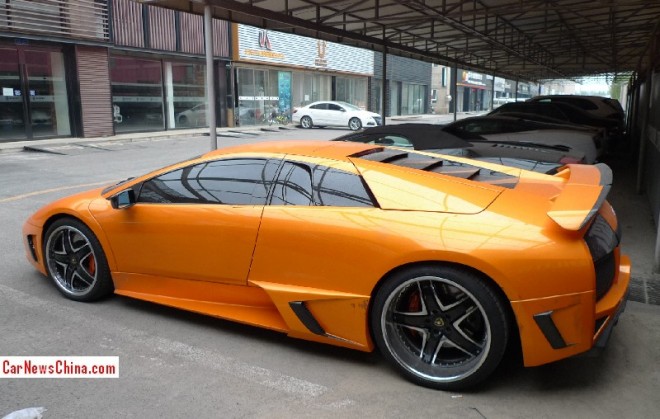 Check that rear tire! Anything bigger won't fit… Carbon lip on wing for extra-extra down force. Rear lights in black for more cool. Extra sorta wing sticking out below the air vents. Must be the work of some tuner, likely German, but I didn't see any name or badge on the vehicle.
The Lamborghini Murcielago was made from 2001 until 2010, the LP 640 arrived in 2006 and ran until the end. Power came from a 6.5 liter V12 with 631hp and 660nm, good for a 340km/h top speed and a 3.0 sec 0-100. Speed of the Orange!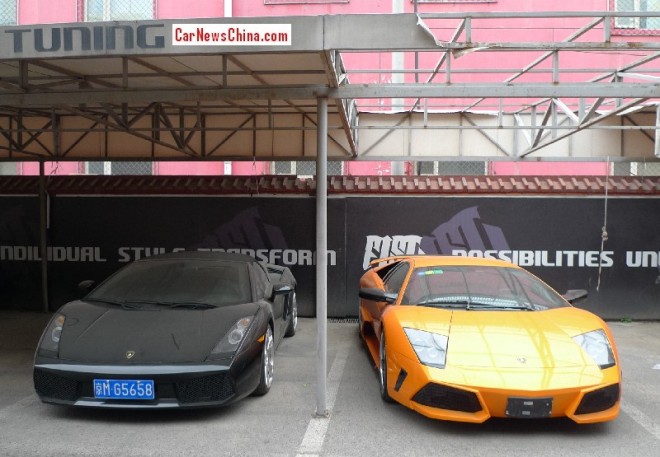 The Murcielago was only the first Lamborghini super car to be officially imported into China, the Diablo and Countach never made it to Chinese shores. The Murcielago was widely popular, here is our Famous China-Lamborghini Murcielago Collection™: shiny blue, with F430, pearl white, with Aston, burning, with friends, LP 650-4 Roadster, LP 670–4 SV China Limited Edition, crashed, shiny red, with FF, China Limited SV, double China SV,  matte black SV, roadster in gold, an expensive toy, SV in black, gray, SV in yellow, lime-green, chrome, Versace Edition, SV crash, LP650-4 Roadster, and another SV in yellow.