A very speedy Lamborghini Gallardo super car, Spotted in China at the Solana shopping mall in the Capital. The good Gallardo was painted in a very flashy mint green scheme, shining away all haze and worries in the cold Beijing winter. The Lamborghini was sexed up slightly more with very racy 5-spoke alloys.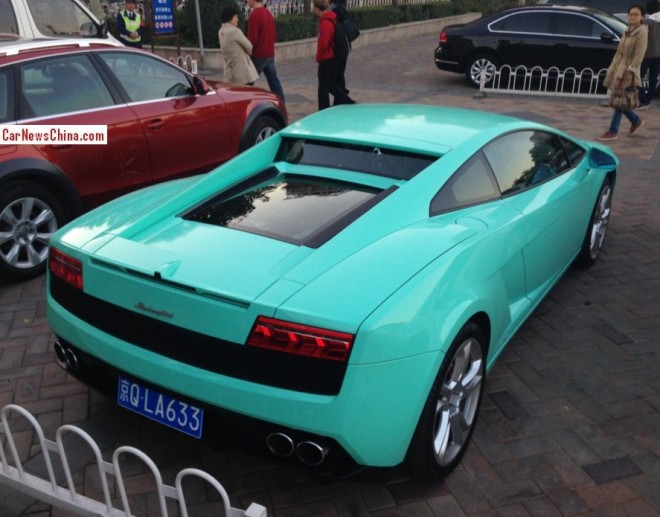 The Gallardo is powered screaming 5.2 liter V10 with 550 wild Italian horses. Price when new was 3.48 million yuan or 570.000 US dollar.
The Lamborghini Gallardo was and is one of the utmost popular super cars in China. The new and extremely expensive Huracan is expected to arrive in late April. Time now, for  our Extremely Famous® China-Lamborghini Gallardo Collection™: baby blue, matte purple and shiny green, with FF, crash, galaxy, baby blue, with hottie, crash, Sesto Elemento R/C, orange, yellow, crash, orange with Mac, tree-crash, matte black, license plate, pink, Balboni, LP550-2 GZ8 Edizione Limitata, shiny green, chrome, Reventon, crash, GZ8 Edizione Limitata, shiny-blue, matte-black & orange, water melon, red wheels,  HK20, pink, matte-black, gold, pink, another pink, lime-green, in gold, one purple, another purple, Gold Edition, and a Spyder Performante.
---