A monsterious Lamborghini Gallardo LP 570-4 Super Trofeo Stradale, Spotted in China in the great city of Shanghai by reader & serial spotter Navigator 84, thank you for the pictures! The Lamborghini was seen on the parking lot of the Shanghai Formula 1 circuit, accompanied by a Ferrari 458 Italia and a BMW M3. Good spotting…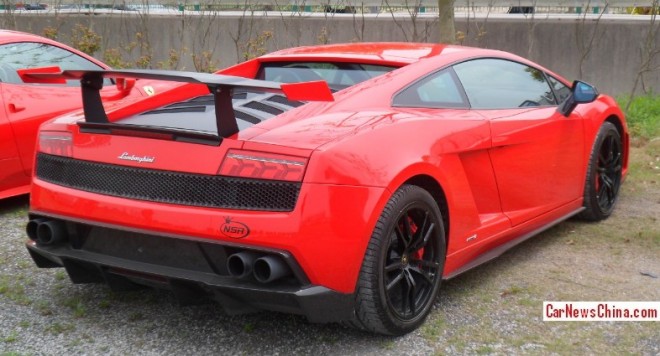 The LP 570-4 Super Trofeo Stradale was the maddest of all Gallardii. It debuted in 2011 and was limited to only 150 unites. Essentially a hard core version of the hard core LP570-4 Superleggera, with another 30kg less and equipped with a giant adjustable rear spoiler and other aerodynamic trickery. Sadly power wasn't up, but who complains about 523hp and 510nm..?
How many of the 150 made it to China is unknown, this particular example in Shanghai is only the second unit in China we know about. Time now, for  our Extremely Famous® China-Lamborghini Gallardo Collection™: mint green, baby blue, matte purple and shiny green, with FF, crash, galaxy, baby blue, with hottie, crash, Sesto Elemento R/C, orange, yellow, crash, orange with Mac, tree-crash, matte black, license plate, pink, Balboni, LP550-2 GZ8 Edizione Limitata, shiny green, chrome, Reventon, crash, GZ8 Edizione Limitata, shiny-blue, matte-black & orange, water melon, red wheels,  HK20, pink, matte-black, gold, pink, another pink, lime-green, in gold, one purple, another purple, Gold Edition, and a Spyder Performante.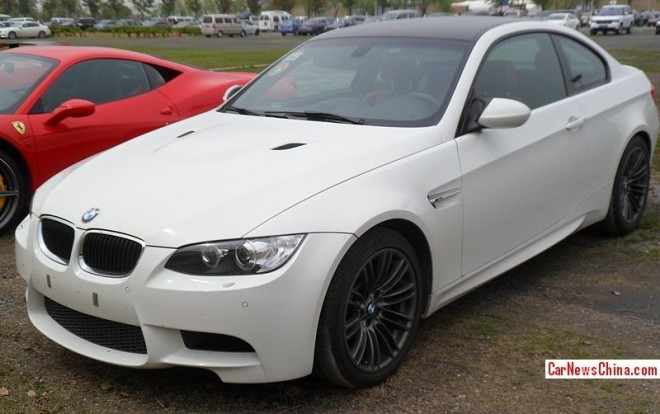 Friends of the Lambo! The E92 BMW M3 Coupe…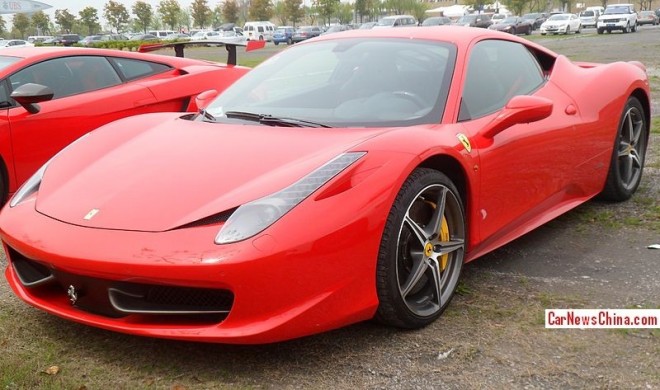 … and the Ferrari 458. A great car, but is pales in pure sex appeal compared to that Lamborghini! Yellow brake pads however, are very coolio.
---