A beaming BMW M3 Convertible sporty car, Spotted in China near the Solana shopping mall in east Beijing. The badass Bimmer is wrapped in an eye smoothing matte blue wrap and further dressed up with an all-black grille, black air vents in the bonnet, darkened windows, and matte black ten-spoke alloys.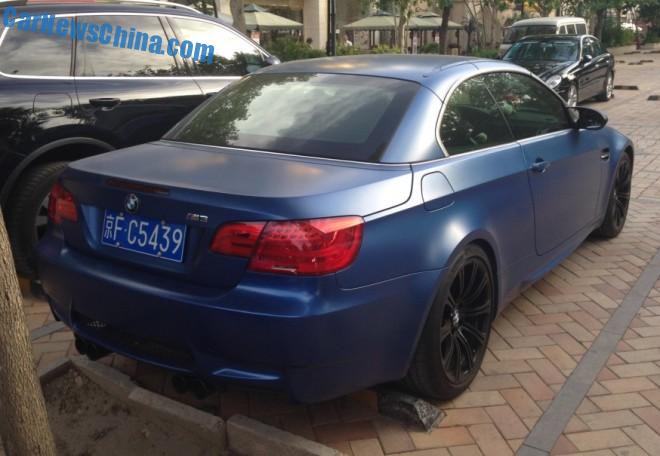 The wrap is of top quality and neatly extends over the bumpers, mirrors, and doorhandles, exactly like we like to see it best. Only dissonant, albeit a small one, is the chrome strip around the windows which breaks the contrast between the black window and the matte blue body. The strip is especially disturbing because the chrome strip around the grille was removed, as we have seen.
The fantastic E92 BMW M3 coupe is powered by a screaming 4.0 liter V8 engine with an output of 420hp and 400nm, good for an unlimited top speed of 290km/h and a 0-100 in 4.6 seconds. he E92 was and is one of the most popular performance cars in China, recently replaced by the new M4 & M3 duo.
Time now, for our Extremely® Famous China BMW M3 Collection™: shiny Pink, license (YM399), Carbon Edition, double wing, licensed E93 Convertible (522M3), E46, matte dark blue, shiny green, with hot redhead, with friends at the karaoke bar, Bling, license (M3246), body kit,  license (908M3), mint green, baby blue, E46 Convertible, Bling Convertible, shiny blue, matte black, and completely mad.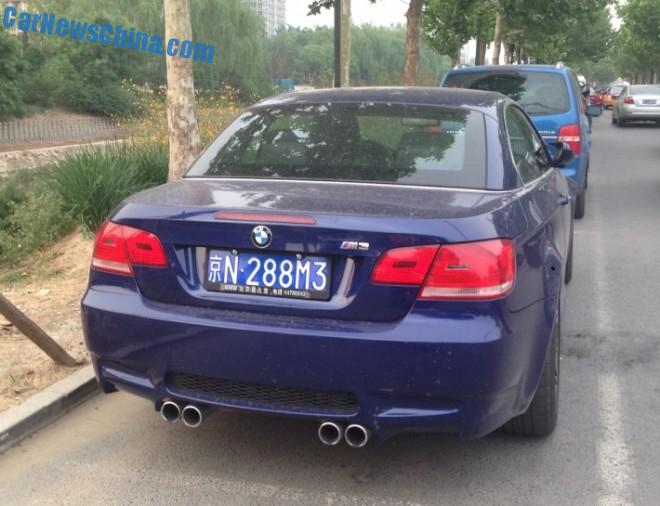 As it happens I met a very similar car just days later on the very same location; a blue M3 Convertible with a brilliant license plate reading 288M3, and that is one of the best license plates we have seen on a BMW M3 in China so far. May there be more.