A brand new Ferrari 458 Speciale supercar, Spotted in China in the great city of Hangzhou in Zhejiang Province by HZ-MCJP. The fiercely fast Ferrari is painted in dark gray and dressed up with darkened headlights, darkened windows, racy matte gray five-spoke alloys, and bright yellow brakes.
The Ferrari 458 Speciale was launched on the Chinese car market in February for a hefty 4.48 million yuan or 740.000 USD. Lotta money but lotta horses; the Speciale is powered by a tuned variant of the monstrous Ferrari 4.5 liter V8 with an output of 605hp and 540nm, mated to a seven-speed DCT, good for a 330km/h top speed and a 0-100 in 3 seconds. So far we only met two other Speciales in China: a yellow car in Chengdu and a red one in Shenzhen.
Now check the yellow dot top-left!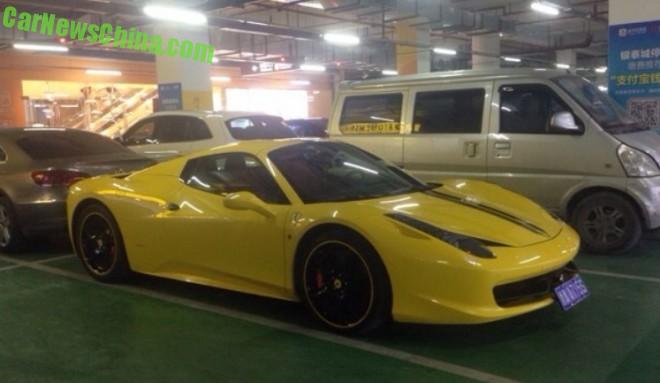 That is a very tasty Ferrari 458 Italia Spider with a red interior, racing stripes, darkened windows, and black five-spoke alloys with a yellow rim and red brakes.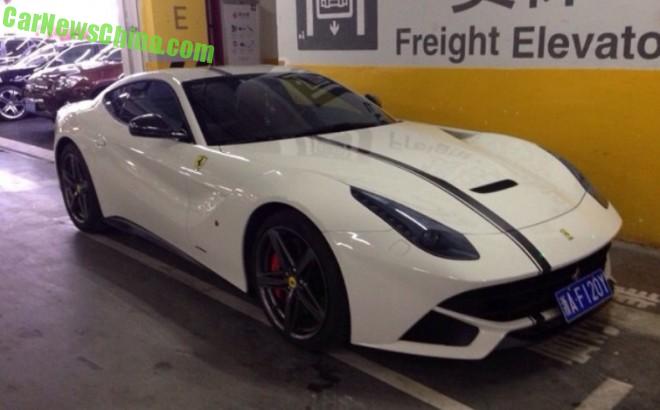 One more in the same lot; a white Ferrari F12berlinetta. Modified again because a standard Ferrari means nothing anymore. Darkened windows, darkened headlights, carbon fiber mirrors, matte gray five-spoke alloys with red brakes, a black racing stripe, and best of all a license plate reading A·F120Y.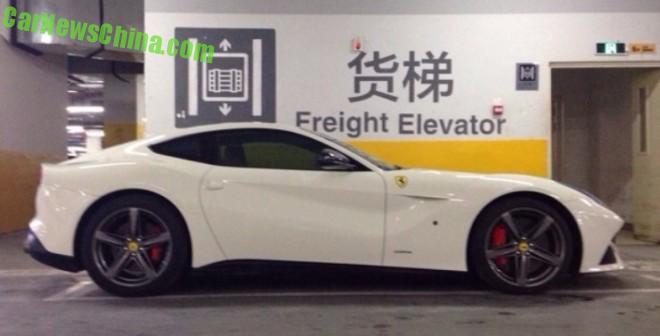 The F12 will elevate you.
Time now for our Famous China-Ferrari F12berlinetta Collection™: crash, a*hole, Pink, different, galaxy, crash, with SLS, with 458 and license (99F12), matte gold, garage, license (6KF12), at the wedding, license (00F12), with 458,  red in Zhongshan,  with friends, black in Shanghai, on the move in Wenzhou, blue in Xiamen, dusty in Wuhan, red in Guangzhou (crashed), black in Chengdu, and a truck full in Shanghai.