The Ferrari 458 Speciale has been launched on the China super car market. Price starts at 4.48 million yuan or 740.000 USD. The Ferrari 458 Speciale is the hard core version of the Ferrari 458 Italia, fitted with a more powerful engine and more computers. Power comes from a screaming 4.5 liter V8 engine with 605hp and 540nm, mated to a seven-speed DCT, good for a 0-100 in only 3 seconds.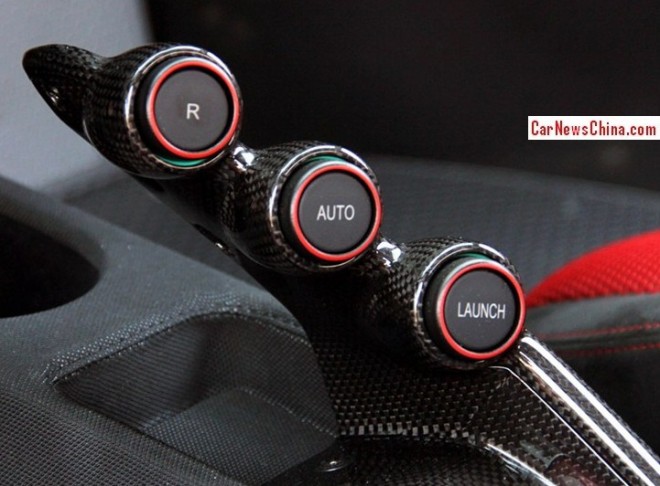 How racy a standing stalk on the center tunnel is. The standard 458 Italia starts at 3.88 million yuan or 636.000 USD, so the Speciale is more than a 100.000 more. The Italia has only 570 horses but torque is the same. Anyway, that stalk is probably worth all the extra cash. Normally when Ferrari launches a new model in China it does so with a wild ceremony featuring dancers, fireworks, and interesting corporate speeches. The 458 Speciale however was launched without any fanfare.
The Ferrari 458 is one of the most popular super cars in China and we expect so the the first Speciale on the road very soon. for now, here is our Extremely© Famous China-Ferrari 458 Collection™: license (IC458), with F12, crash, lucky license, mysterious license, BAPE, license (KF458), Novitec license (FM458), speed, license (450OU), license (FM458), the Galaxy, with Aventador, with F12, license (458Z8) China Special 1/20, crash, license (458F1), license (FF458) Pink, Spider @ speed, license (458OY) with Roller, pinkish Spyder, license (458AX), shiny red, matte gray, license (458MW), shiny green, China Limited Edition 2, on a truck, matte purple, blue Spider, bling, crashed, China Limited Edition, shiny red & matte black, baby blue, crashed, pink (scroll down), China Limited Edition debut,  purple, with horse, crashed, pink, silver, some silver & some white, and with a friend.
---