Big bad supercar crash in China. An Audi R8 V10 crashed into a fence in the great city of Shenyang in Liaoning Province. The crash happened late at night on a snowy road. The fence divided the main road from a bicycle lane. The driver was slightly injured and taken to a local hospital. Fortunately, there were no bicycles around.
License plate is from Zhejiang Province in east China, an at least 1800 kilometer drive. Well, it is like they say: far coming is hard going. The plate comes with a triple 9. Nine is a lucky number in China, but it didn't help this Audi very much. The vehicle seems seriously gone with heavy damage on the entire left side.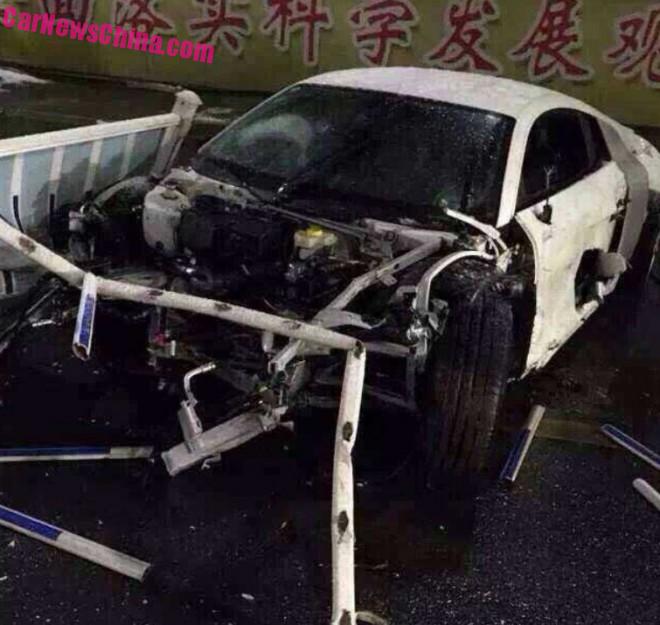 The front of the vehicle completely disappeared. Puncture in the door is odd, what could it be that hit it there? This great Audi R8 seems to be beyond repair, sadly and badly. Yez, those roads in the provinces can be really bitch.
The Audi R8 is a popular supercar in China.  Price for the current-outgoing car starts at 1.82 million yuan for the V8 and 2.35 million for the V10. Oddly, the V8 is very rare and the V10 very common. Time now  for our Famous China-Audi R8 Collection™: Limited & Girl, licenses, China Edition, license (640R8), shiny silver, gold GT, matte black & orange, Pink, license (023R8), black alloys, bit of Bling, spyder in Gold, Audi TT, lime green, broken, Bling, China Edition, hits taxi, matte black, ABT Lambo-doors, another matte-black,  hits mail truck, Limited Edition, in blue and in matte army-green.