A very speedy Ferrari Enzo supercar, seen on the the FB-Show 2015 (intro) in Beijing, accompanied by a busty babe wearing kinky black gloves. The Enzo, and the LaFerrari below, belong to the owner of a nearby Ferrari dealer with a famous parking lot. Now, let's have a better look at those airbags: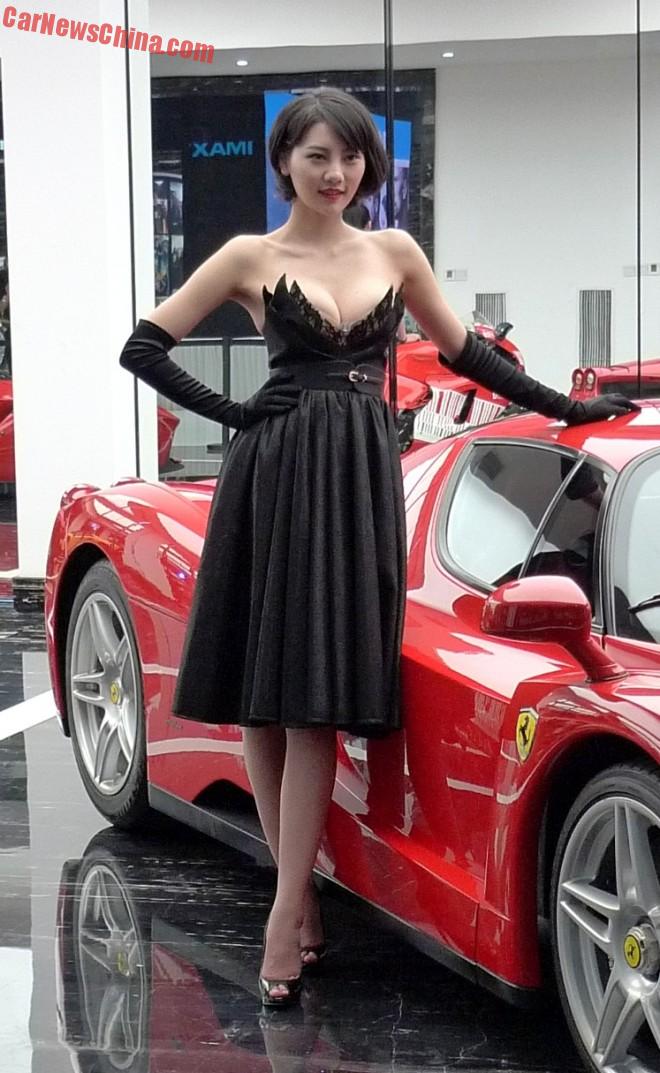 A bit like Batwoman.
The Ferrari Enzo was manufactured from 2002 until 2004. Only 400 examples were made, making the Enzo and extremely rare and extremely expensive car. The Enzo is powered by a manic 6.0 liter V12 engine with an output of 651hp and 657nm, good for a 355km/h top speed and a 0-100 in 3.2 seconds.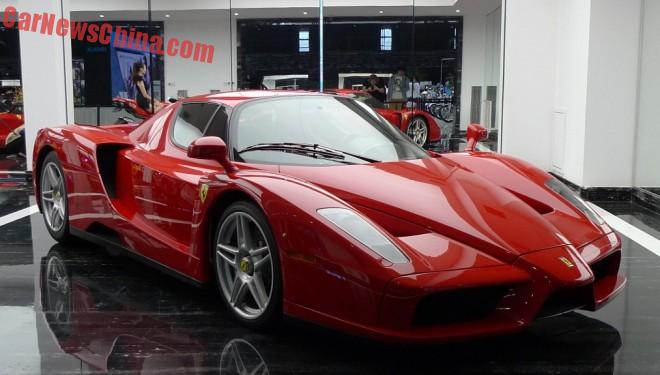 No babe now, but still a nice car.
The Enzo was never officially exported to China but quite a many made it to country via the gray market and other misty channels. Our collection: same car with other alloys, selling houses in black,  red in Beijing (same again),  gray, five showed up, crash, and with One-77 & Zonda Uno.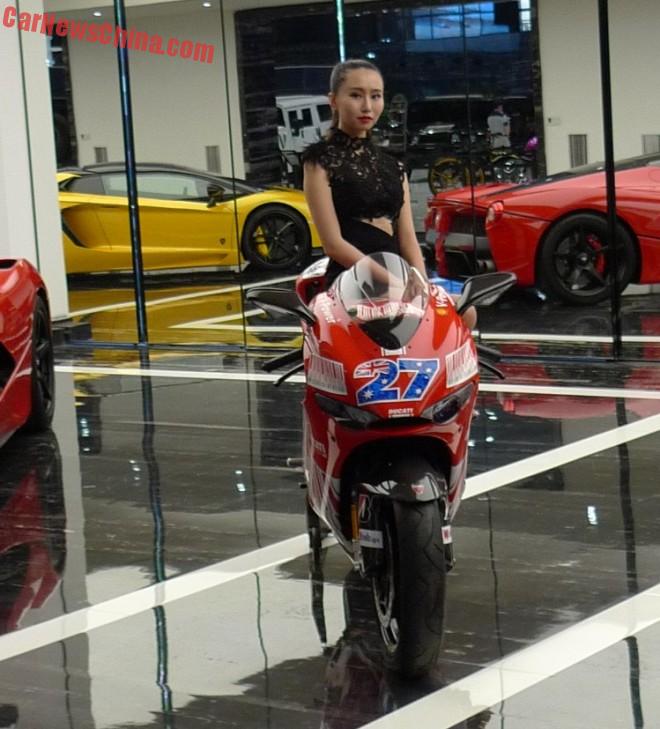 Babe on a Ducati motorbike. No airbags.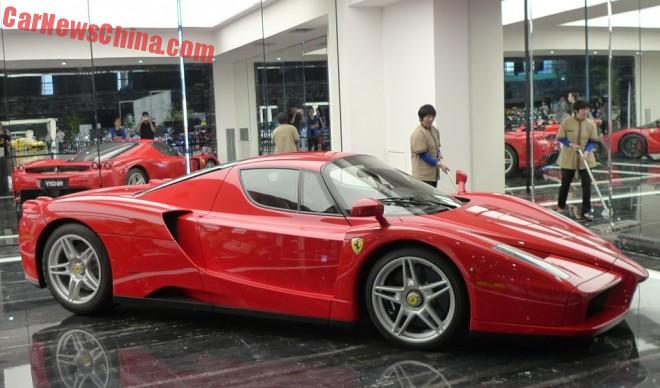 Lady in beige uniform carefully cleaned the shiny black floor. This hall of the exhibition is normally the FB-City supercar shop, but the Enzo was not for sale. The shop is a thing of beauty with loads of mirrors, soft carpets, and decent toilets.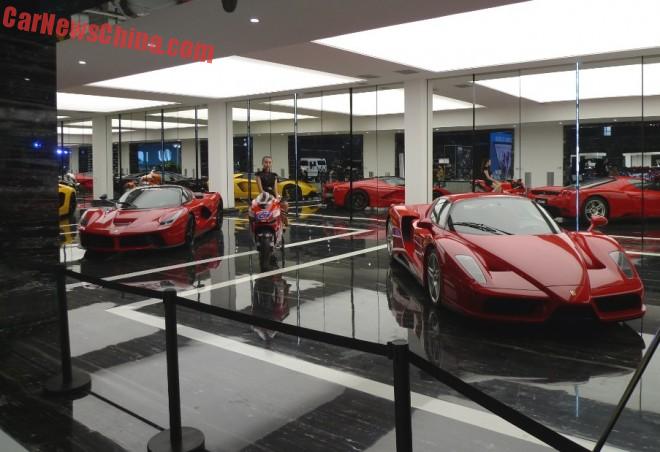 Parked next to motorbike stands a Ferrari LaFerrari.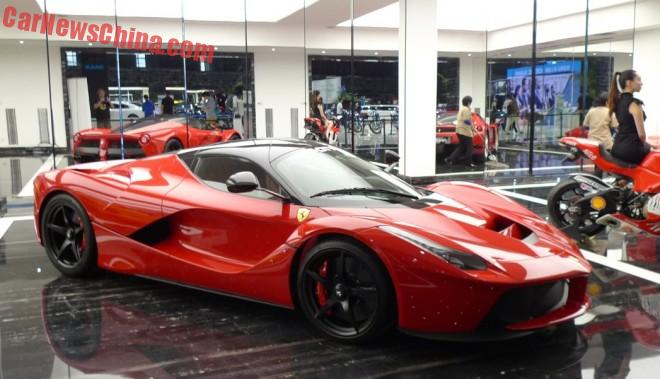 It too belongs to the owner of said Ferrari dealer.
The LeFerrari is expensive in China, when new te speedy Italian went for an astonishing 22.5 million yuan or 3.67 million USD. Lotta money but lotta horses: the LaFerrari is powered by a hybrid power train consisting of a screaming 6.3 liter V12 connected to a F1-style KERS system. Total output is 950hp and 900nm. Top speed is 350km/h and 0-100 is gone in 2.7 seconds.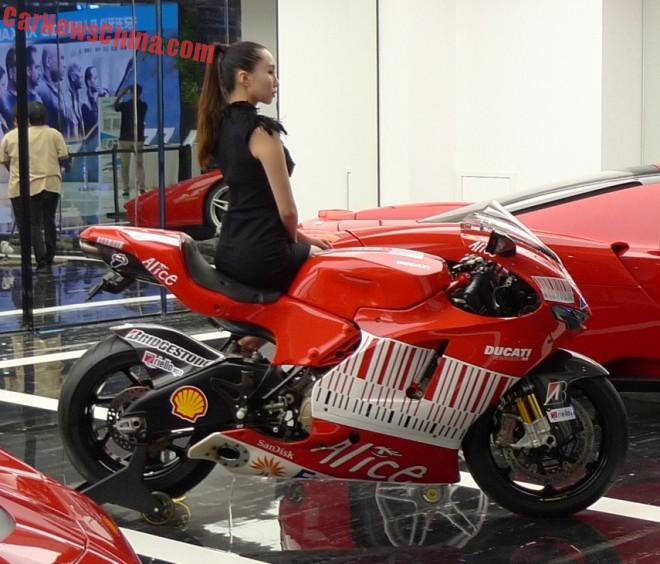 No airbags at the back either.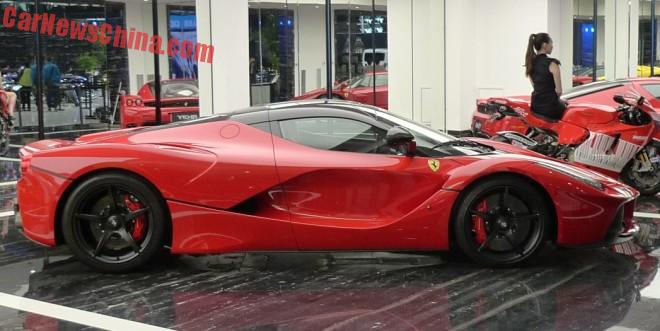 We now know of eight Ferrari LaFerrari supercars in China: red (see below), crashed in Shanghai,  a red one in Guangzhou, one in Chengdu, a double in Shanghai, one in Beijing, and a first in Shenzhen.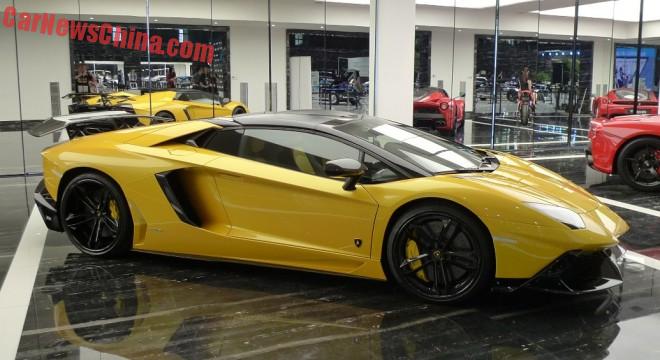 From red to yellow, from Ferrari to Lamborghini. Here we have a fantastic Lamborghini Aventador LP 720-4 50° Anniversario Roadster. The Anniversario was a special edition Aventador to celebrate the 50th anniversary of Automobili Lamborghini in 2013. Only 200 cars were made, 100 Coupes and 100 Roadsters. We also saw this very car on last year's edition of the show.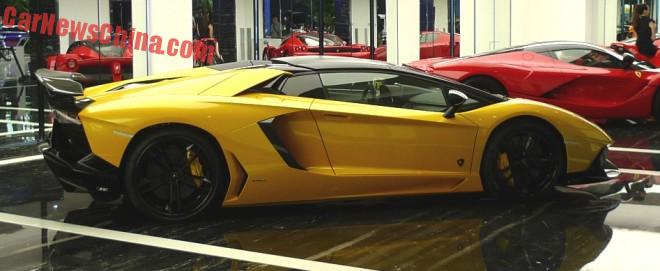 Special thingies include: enlarged and extended front air intakes, a bespoke front splitter, small flaps set into the sides, a redesigned rear end with a giant wing and and an enlarged diffuser, 5-double spoke alloys, yellow brake pads, and a bunch of 50° badges. Best however is the work on the engine:  power of the mighty 6.5 liter V12 is up to 720hp and 720nm, hence the name, mated to a seven-speed semi-automatic sending all horses to all four wheels.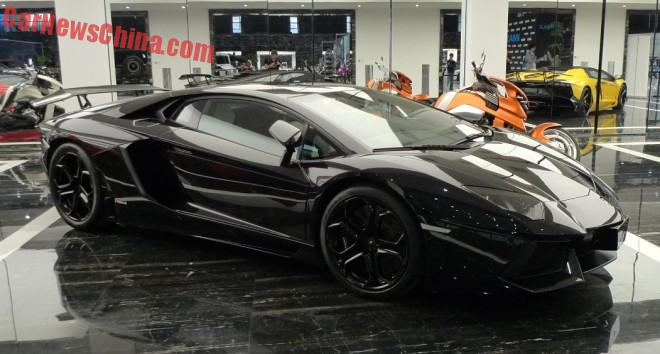 Parking on autoshows can dangerous, so the owner of this LP 720-4 50° Anniversario coupe moved the mirrors in their upwards position. The Anniversaro doesn't really work out well in black, because all the carbon fiber stuff is almost completely invisible. And even the brake calipers are in black!, that's a tad too much…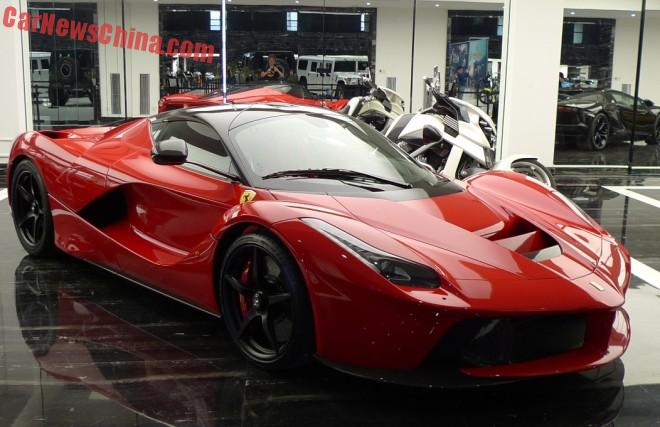 And big surprise there was yet another LaFerrari on show! It looks identical to the other one up until the alloys. This LaFerrari is owned by the very lucky man who owns FB City, and organized the FB-Show.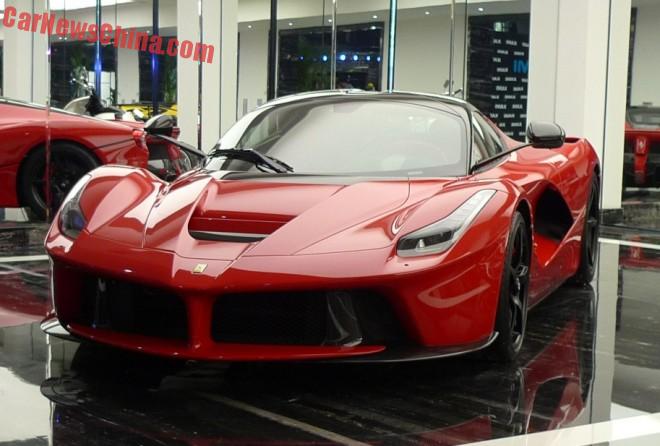 Speed, she says. Much more supercars soon later!
And now a Big Bonus: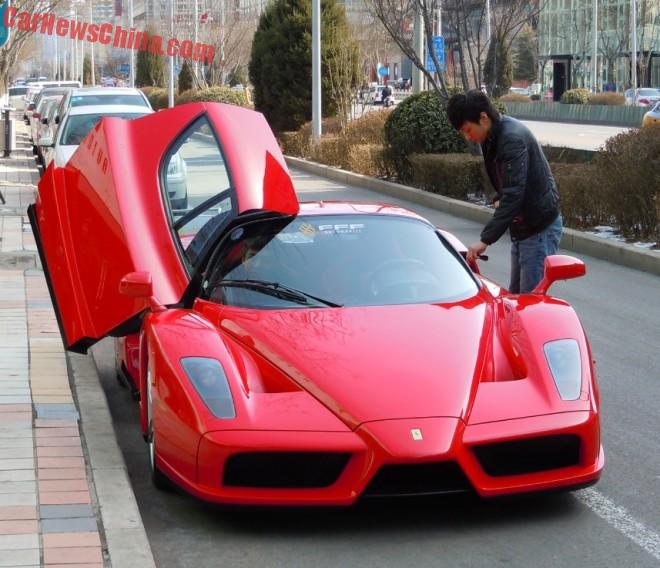 The Enzo was Spotted in China back in one winter in Beijing by reader Vidinda, thank you for the pictures!
Note FFF sticker on the front window. FFF was in many ways the predecessor of FB City. The last time I saw the company alive was back in 2013 when they opened a new shop in the Beijing Tuning Street, with this very Enzo in the showroom. That shop is gone and most cars are now regulars at FB City.