A very speedy Lamborghini Murcielago LP 640, seen in the great city of Chengdu in Sichuan Province. The loco Lambo is wrapped in a matte-lime wrap, and further sexed up by SV stickers, black six-spoke alloys and yellow brake pads. Local punks hanging around in a cheap van show their appreciation for the mighty Murc.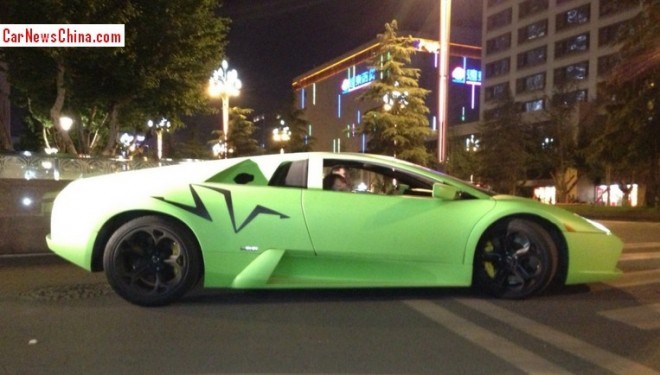 The Lamborghini Murcielago was made from 2001 until 2010, the LP 640 arrived in 2006 and ran until the end. Power came from a 6.5 liter V12 with 631hp and 660nm, good for a 340km/h top speed and a 3.0 sec 0-100. Green Power!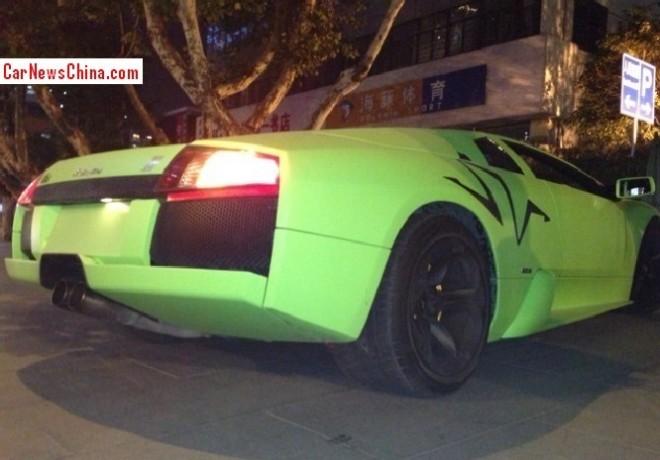 The Murcielago was and is a very popular super car in China, here is our Famous China-Lamborghini Murcielago Collection™: SV China Limited, orange, shiny blue, with F430, pearl white, with Aston, burning, with friends, LP 650-4 Roadster, LP 670–4 SV China Limited Edition, crashed, shiny red, with FF, China Limited SV, double China SV,  matte black SV, roadster in gold, an expensive toy, SV in black, gray, SV in yellow, lime-green, chrome, Versace Edition, SV crash, LP650-4 Roadster, and another SV in yellow.