A ferocious Ferrari 599 GTO, Spotted in China in a supercar shop on the Beijing Tuning Street, standing close to a Tramontana R Special Edition. The Italian steed is painted in bright orange, no wrapping here, and further sexed up with darkened windows, carbon mirrors, darkened headlights, a racing stripe in the colors of the Italian flag, and racy tires with black five-twin spoke alloys with an orange rim.
Ferrari badge in black with the horse in silver. Brilliant. We met this very car, or at least it seems the same, in Shanghai in 2012, at the time with a normal yellow badge and other alloys. Rumors say it is a one-off commissioned for a very wealthy Chinese Ferrari collector. Staff at the shop told me the vehicle belonged to a friend of their boss, and it was not for sale.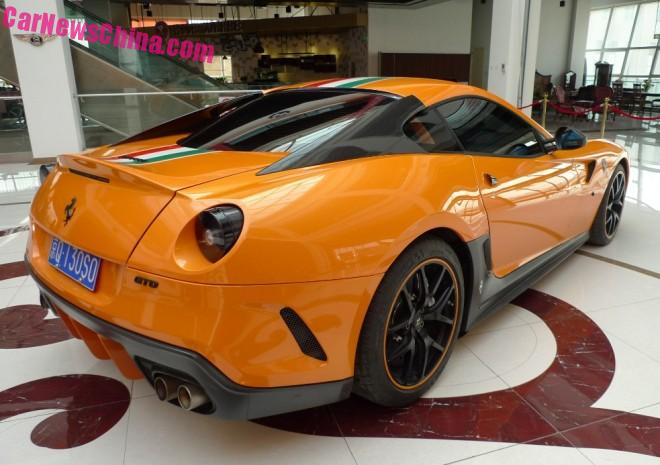 Racing stripe goes over the roof and boot lids before ending up against the spoiler. Fuzzy C-pillars in carbon, rear lights blacked out, and the Ferrari and GTO badges are in black. The GTO was the hardcore variant of the Ferrari 599 GTB Fiorano. Power came from a 6.0 liter V12 with 661hp and 620nm, good for a 335km/h top speed and a 0-100 in 3.3 seconds.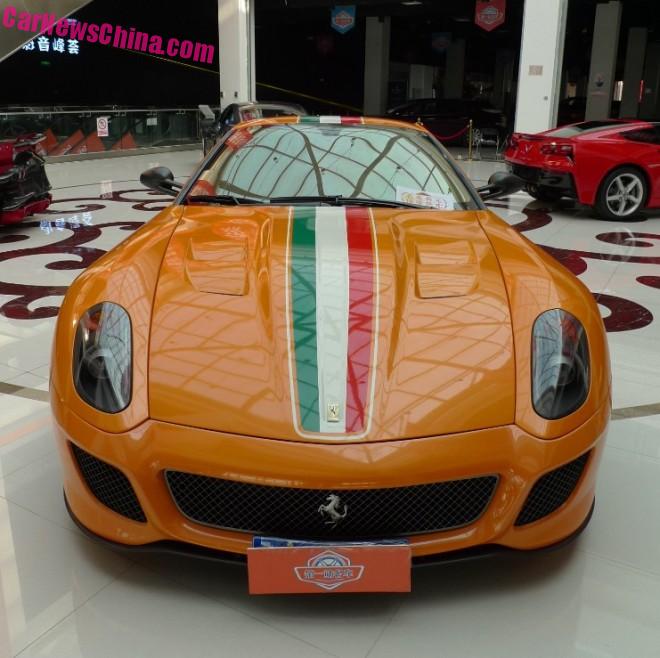 That's a fast orange!
The Ferrari 599 GTB Fiorano was and is a very popular supercar in China, with zillions still active on the road. Time thus for out giant and very Famous China-Ferrari 599 Collection™: license, crash, modified license, Alonso Edition, hit by a tree, with friends @ FFF, China Limited Edition, Porcelain Edition, white & shiny red, with friends, azzurro blue, white & blue, red, yellow, a special-edition orange GTO, white, and another red.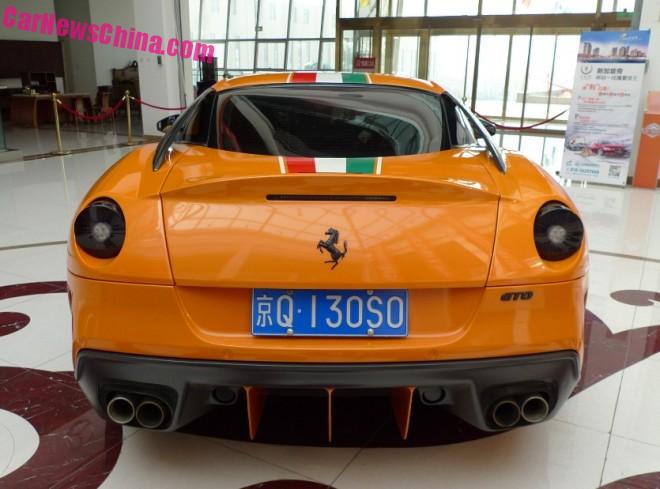 Cars with orange diffusers are King. Break light in black as well.