A very flashy Lamborghini Aventador Roadster, Spotted in China in a compound full of expensive villas somewhere in the suburbs of the great city of Qingdao in Shandong Province. The Lamborghini supercar was wrapped in an eye catching mint green wrap, and further sexed up by black mirrors and a black roadster roof.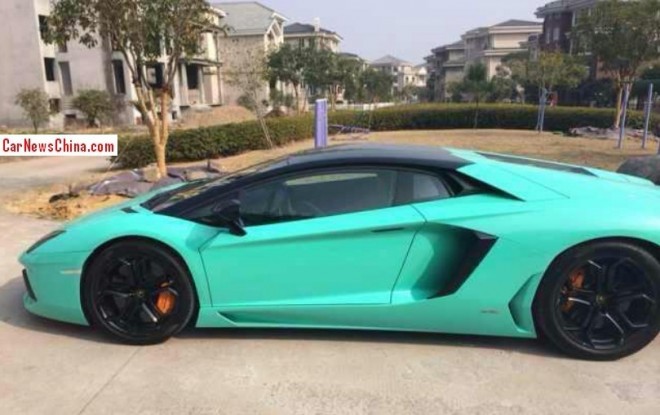 Black roof a great contrast with mint green body! Alloys in black as well. Orange brakes don't really match with the rest of the palette, should have been black or mint green. The Lamborghini Aventador LP 700-4 Roadster is powered by a 6.5 liter V12, good for 700hp and 690nm. Price in China starts at 7.38 million yuan or 1.2 million USD. Not cheap, but Lambo.
Time now, for our our Famous China-Lamborghini Aventador Collection™: crash, crash, shiny Pink, DMC & RUF CTR3, DMC Limited, DMC Roadster, matte lime green, shiny gold, DMC LP900, crash, sinking, yellow roadster, police & the replica, with 458, green-blue black,  shiny-lime green, black in Beijing, with Roller, Anniversario Edition, baby blue, Arsenal, white, shiny blue, with Lambo-friends, DMC LP900, crash, blue & orange, matte black,   strange alloys, with monk, too many, matte-black, with horny babes, in mustard yellow (scroll down), and impounded.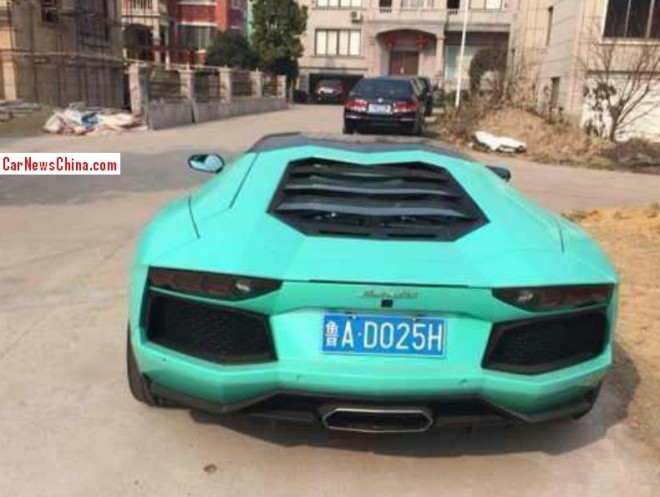 Lambo is greener than the grass.
---