A very Bling Porsche 911 Carrera 4S Cabriolet, Spotted in China in the great city of Shanghai by reader Anonymous, thank you for the pictures! The porn Posche is wrapped in an eye killing shiny gold wrap, and blinged up even further by five-spoke shiny silver alloys and matte gray winglets in the bumper. But best of all is the license plate, reading 91171, and that is one of the best license plates we have seen on a Porsche 911 in China so far.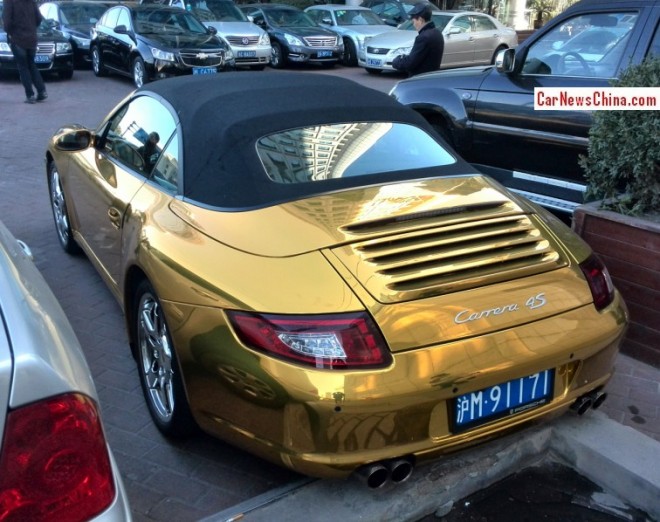 The wrap seems to be of reasonable quality but neatly extends over the bumpers, door handles and mirrors. The Carrera 4S badge is tastefully decorated in the same shiny silver as the alloys. Silver and gold usually don't go together very well, here however it all works out great.
The 997 Porsche 911 Carrera 4S is powered by a 3.8 liter flat-six engine with an output of 355hp and 400nm, good for a top speed of 303km/h and a 0-100 in 4.8 seconds. Golden Lightning!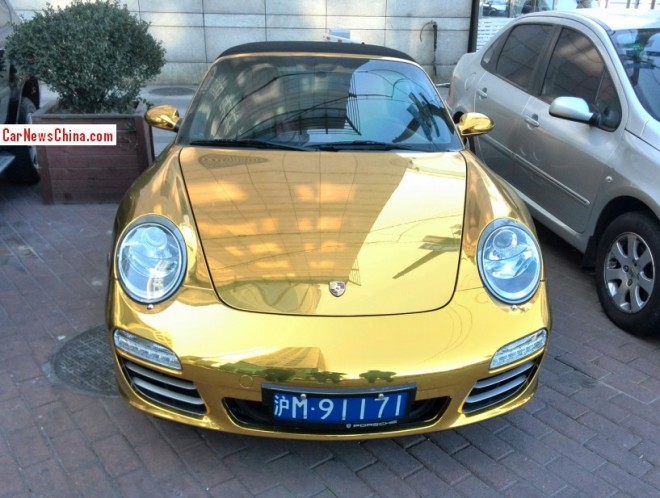 The Porsche 911 is one of the most popular sporty cars in China, with Chinese car buyers snapping up each car Porsche can ship over here. Time now for our Famous China Porsche 911 Collection™: Licensed Cabriolet, 991 yellow license, matte white, 50th Anniversary, matte gray, 996 GT3, Pink Cabrio, matte orange, with tiger girl, license (911HY), body kit, license, shiny green, shiny blue, baby blue,  991 Turbo prototype, 911 Turbo S, 993 Carrera RS, pink cabrio, matte black, matte black 911 GT3, 964 911 RS America, yellow 964 911, pink 996, shiny blue, orange, Edition 918 Spyder, matte-black, pink, ugly body kit, gold, and the China-only Anniversary Edition.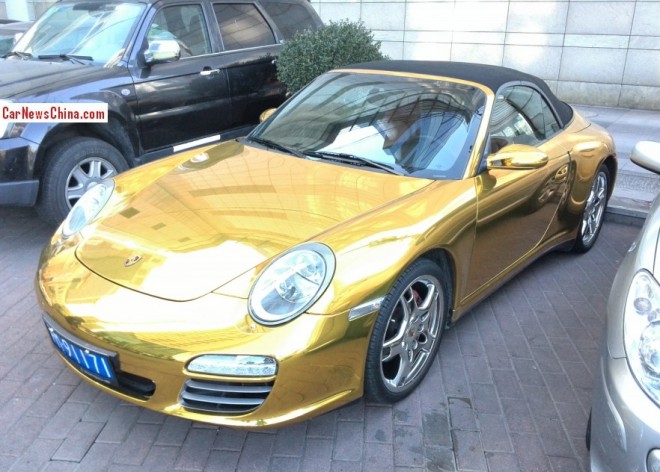 Check those alloys almost being shinier than car!
---