A black Porsche 911 Carrera, Spotted in China in the Sanlitun embassy area in Beijing. The speedy Porsche is covered in a fat layer of dust, showing it doesn't sleep under a rood very often. The license plate is very dusty too but we can still read K1911, and that is one of the best license plates we have seen on a Porsche 911 in China so far.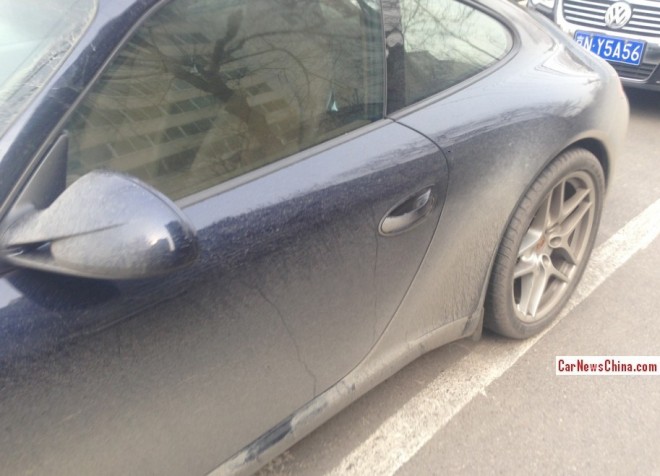 All that dust isn't very good for the wheels and brakes, this good Porsche urgently needs some water! The 997 Porsche 911 Carrera is powered by a 340hp 3.6 liter flat-six, good for 290km/h and a 0-100 in 4.7 seconds. Very fast, but clearly not fast enough to shake off this dirt.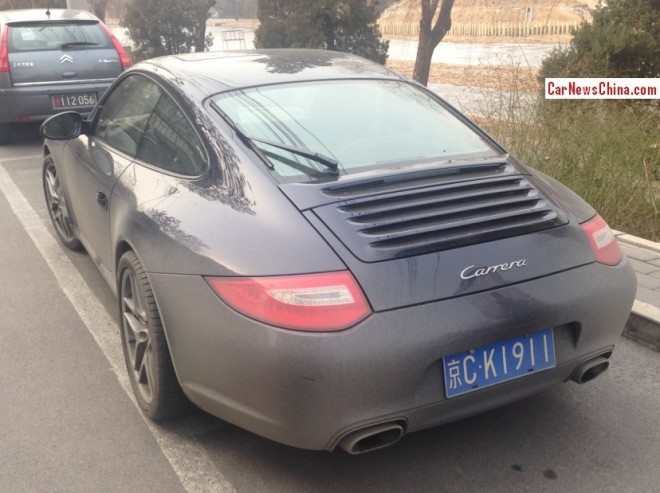 The Porsche 911 is the third most popular Porsche in China after the Cayenne and the Panamera. Time now, for our Famous China Porsche 911 Collection™: shiny gold, Licensed Cabriolet, 991 yellow license, matte white, 50th Anniversary, matte gray, 996 GT3, Pink Cabrio, matte orange, with tiger girl, license (911HY), body kit, license, shiny green, shiny blue, baby blue,  991 Turbo prototype, 911 Turbo S, 993 Carrera RS, pink cabrio, matte black, matte black 911 GT3, 964 911 RS America, yellow 964 911, pink 996, shiny blue, orange, Edition 918 Spyder, matte-black, pink, ugly body kit, gold, and the China-only Anniversary Edition.