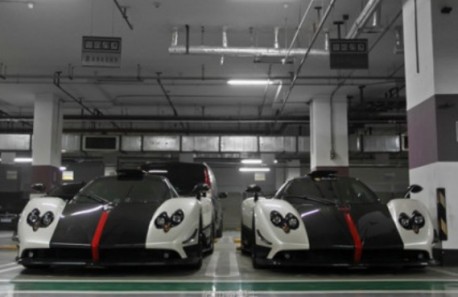 Today we take a look at one of the most fascinating supercar collections in the world. The cars are parked in a well-guarded underground parking garage in central Beijing, and all belong to one owner who is particularly fascinated with Pagani.  On the first pic two identical Pagani Zonda Cinque hypercars. We knew they existed and we did meet one of them before, but this is the first time we see these monsters in one pic together.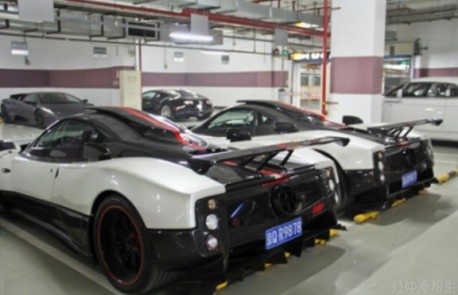 Pagani officially states only 5 Cinque (meaning '5′ in Italian) coupe's have been build but they almost certainly have made a few more. The Cinque debuted in late 2009 for around 1.9 million dollar.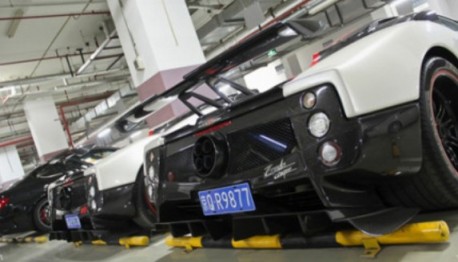 Price in China, including the famously high import taxes, would end up around 2.5 million dollar. Money however doesn't matter at all when one looks at power! The 7.3 liter AMG V12 poops out 678hp and 780nm. Acceleration from 0-100 Km is 3.4 seconds; 0-200 in 9.6 seconds. Top speed is 350 km/h.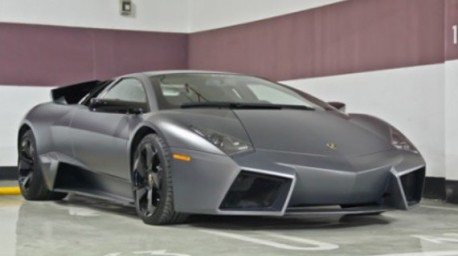 The Lamborghini Reventon, based on the Murcielago. Only 21 were built and this is the very first Reventon we see in China (almost). Power was the same as on the base LP 640; 630hp and 660nm.
Bugatti Veyron, the best supercar in the world, by far.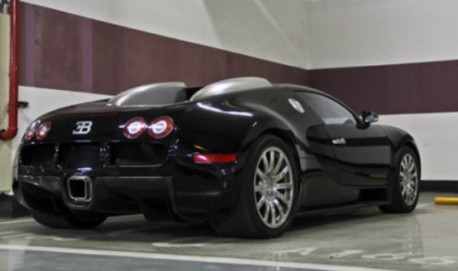 Simple black paint nicely subtle for a change…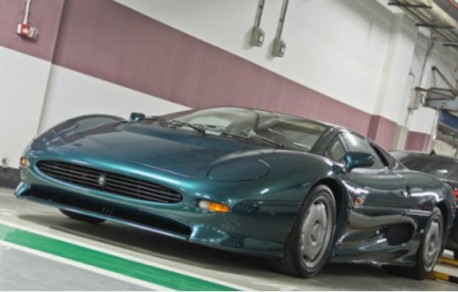 And that is a nice surprise. A fantastic Jaguar XJ220, the fastest and most famous supercar of the 1990's. This very car arrived in China in June last year, with the Reventon and a few other supercars that apparently went elsewhere. The XJ220 was made from 1992 until 1994, total production was 281 cars. Power came from a maniac twin-turbo 3.5 V6, good for 542hp and a massive 645nm. This green example is the only XJ220 in China as far as we know.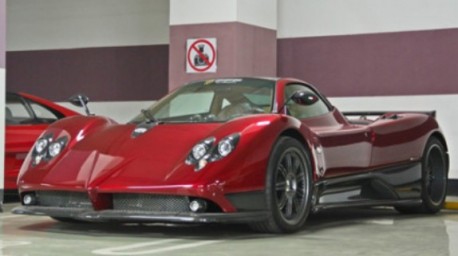 More Pagani, exactly the same car again, in red & white. There seems to stand a classic Ferrari on the left, 348?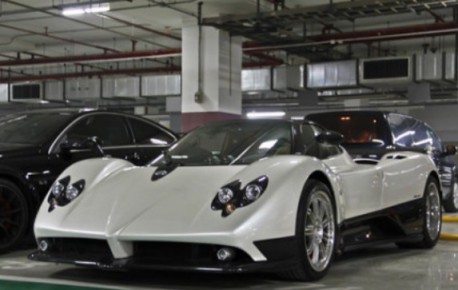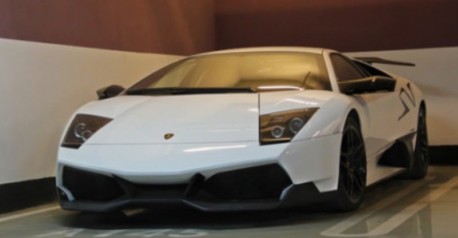 Lamborghini Murcielago SV. The fastest variant of the Murcielago, faster even than the Reventon, which was baiscally not much more than a bunch of extra plastic. The SV was a real purpose built racer for the road. Power came from a mighty V12 with 661hp and 660nm, good for a 336 km/h top speed when the 'Aeropack' wing is fitted, as it is on this car, without the wing top speed would be 342km/h.
Our full Murcielago collection: with friends, crashed, shiny red, with FF, China Limited SV, double China SV,  matte black SV, roadster in gold, an expensive toy, SV in black, gray, SV in yellow, lime-green, chrome, Versace Edition, SV crash, LP650-4 Roadster, and another SV in yellow.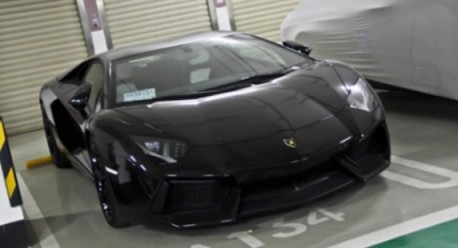 Lamborghini Aventador. Got a lot of those too: baby blue, Arsenal, white, shiny blue, with Lambo-friends, DMC LP900, crash, blue & orange, matte black,   strange alloys, with monk, too many, matte-black, with horny babes, in mustard yellow (scroll down), and impounded.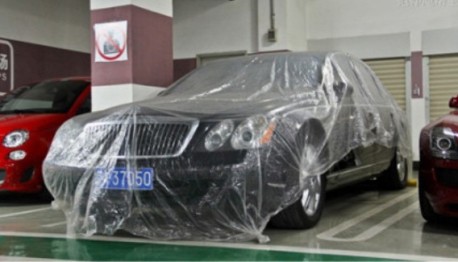 The mighty Maybach 62, guarded against Beijing's dust.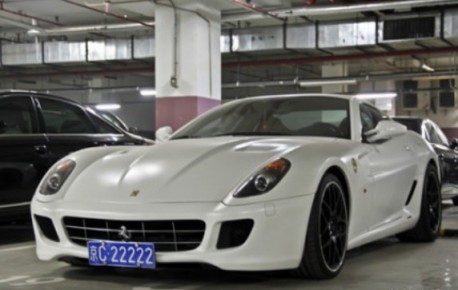 The only Ferrari in the collection, a white Ferrari 599 with a coolio license plate.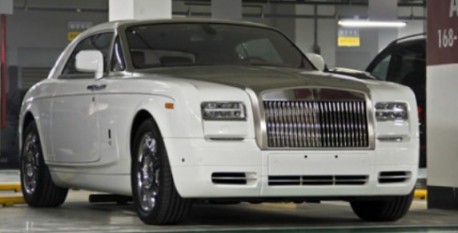 Rolls-Royce Phantom Coupe, not very popular in China where buyers prefer four doors for a Roller. This is the very first Coupe we meet, earlier on we met our first Drophead Coupe.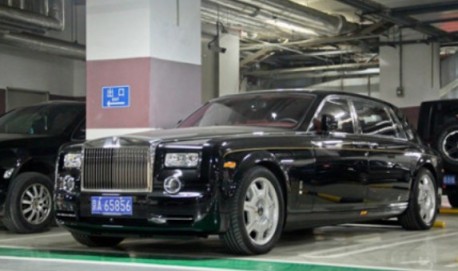 Rolls-Royce Phantom EWB, that't more like it! Rolls-Royce likely sells more EWB variants in China than anywhere else in the world.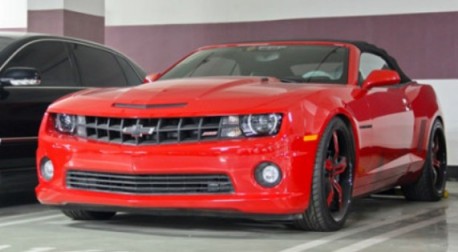 Chevrolet Camaro Convertible with a Hennessey body kit, very rare in China. We can't see under the bonnet but Hennessy can tune up the V8 to a mad 1000hp! The Chevrolet Camaro is officially imported into China, but only as a Coupe. Buyers who want the convertible have to go gray-market. We have a small collection: matte gray, Transformers Edition, second generation, in gold, Manchester United, with babe, police, red SS, old convertible, only yellow.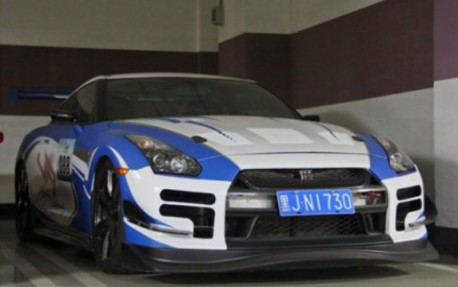 Nissan GT-R with a weird body kit, probably used for racing. The Nissan GT-R is one of the most popular supercars in China, and thus we have a giant collection: pink & black, with that babe, shiny pink, shiny purple, very red, banana, matte-black, purple-white, Brilliance, matte black, gold, Lambo-doors, matte-mint green, shiny purple, pink, on bicycle lane, red & black,  silver pirate, pink&black, orange, Lioncel,  green-blue-pink, gold, lime-green, and police.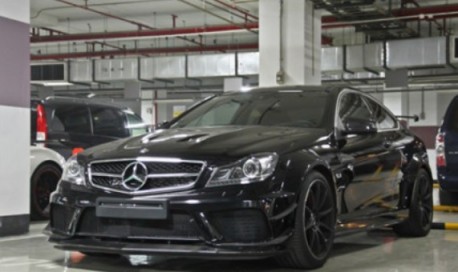 Last and almost the best; the completely mad Mercedes-Benz C63 AMG Black Series, fittingly fitted with black alloys.
Wadda collection! But a lot more happened in China's supercar paradise over the weekend. Soon…