A two tone Lamborghini Gallardo supercar crashed in the great city of Qingdao in Shandong Province, causing considerable damage to the left-front of the vehicle. The Lamborghini apparently hit a barrier in the center of the road while trying to overtake another car. The driver and his son, seen here inspecting the damage, both wearing Pink, were fortunately unhurt.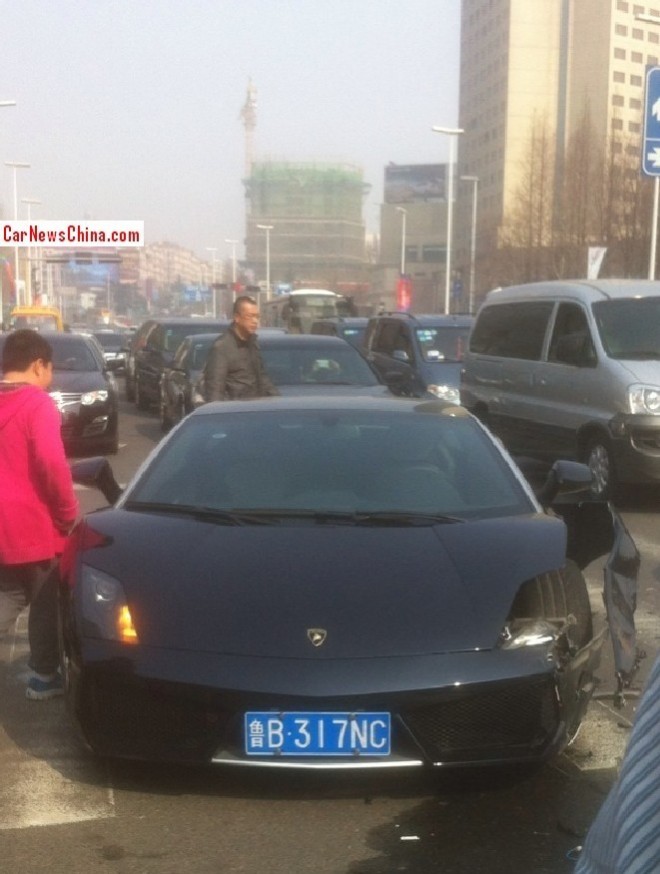 The damage to the bodywork seems repairable. Lot of fluids leaking away there. Suspension likely damaged as well. In any way, fixing this Lambo won't be cheap. When new the Gallardo went for 4.3 million yuan or 690.000 USD, powered by a 5.2 liter V10 with 550hp and 500nm, good for a 315km/h top speed and a 0-100 in 3.9 seconds.
Time now, for  our Extremely Famous® China-Lamborghini Gallardo Collection™: crash, crash, Super Trofeo, mint green, baby blue, matte purple and shiny green, with FF, crash, galaxy, baby blue, with hottie, crash, Sesto Elemento R/C, orange, yellow, crash, orange with Mac, tree-crash, matte black, license plate, pink, Balboni, LP550-2 GZ8 Edizione Limitata, shiny green, chrome, Reventon, crash, GZ8 Edizione Limitata, shiny-blue, matte-black & orange, water melon, red wheels,  HK20, pink, matte-black, gold, pink, another pink, lime-green, in gold, one purple, another purple, Gold Edition, and a Spyder Performante.