A nasty car crash in China. An orange Lamborghini Gallardo supercar bumped into a white Baojun 630 sedan in the great city of Nanning in Guangxi Province. The Baojun was making a U-turn and didn't see the Lamborghini coming. The owner of the Lamoo can be seen on the left, to the rear of the car, carrying a handbag.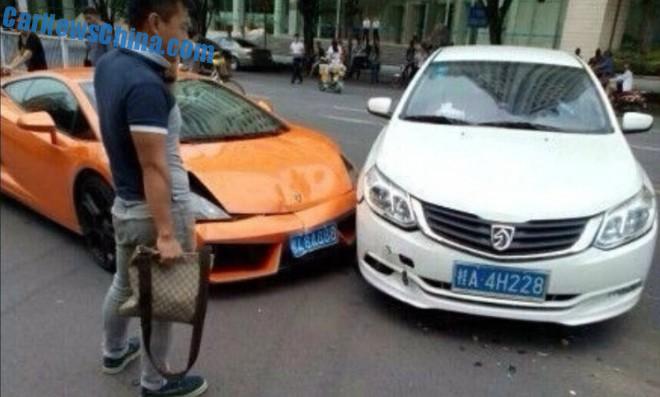 Men with handbags are a very common sight in China. t is a very unique Chinese custom. The bag usually carries the wallet, the keys, and the cigarettes. The bag carries by this particular man is a rather large example, to be carried with a belt. Most male handbags are much smaller and are carried under the arm, literally in the arm pit. There is a huge industry in China making handbags for men, but the large Western fashion brands haven't moved into this market yet. The Nanning bag appears to be a fake Gucci thing.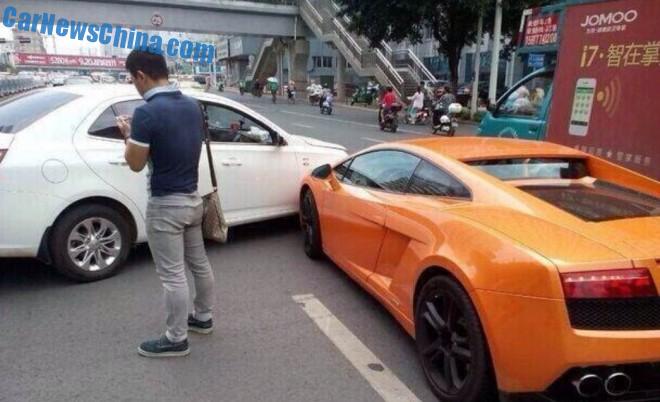 When new the base Gallardo went for 4.3 million yuan or 690.000 USD, the Baojun 630 goes for 65.800 yuan. Police at the scene ruled the Baojun at fault, as it was not allowed to U-turn at that location. Repair of the Gallardo is estimated to costs… 300.000 yuan. Insurance won't pay out because of the illegal move, so the driver of the Baojun needs to find another way to come up with the cash.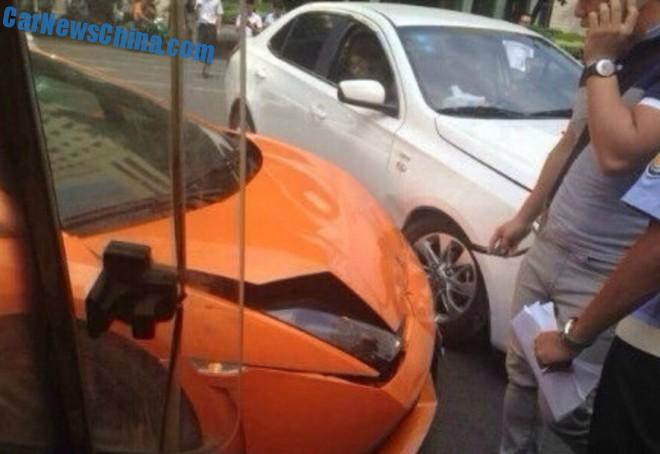 Needs new bonnet and bumper.
Time now, for  our Extremely Famous® China-Lamborghini Gallardo Collection™: matte purple blue, crash, crash, Super Trofeo, mint green, baby blue, matte purple and shiny green, with FF, crash, galaxy, baby blue, with hottie, crash, Sesto Elemento R/C, orange, yellow, crash, orange with Mac, tree-crash, matte black, license plate, pink, Balboni, LP550-2 GZ8 Edizione Limitata, shiny green, chrome, Reventon, crash, GZ8 Edizione Limitata, shiny-blue, matte-black & orange, water melon, red wheels,  HK20, pink, matte-black, gold, pink, another pink, lime-green, in gold, one purple, another purple, Gold Edition, and a Spyder Performante.