A lunatic Lamborghini Murcielago supercar, Spotted in China in the great city of Chengdu in Sichuan Province by PaiKe. The Lamboo was orange and is partly wrapped in a matte purple wrap, covering the bonnet, the roofm the left side skirt, and the right. It appears to be a standard LP-640 fitted with a China-made SV-style body kit and with a speedy-sticker SV China Limited Edition-style racing stripe.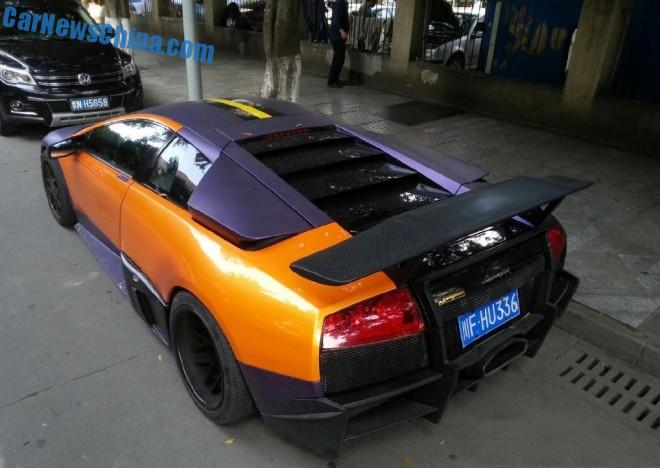 The result is very impressive. The wrapper had a keed eye for detail. The miniscule door handle on the left for example is wrapped in matte purple as well. The A pillar is orange but ends up in matte purple. Giant wing in matte black. The Murcielago LP 640 is powered by a 6.5 liter V12 with 640hp and 660nm, top speed is 340km/h and 0-100 is gone in 3.0 seconds. Speedy Mix!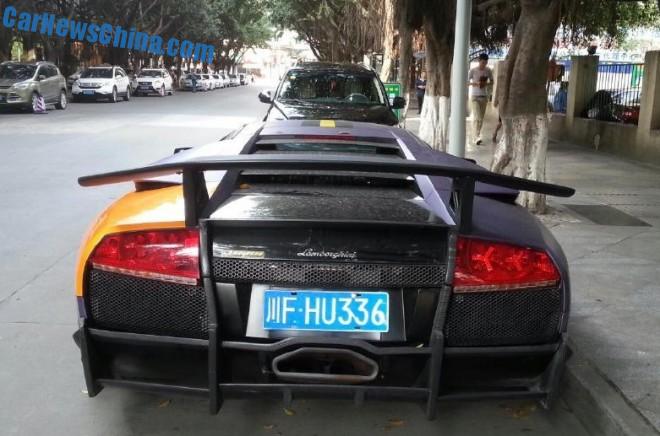 That ain't no real Lamborghini rear spoiler! What a mess, especially around the exhaust pipe. Right side of the vehicle is completely purple.
The Lamborghini Murcielago was and is a madly popular supercar in China. Time now, for our Famous China-Lamborghini Murcielago Collection™: black, China Limited SV, shiny green, lime green, SV China Limited, orange, shiny blue, with F430, pearl white, with Aston, burning, with friends, LP 650-4 Roadster, LP 670–4 SV China Limited Edition, crashed, shiny red, with FF, China Limited SV, double China SV,  matte black SV, roadster in gold, an expensive toy, SV in black, gray, SV in yellow, lime-green, chrome, Versace Edition, SV crash, LP650-4 Roadster, and another SV in yellow.