The supercars keep crashing in China. Today we have a Lamborghini Gallardo LP 570-4 Super Trofeo Stradale, with Squadra Corse decal strips, hitting a tree in the great city of Tianjin. The unlucky Lambo ended up there after it was crashed full in the flank by a Mercedes-Benz GLK SUV. The driver of the Gallardo managed to get out, but the passenger was in a shock and stayed inside until emergency services arrived. Both driver and passenger were taken to a local hospital.
Tree hugging.
The impact with the tree seemed to have caused only limited damage, indicating speed was not very high at the moment of impact. The tree will likely survive.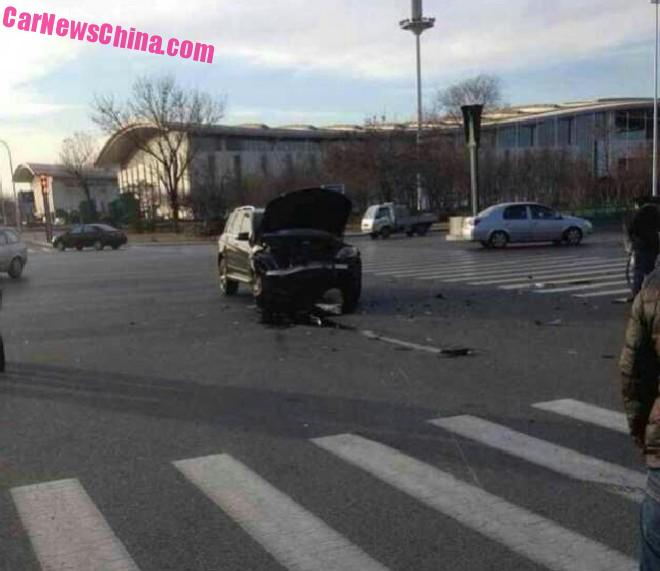 The GLK however seems heavily damaged. The front bumper is gone and the bonnet popped open. No word on the condition of the passengers but it appears the passenger compartment wasn't damaged too badly, so they are probably all right.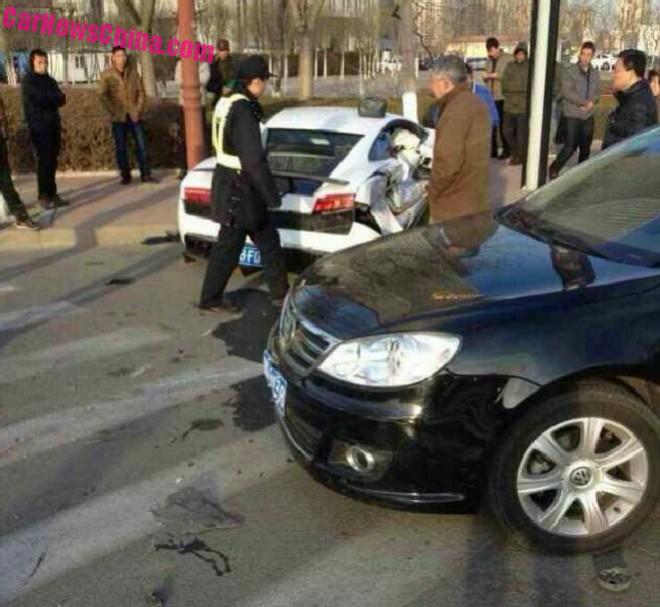 The GLK hit the Gallardo on the center and rear of the right side. Heavy damage and the suspension is likely broken too, but repairs should be possible. Fortunately so because the LP 570-4 Super Trofeo Stradale is a very rare car. Only 150 examples were manufactured in 2011, powered by a 523hp and 510nm version of the 5.0 liter V10.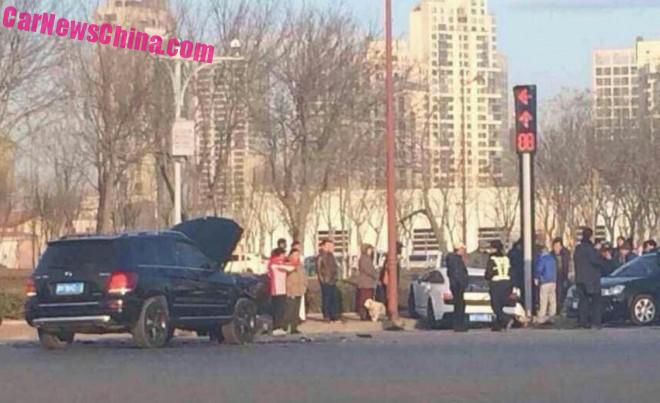 The scene. All lights are on red.
Time now, for  our Extremely Famous® China-Lamborghini Gallardo Collection™: crash, shiny blue, crash, matte purple blue, crash, crash, Super Trofeo, mint green, baby blue, matte purple and shiny green, with FF, crash, galaxy, baby blue, with hottie, crash, Sesto Elemento R/C, orange, yellow, crash, orange with Mac, tree-crash, matte black, license plate, pink, Balboni, LP550-2 GZ8 Edizione Limitata, shiny green, chrome, Reventon, crash, GZ8 Edizione Limitata, shiny-blue, matte-black & orange, water melon, red wheels,  HK20, pink, matte-black, gold, pink, another pink, lime-green, in gold, one purple, another purple, Gold Edition, and a Spyder Performante.