A super speedy Lamborghini Gallardo supercar, Spotted in China in the great city of Suzhou in Jiangsu Province by Reader Lao Wei, thank you for the pictures! The lunatic Lamborghini is wrapped in an eye killing shiny blue wrap, and sexed up to the max by a web of yellow tron stripes.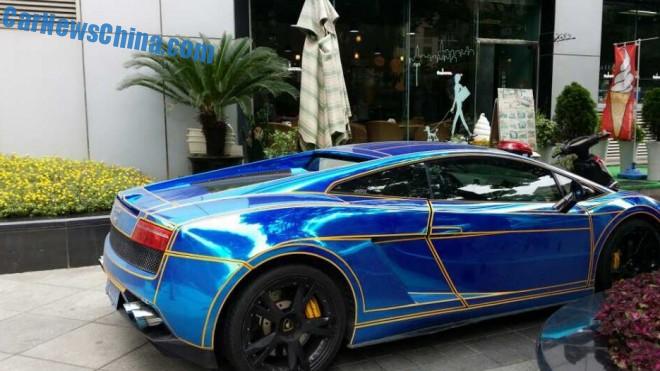 Tron stripes are fluorescent sticker stripes designed to glow in the dark for a psychotic effect, but look pretty spacy at day time as well. The black five-spoke alloys will be invisible at night, which will again enhance the tron effect. Great work done here, check especially the perfectly aligned double lining around the wheel arches.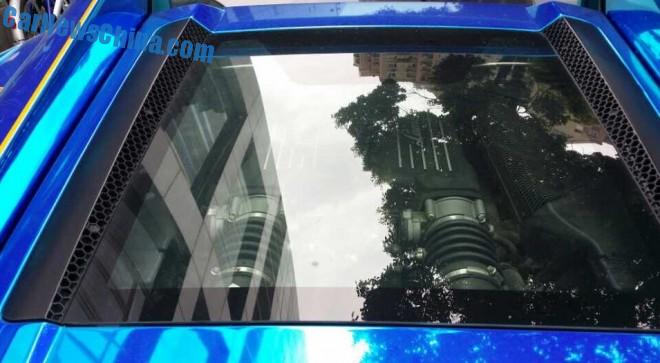 When new the base Gallardo went for 4.3 million yuan or 690.000 USD, wrap and stripes of this quality will do another 2000 USD or similar. Flashy car will flash flash flash!
Time now, for  our Extremely Famous® China-Lamborghini Gallardo Collection™: crash, matte purple blue, crash, crash, Super Trofeo, mint green, baby blue, matte purple and shiny green, with FF, crash, galaxy, baby blue, with hottie, crash, Sesto Elemento R/C, orange, yellow, crash, orange with Mac, tree-crash, matte black, license plate, pink, Balboni, LP550-2 GZ8 Edizione Limitata, shiny green, chrome, Reventon, crash, GZ8 Edizione Limitata, shiny-blue, matte-black & orange, water melon, red wheels,  HK20, pink, matte-black, gold, pink, another pink, lime-green, in gold, one purple, another purple, Gold Edition, and a Spyder Performante.