Black Friday for Lamborghini in China. Five of their supercars crashed in five different accidents in five different cities on Friday 19-12. Four accidents happened around rush hour and one accident later that evening. The unprecedented sequence of Lamborghini crashes has caused a complete frenzy on Chinese social media, especially as the accidents happened just a day after a woman crashed a Porsche 918 Spyder into a tree.
Many commenters are seriously wondering whether the Heavens are sending a signal to China that the limitless spending-craze of the newly rich has gone out of hand. Chinese are deeply superstitious and divine signs are seen everywhere and always, but in this case it is hard not to wonder about why. Five on one day!
On the first photo a white Lamborghini Murcielago SV LP670-4. It crashed into a barrier in the great city of Shenzhen in Guangdong Province. The vehicle is registered in nearby Hong Kong and has the steering wheel on the right.
The second crash involved a Lamborghini Gallardo LP560. It crashed info a pole in the great city of Yantai in Shandong Province.
The third car to crash was a shiny purple Lamborghini Gallardo LP570-4 with tron-stripes, it crashed into a taxi and into a concrete wall in the great city of Shijiazhuang in Hebei Province.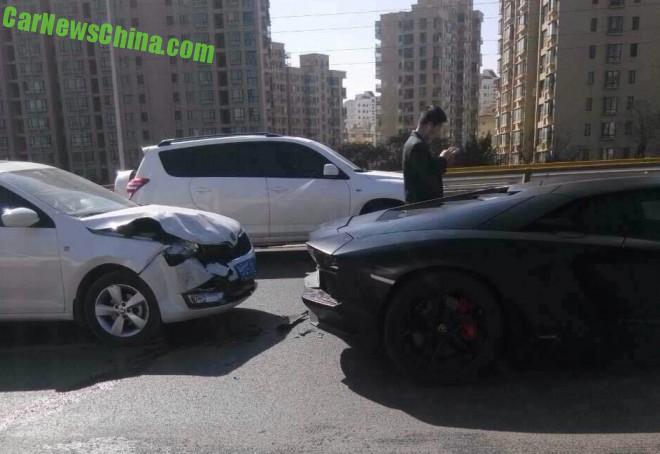 The fourth accident happened in the great city of Kunming in Yunnan Province. A Skoda Octavia rear-ended a black Lamborghini Aventador on a highway.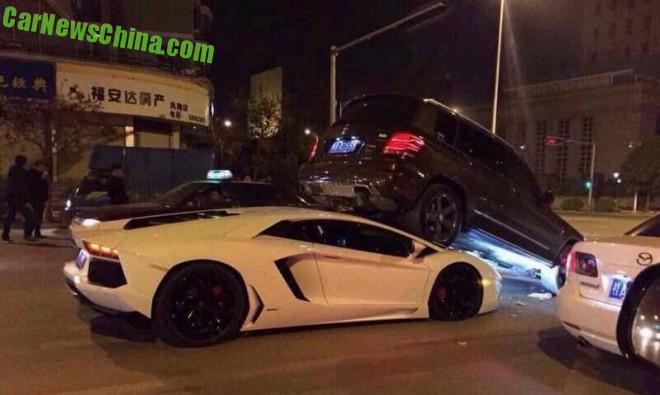 The fifth accident, and the most fuzzy one, happened later on the evening in the great city of Nanning in Guangxi Province. A white Lamborghini Aventador rear-ended a Mercedes-Benz GLK and took a liking to its bottom.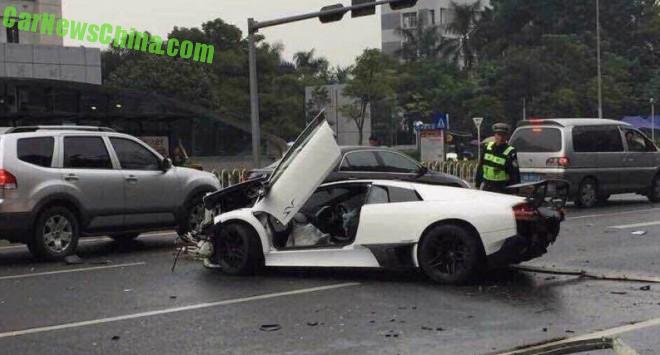 The Shenzhen crash was rather serious. The driver lost control on a wet road, the tail went out, and the nose crashed into a barrier in the middle of the road. Both airbags were deployed and driver and passenger were injured. They have been taken to a local hospital for treatment, but their lives are not in danger.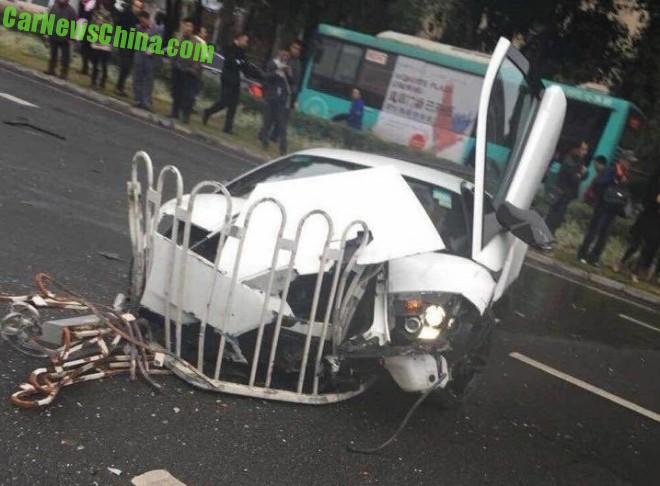 Supercar owners from Hong Kong often slip over the border to Guangdong Province for some serious racing over China's super modern and super flat highways, law enforcement in China lacks the punch it has in Hong Kong. Authorities in Guangdong have pledged to crack down the practice, but so far without much result.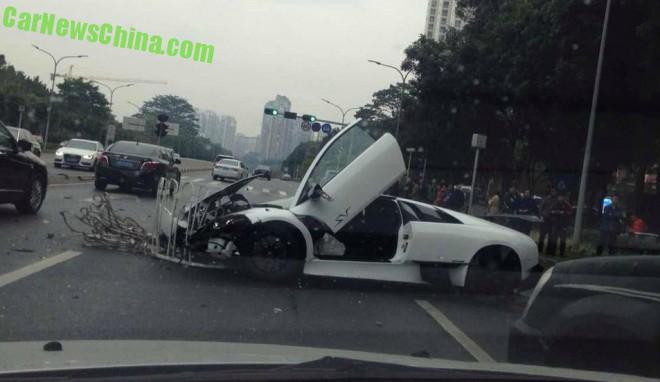 Miraculously nobody else got hurt but the poor Murcielago seems beyond salvation.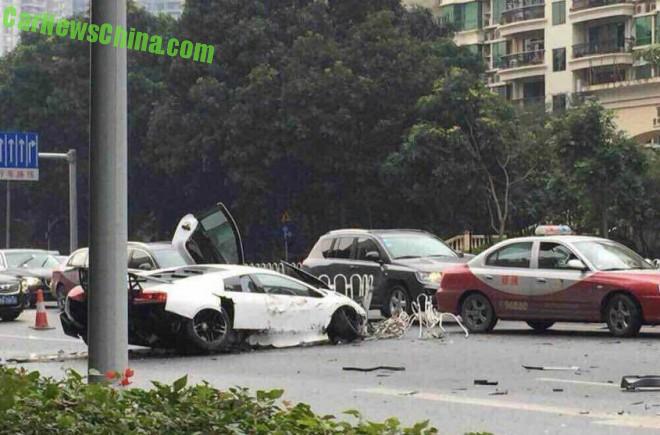 Time now, for our Famous China-Lamborghini Murcielago Collection™: matte purple orange, black, China Limited SV, shiny green, lime green, SV China Limited, orange, shiny blue, with F430, pearl white, with Aston, burning, with friends, LP 650-4 Roadster, LP 670–4 SV China Limited Edition, crashed, shiny red, with FF, China Limited SV, double China SV,  matte black SV, roadster in gold, an expensive toy, SV in black, gray, SV in yellow, lime-green, chrome, Versace Edition, SV crash, LP650-4 Roadster, and another SV in yellow.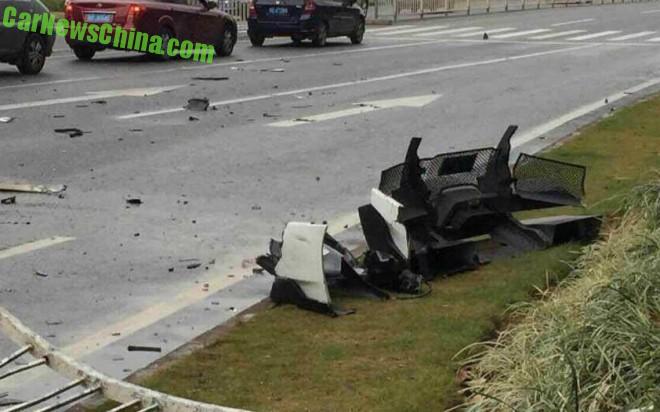 Looking for a front bumper..?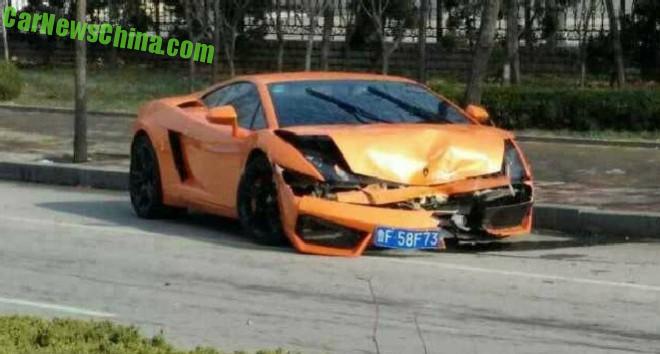 The orange Gallardo crashed head on into a pole, oddly activating the windshield wipers. The front of the vehicle seems pretty much completely gone.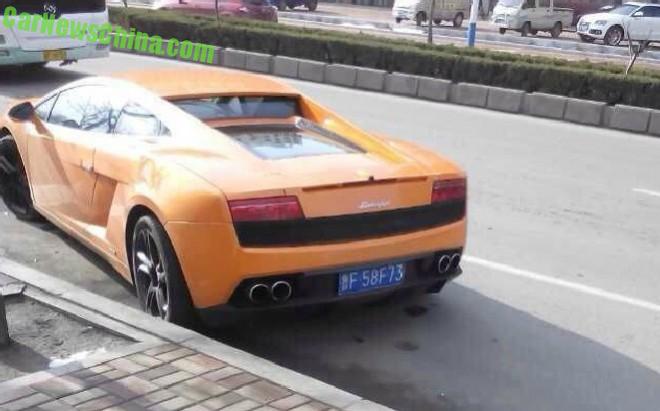 The rear however seems undamaged, so this orange Gallardo might make it back on the road again.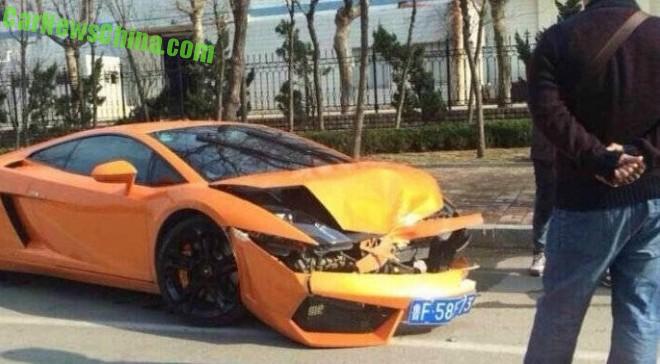 Time now, for  our Extremely Famous® China-Lamborghini Gallardo Collection™ with a lotta Crash: shiny gold, shiny blue, crash, matte purple blue, crash, crash, Super Trofeo, mint green, baby blue, matte purple and shiny green, with FF, crash, galaxy, baby blue, with hottie, crash, Sesto Elemento R/C, orange, yellow, crash, orange with Mac, tree-crash, matte black, license plate, pink, Balboni, LP550-2 GZ8 Edizione Limitata, shiny green, chrome, Reventon, crash, GZ8 Edizione Limitata, shiny-blue, matte-black & orange, water melon, red wheels,  HK20, pink, matte-black, gold, pink, another pink, lime-green, in gold, one purple, another purple, Gold Edition, and a Spyder Performante.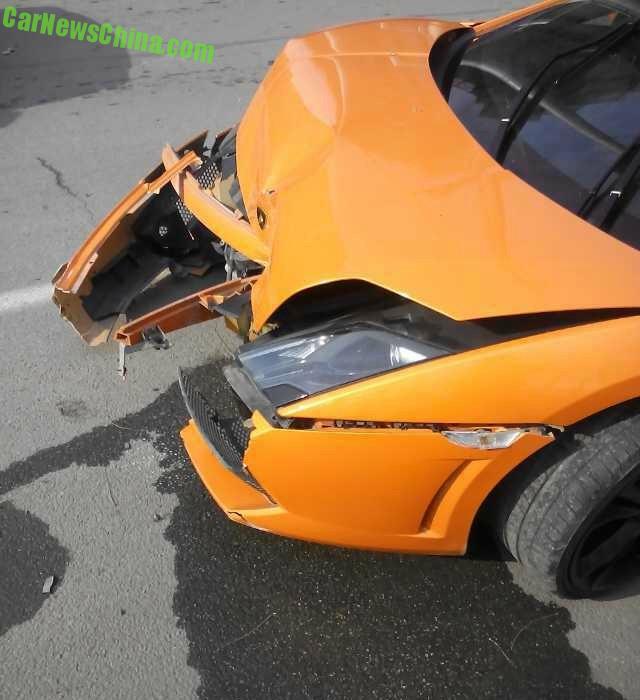 Left light still in one piece.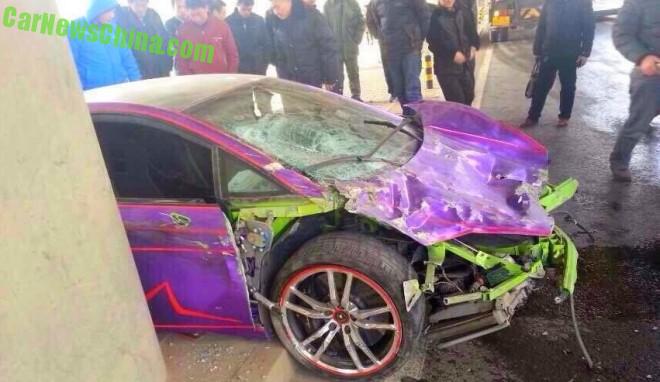 This Gallardo is a weird one. Shiny purple with tron stripes, with cheaply painted rims, and most intriguing a light green chassis. Was this Gallardo wrecked before, painted over, and sold on as a 'solid' second hand..?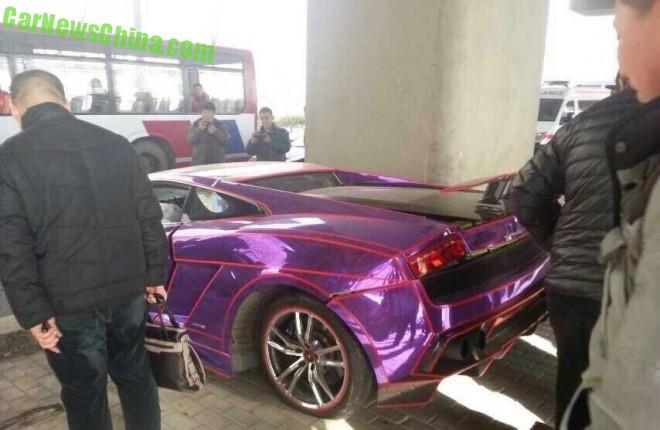 Rear deck and wing are bespoke, exhaust pipes look rather basic, and wheel looks strangely small. A replica maybe, like those Diablo's we met before.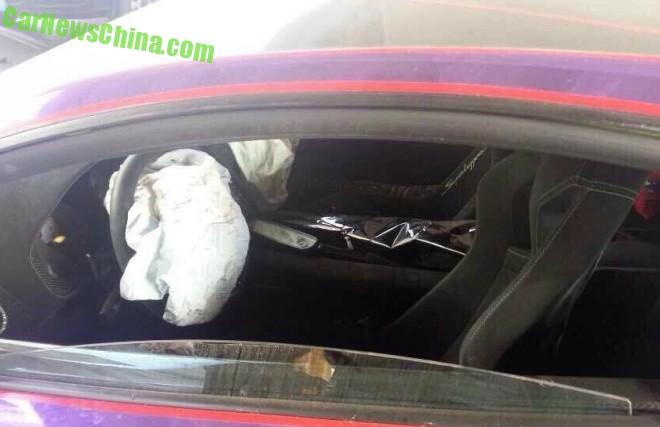 Dash and center tunnel look strange as well. But is has airbags.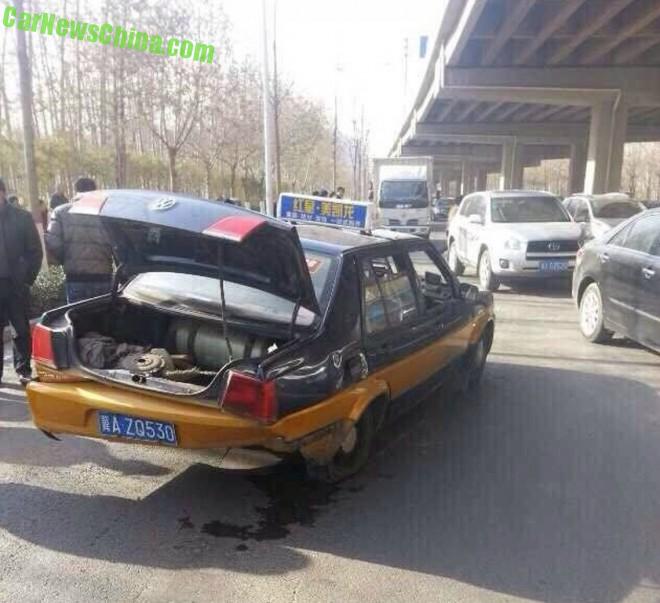 The Lambo, if that is what it is, hit a Volkswagen Jetta in the right-rear. The LPG tank didn't blow, fortunately, but the two passengers in the back were taken to a hospital with injuries. No word on the occupants of the shiny purple car.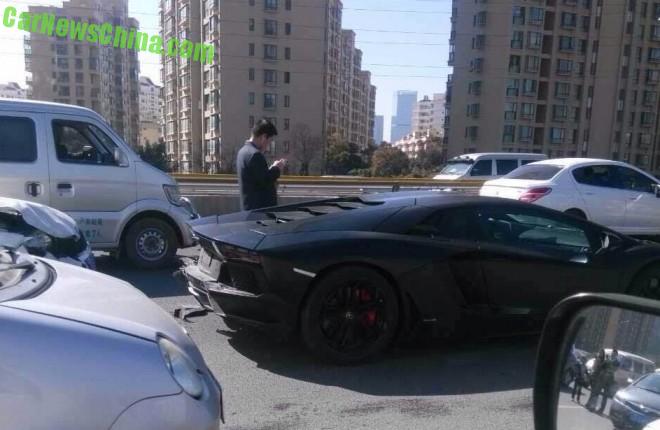 The Kunming accident was the least serious. Nobody got hurt and damage is limited. Red brakes on Aventador are cool, but missing license plate is not; police will have a few questions on that one…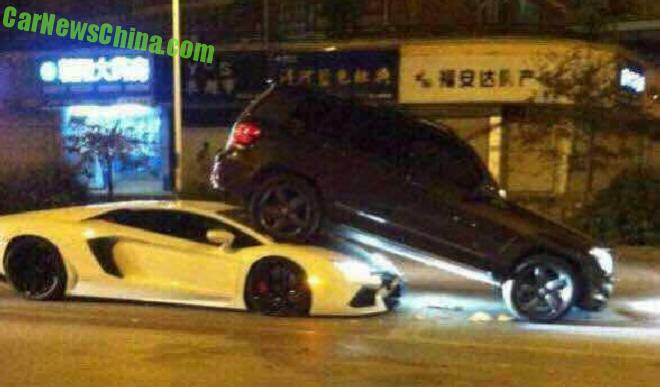 The GLK was waiting for a red traffic light and the Aventador didn't brake hard enough. Driver and passenger of the Avantador were injured and were taken to a local hospital. The driver of the Benz escaped without a scratch.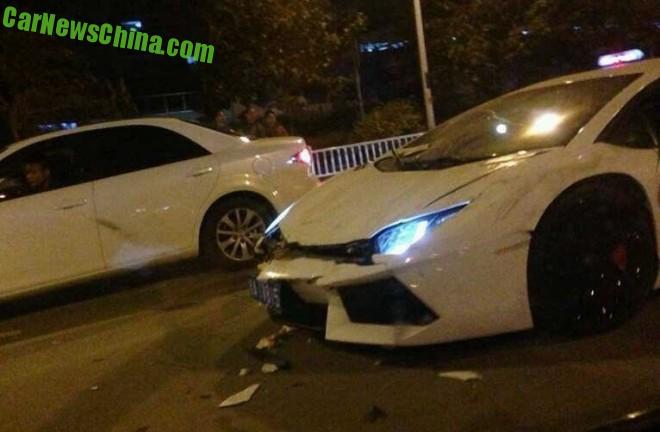 When the GLK was moved away. Bumper is gone but amazingly the window didn't break.
Well now, was all this a sign of the Heavens? Maybe or maybe not. And even if it was, what did heaven mean to say? 'Stop spending so much money on useless cars you horrible capitalist', or 'Buy a bloody Ferrari!' (for Heaven's sake…)