A very Pink Ferrari 458 Italia seen in the great city of Zhengzhou in Henan Province. Pink does great on the fast Ferrari, emphasizing its beautiful almost feminine shape. The vehicle is further sexed up by a very black grille, racy tires, fantastic 5-spoke black alloys and red brake calipers.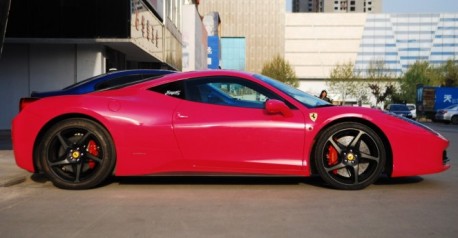 The Pinkefied Ferrari was created by a Chinese tuning company called 'Kurtuning', based in the great city of Tianjin. First time we have heard of the outfit but if they make more Pink cars we will be very happy. The Ferrari 458 Italia is a popular supercar in China. Price starts at a hefty 3.88 million yuan or 625.000 USD. But Power! 570hp and 540nm, good for a 325km/h top speed and 0-100 is gone in 3.4 seconds.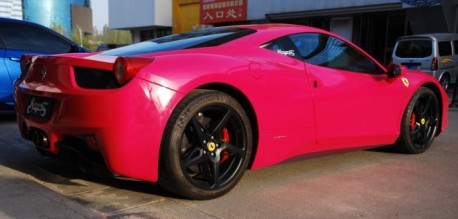 Time now for our Famous China-Ferrari 458 Collection™: Spider @ speed, license (458OY) with Roller, pinkish Spyder, license (458AX), shiny red, matte gray, license (458MW), shiny green, China Limited Edition 2, on a truck, matte purple, blue Spider, bling, crashed, China Limited Edition, shiny red & matte black, baby blue, crashed, pink (scroll down), China Limited Edition debut,  purple, with horse, crashed, pink, silver, some silver & some white, and with a friend.