The Ferrari 458 Italia China Limited Edition was launched on the China supercar market in June 2012 for 5.58 million yuan each or 879.000 US dollar. Only 20 examples were made and so far we met only two on the road. A second hand supercar dealer in the great city of Nanjing has 1/20 for sale, with only 1 (one) km on the clock and priced at 4.88 million yuan or 795.000 US dollar.
That's a depreciation of 0.7 million yuan or 84.000 US dollar in exactly a year. So much for the perceived 'value' of limited editions Ferrari's in China…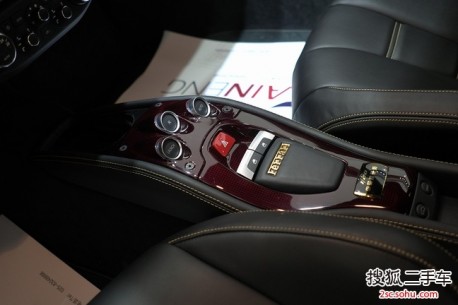 The 1/20 badge sits on the center console. The Ferrari 458 Italia China Limited Edition was launched to celebrate 20 years of Ferrari in China, and to celebrate the Chinese dragon-year. Special thingies include: a dragon-sticker on the nose, yellow-gold racing stripes, gold-painted alloys, special red paint called 'Marco Polo red', gold-painted stripes on the doors, a numbered gold-painted plaque in the interior, and gold-colored stitch work in the interior.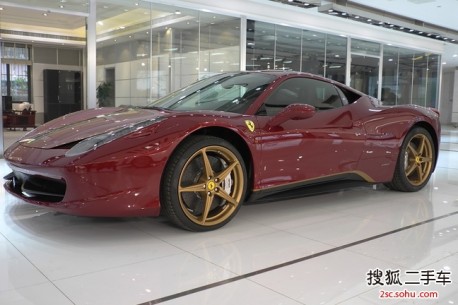 The 20 cars were sold out within seconds after launch, but the owners won't so happy now… Well, maybe the value goes up over time, right?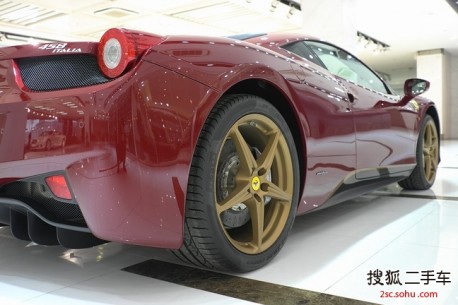 Price for a brand new Ferrari 458 in China is 3.88 million yuan or 628.000 US dollar. The second hand China Special costs still a million more…
Time now for our Extremely© Famous China-Ferrari 458 Collection™: crash, license (458F1) license (FF458) Pink, Spider @ speed, license (458OY) with Roller, pinkish Spyder, license (458AX), shiny red, matte gray, license (458MW), shiny green, China Limited Edition 2, on a truck, matte purple, blue Spider, bling, crashed, China Limited Edition, shiny red & matte black, baby blue, crashed, pink (scroll down), China Limited Edition debut,  purple, with horse, crashed, pink, silver, some silver & some white, and with a friend.