A Lamborghini Gallardo supercar burned to the ground in China. The accident happened in the early hours of May 6 in the great city of Shenyang in Liaoning Province. The fire started suddenly in the engine bay and engulfed the whole car within seconds.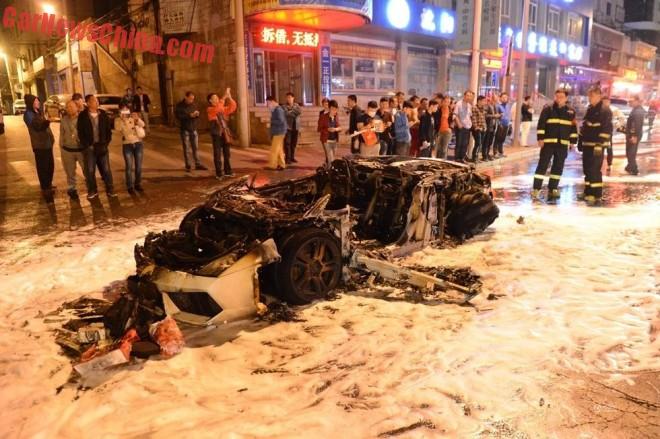 Fortunately the driver, the younger brother of the owner of the car, managed to get out with only minor injuries. Fire trucks arrived and hit the Lamboo with a shipload of foam, killing the flames but they were too late to save the Gallardo, which was bought new only two month ago for four million yuan or $644.000. Must have been one of the last ones on the lot, sold with a big rebate. Before the arrival of the new Lamborghini Huracan the cheapest Gallardo went for 4.3 million.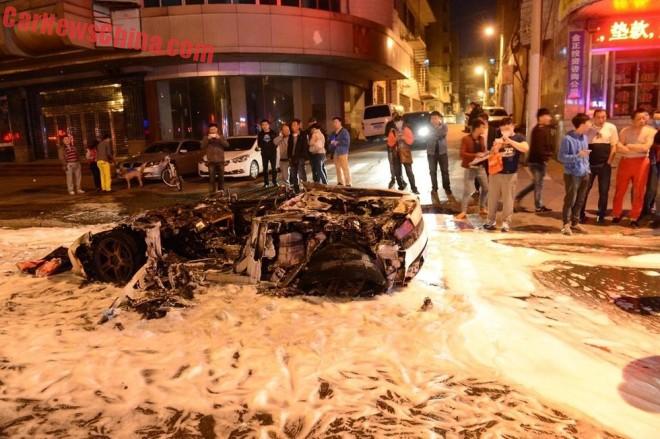 Sadly so the fresh new owner didn't enjoy his new toy for very long. The Lamborghini is clearly beyond any salvation or repair.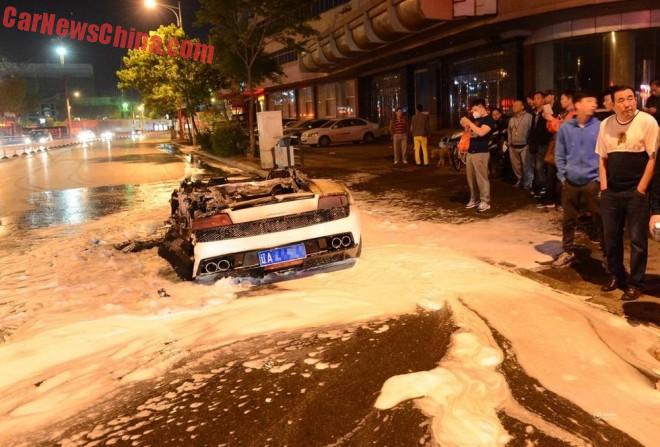 Curious onlookers arriving from the bars. No that ain't no snow you drunks!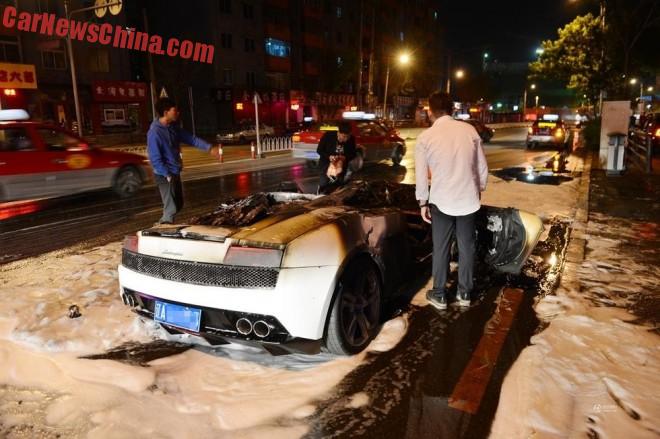 The exhaust pipe tips may be saved for on the kitchen table.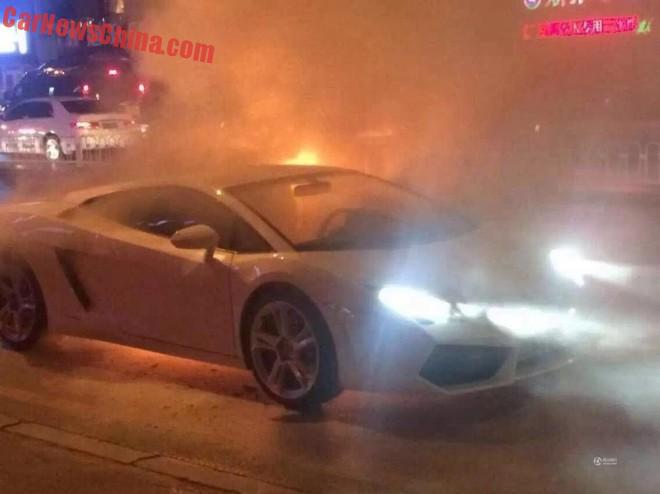 Update! A photo of the fire, indicating the burning started on the left side, somewhere near the air intake. Poor car!
Time now, for  our Extremely Famous® China-Lamborghini Gallardo Collection™: big crash, crash, crash, shiny blue, crash, matte purple blue, crash, crash, Super Trofeo, mint green, baby blue, matte purple and shiny green, with FF, crash, galaxy, baby blue, with hottie, crash, Sesto Elemento R/C, orange, yellow, crash, orange with Mac, tree-crash, matte black, license plate, pink, Balboni, LP550-2 GZ8 Edizione Limitata, shiny green, chrome, Reventon, crash, GZ8 Edizione Limitata, shiny-blue, matte-black & orange, water melon, red wheels,  HK20, pink, matte-black, gold, pink, another pink, lime-green, in gold, one purple, another purple, Gold Edition, and a Spyder Performante.