Another supercar crash in China. A green Lamborghini Gallardo hit half on the nose of a silver Changan mini pickup truck near Lincang in Yunnan Province, causing considerable damage to both vehicles. Te driver of the pickup truck had to be taken to a local hospital but he will be OK, the driver of the Lamboo was unhurt.
The accident happened when the Gallardo took a corner to fast and ended up on the wrong side of to road, and there was that Changan. A crew cab model, powered by a 1.2 liter four. Trucks like these are dirt cheap, selling for some 40.000 yuan on average. When new the Lamboo was slightly more expensive with four million yuan for the base model, that is one hundred times as much…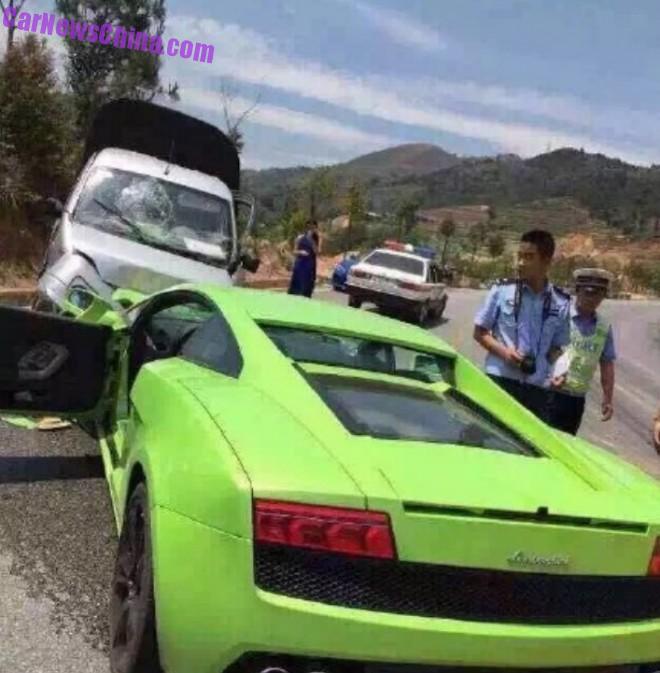 The car seems undamaged at the back. Policemen inspect the scene of the accident, arriving in an old Volkswagen Santana sedan.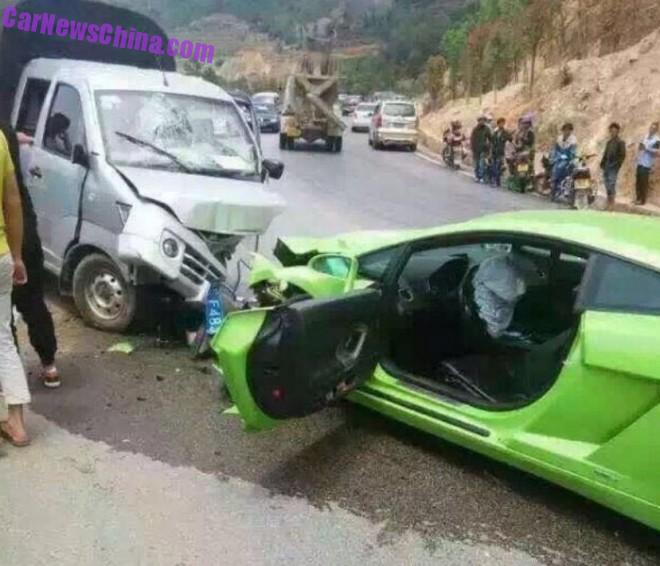 The front of the Gallardo seems heavily damaged and repairs will be expensive. Airbag deployed. Front of the Changan heavily damaged too, but some duck tape and rope will fix that all fine.
Time now, for  our Extremely Famous® China-Lamborghini Gallardo Collection™: burn baby burn, big crash, crash, crash, shiny blue, crash, matte purple blue, crash, crash, Super Trofeo, mint green, baby blue, matte purple and shiny green, with FF, crash, galaxy, baby blue, with hottie, crash, Sesto Elemento R/C, orange, yellow, crash, orange with Mac, tree-crash, matte black, license plate, pink, Balboni, LP550-2 GZ8 Edizione Limitata, shiny green, chrome, Reventon, crash, GZ8 Edizione Limitata, shiny-blue, matte-black & orange, water melon, red wheels,  HK20, pink, matte-black, gold, pink, another pink, lime-green, in gold, one purple, another purple, Gold Edition, and a Spyder Performante.