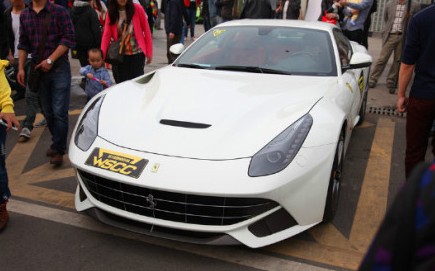 More supercars! Amazing pictures from a meeting of the Wuhan Super Car Club, or WSCC, in the great city of Wuhan in Hubei Province. The meeting started late afternoon on a public square, with children & charity and such, and then moved on to a raunchy club called 'Muse'. Whatever they do, we got the cars…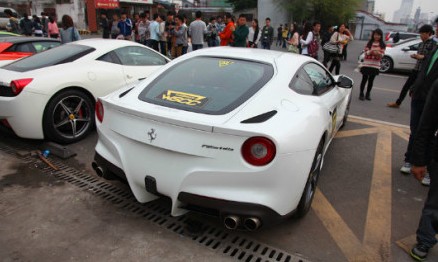 On first and second a white Ferrari F12berlinetta, the sixth Ferrari F12 we see in China and the second in Wuhan, earlier on we met a dusty red car in town. The other four: red in Wenzhou, blue example in Xiamen, another red car in Guangzhou that later crashed, a black car in Chengdu, and a truck full of the things on a highway near Shanghai. Next to the F12 a white 458.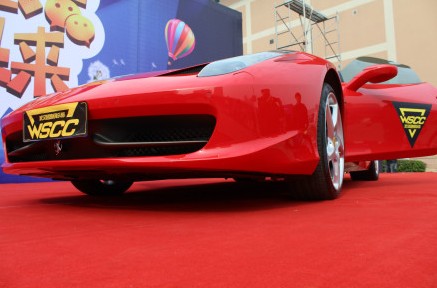 A red 458.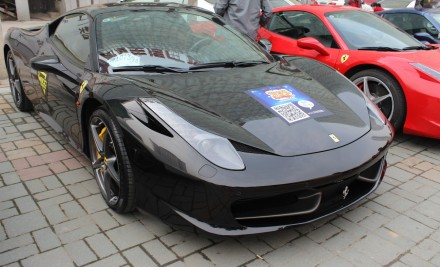 And a black 458. This Italia car is becoming too common in China's supercar land. Check the rest of our Famous China-Ferrari 458 Collection™: pinkish Spyder, license (458AX), shiny red, matte gray, license (458MW), shiny green, China Limited Edition 2, on a truck, matte purple, blue Spider, bling, crashed, China Limited Edition, shiny red & matte black, baby blue, crashed, pink (scroll down), China Limited Edition debut,  purple, with horse, crashed, pink, silver, some silver & some white, and with a friend.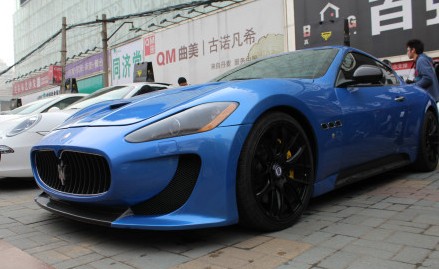 The mighty DMC Maserati Gran Tourismo Sovrano, earlier on we saw a similar car, or is it the same, in the great city of Hangzhou. That car was for sale when we met it, so maybe it went to Wuhan. DMC added some power, now 590hp and 472nm.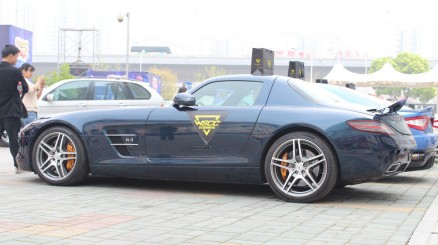 Mercedes-Benz SLS AMG, a hugely popular supercar in China, Benz could sell the whole production here if they wanted to. Chinese car buyers love BIG. The SLS has a big bonnet, big wheels, a big wing and above all a big engine. Our collection: yellow or green, gold, with babe on bonnet, purple, pink, bag trousers, pink-silver, bling (scroll down), crash,  Mansory Cormeum, and one with extra head lights.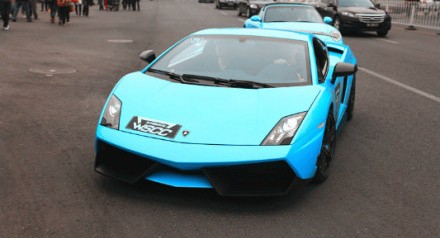 A baby blue Lamborghini Gallardo followed by a baby blue Porsche 911. Baby blue is a new trend in China, following pink and Bling. Over the last three months we have seen the number of baby blue cars growing very fast: Aventador, Mazda 6, BMW E60 5, BMW M3, Volvo XC60, Porsche 911, Benz E, Audi S4, Ferrari 458, and a BMW 3 coupe.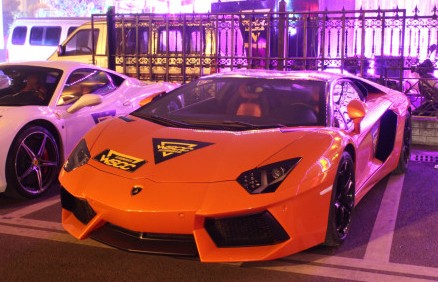 Later on the party continued at the Muse club for a beer and a babe. Parked right in front of the gate this fantastic Lamborghini Aventador in orange. A big supercar again, with a big engine, and thus very wanted: baby blue, Arsenal, white, shiny blue, with Lambo-friends, DMC LP900, crash, blue & orange, matte black,   strange alloys, with monk, too many, matte-black, with horny babes, in mustard yellow (scroll down), and impounded.
Wuhan, is too small for the Aventador.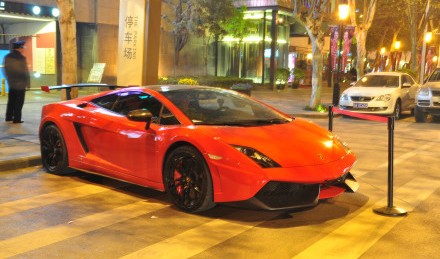 Another Lambo in sight, this is the madly winged Gallardo LP570-4 Super Trofeo Stradale. one of the very fastest Gallardii ever made. Here are all the others: crash, crash, pink & black, gold, Superleggera, crash, orange with Mac, tree-crash, matte black, license plate, pink, Balboni, LP550-2 GZ8 Edizione Limitata, : shiny green, chrome, Reventon, crash, GZ8 Edizione Limitata, shiny-blue, matte-black & orange, water melon, red wheels,  HK20, pink, matte-black, gold, pink, another pink, lime-green, in gold, one purple, another purple, Gold Edition, and a Spyder Performante.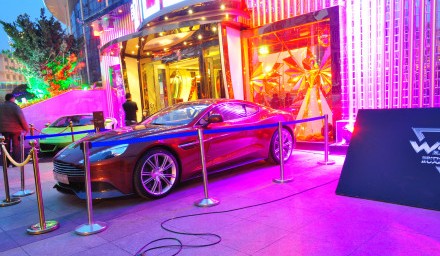 An Englishman is hiding behind the fence. That is a Aston Martin Vanquish, only the third example we see in China. Earlier on we met a blue car in Shenzhen and a red car in Guangzhou.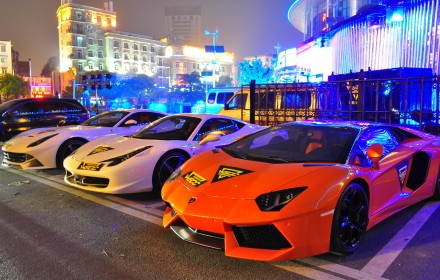 Ferrari's look very normal compared to outrageous Lambo.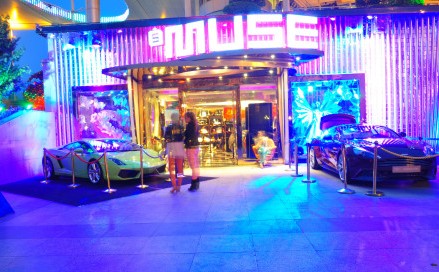 Babes get all hot from 2014 Gallardo, ignore old Brit.